Who is Jen Reid? Slave Trader Statue Replaced by Sculpture of BLM Protester
Artist Marc Quinn led a secret mission in Bristol, England, this morning to erect a life-sized sculpture of Black Lives Matter protester Jen Reid in the place of the controversial Edward Colston slave trader statue.
No formal consent from the city was sought to erect the new sculpture named 'A Surge of Power (Jen Reid) 2020', which is cast in black resin and depicts protester Reid with a raised fist, symbolizing Black Power.
The piece is "is an embodiment and amplification of Jen's ideas and experiences, and of the past, present and her hope for a better future," said Quinn in a press statement.
Reid was photographed after the toppling of the Colston statue in Bristol on June 7. The historic monument was ripped from its plinth and thrown into the River Avon during an anti-racist protest with more than 10,000 people in response to the death of George Floyd. When Reid was returning home from the protests she felt an urge to climb the plinth.
"On my way home from the protests on 7 June, I felt an overwhelming impulse to climb onto the plinth, just completely driven to do it by the events which had taken place right before. Seeing the statue of Edward Colston being thrown into the river felt like a truly historical moment; huge," said Reid.
"When I was stood there on the plinth, and raised my arm in a Black Power salute, it was totally spontaneous, I didn't even think about it. It was like an electrical charge of power was running through me."
A friend of local sculptor Quinn showed him an Instagram picture of Reid on the plinth after the protests. "My first, instant thought was how incredible it would be to make a sculpture of her," said Quinn, who later contacted Reid on social media to see if it would be possible. "It is such a powerful image, of a moment I felt had to be materialized, forever," he said.
The sculpture is not supposed to be a permanent feature in Britsol's city center but both Quinn and Reid want to "help to bring continued attention to this vital and pressing issue," said the artist. "We want to keep highlighting the unacceptable problem of institutionalized and systemic racism that everyone has a duty to face up to."
The previous statue of Colston had stood in the center of Bristol since 1895, it depicted one of the men who made a fortune trafficking black people across the Atlantic.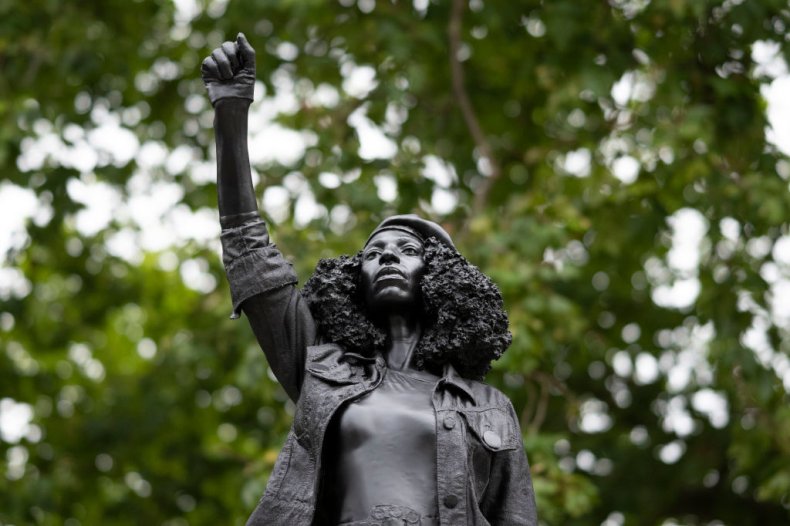 Edward Colston's statue is one of a series of statues that have been forcibly removed around the world as a result of Black Lives Matter protests, sparked by the death of George Floyd. Floyd was an African American man killed during an arrest by a white police office on May 25, 2020. Officer, Derek Chauvin, knelt on Floyd's neck for almost nine minutes.
"This sculpture is about making a stand for my mother, for my daughter, for Black people like me," said Reid of the Bristol art work. "It's about Black children seeing it up there. It's something to feel proud of, to have a sense of belonging, because we actually do belong here and we're not going anywhere."