Who Is Jerome Adams? Surgeon General Pick Battled HIV Outbreak With Clean Needles in Indiana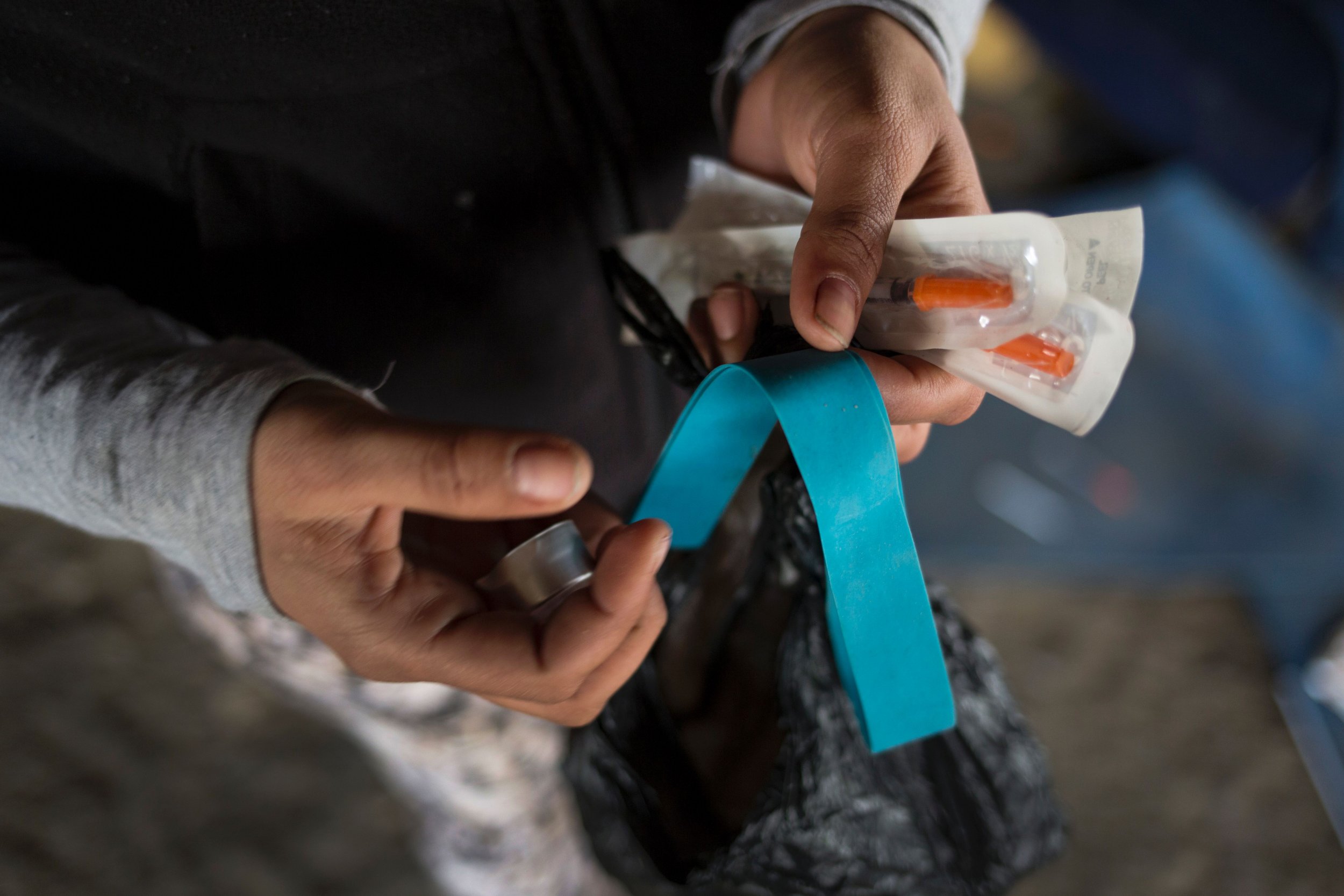 Jerome Adams, the Indiana state health commissioner, was nominated last week to serve as surgeon general by President Trump to succeed Vivek Murthy, who resigned in April. While Adams has not yet been confirmed to the post, the nomination is generating interest on both sides of the political aisle as well as among the public. That's because two years ago, Adams was integral to addressing an HIV outbreak in rural Indiana by convincing then-Governor Mike Pence to provide a temporary free syringe exchange in order to slow the spread of the virus. In light of the escalating opioid epidemic that is continuing to sweep across the U.S., many people are hopeful that Adams may hold similar sway in his new national post, if he is confirmed.
Originally from Maryland, Adams grew up in a rural town not unlike Scott County, the epicenter of that 2015 HIV outbreak. His father was from southern Maryland and worked the tobacco fields and raised pigs on a farm that belonged to his grandfather. Their town had few resources, including few physicians. That background helped prepare him to grapple with the troubles facing Scott County, which ranked 92nd in health among Indiana's 92 counties.
Adams attended the University of Maryland through a full-tuition Meyerhoff scholarship, a grant funded by the Robert and Jane Meyerhoff Foundation and dedicated to minority students interested in the sciences. He studied in Holland and Zimbabwe and interviewed for a job at Eli Lilly, the pharmaceutical giant, before deciding to pursue a medical degree. He followed his then-girlfriend to Indiana and attended medical school at Indiana University School of Medicine (she later left for Texas, he stayed in Indiana). He also completed a masters in public health at the University of California, Berkeley.
For several years, Adams worked as an anesthesiologist. Then, in October 2014, Pence called to ask if he would consider serving as state health commissioner. Adams accepted the job. Four months later, reports of HIV cases in southern Indiana began trickling in.
Adams didn't hear about the cases right away. But once the state epidemiologist noticed the unusual spike, she alerted Adams, who had trouble believing the situation at first. Austin, Indiana, the rural Scott County town at the center of the epidemic, had never had more than three HIV cases per year. Suddenly, that number had nearly tripled. Within a few months, more than 200 people in the region would test positive for the virus.
Although the drug problem plaguing the region was well known, Adams and other health officials were not initially convinced that dirty needles were spreading the disease. No such outbreak had ever occurred in the U.S. before, and at the time fewer than 5 percent of HIV cases were caused by injection drug use nationwide. But after interviews and investigations, Adams was soon certain that the needles were the primary transmission route by which HIV was spreading through Scott County. Couples were sharing a single needle for a month, injecting drugs 10 times per day with it. Another woman told him she used her needle until the tip broke off. And because HIV is not a hardy virus, Adams knew the level of sharing among people already positive for the disease had to have been extremely high to perpetuate the outbreak.
Adams is in favor of syringe exchange programs—providing clean needles for free to drug users—as part of a comprehensive program, and if the exchange can be controlled locally, by health workers in the town. During the Scott County outbreak, Adams asked Pence to temporarily open a syringe exchange program in the state. Pence agreed, and the state passed a law in June 2015 allowing such a program in Indiana. The program was set to expire in 2019 but was extended to 2021 earlier this year. Supplies to help users reduce the potential harm of injecting drugs are available in eight locations throughout the state.
The Centers for Disease Control and Prevention have found that these programs do slow the spread of HIV. In Indiana, the needles are provided by a service that also offers vaccinations, assistance with signing up for health insurance, and access to the Department of Motor Vehicles and vital records. In Austin, Indiana, a mobile needle exchange also delivered supplies to houses once per week.
At the time of the Scott County outbreak, Adams envisioned a similar program being made available nationwide. If he is confirmed as surgeon general, that approach to addressing the drug abuse epidemic could have a chance.