Who Is Jerome Powell? Donald Trump Was at War With Federal Reserve Chair Ahead of Rates Announcement
Jerome Powell, President Donald Trump's handpicked Federal Reserve chair, has been disappointing his appointer.
Trump, in recent months, has placed the blame of a declining stock market squarely on the shoulders of Powell and the central bank that he runs, claiming that his decision to raise rates has negatively impacted millions of Americans.
The president tweeted this week that it would be "a mistake" for the Fed to raise rates and that Powell's bank is "foolish" and "crazy." White House press secretary Sarah Huckabee Sanders, meanwhile, defended the president's remarks. "The president is stating his opinion, which he is perfectly within his right to do," she told reporters Tuesday.
The Federal Reserve is an independent bank that is not supposed to "consider political factors," when determining monetary policy, but the president still has the authority to fire Jerome Powell, something the chairman was surely aware of prior to his announcement Wednesday that rates would rise a quarter point, to 2.5 percent.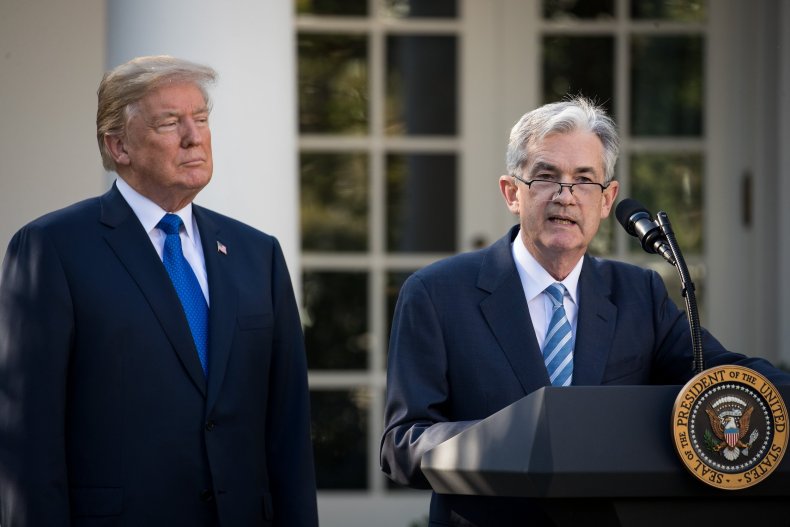 Trump initially nominated Powell, who briefly served under George H.W. Bush in 1992, as head of the Federal Reserve to replace former chair Janet Yellen, a Barack Obama appointee. The president said at the time that he was happy with the job Yellen did, but ultimately wanted his own appointee in control of the country's monetary policy.
Powell, the first Fed chair who is not an economist, is generally considered an agreeable man whose policy decisions are in line with Yellen's as well as those of her predecessor, Ben Bernanke. Powell was not thought of as someone who would rock the monetary boat.
Before he was nominated to the Federal Reserve Board of Governors by President Barack Obama in 2011, Powell worked in a number of industries, including in finance at an investment bank, in law and government. He graduated from Georgetown Law.
Powell was long considered a centrist voice at the Fed who stayed out of the spotlight and expressed his concerns with policy privately. But he has increasingly been in the public eye because of the president's comments, and likely now finds himself in a very uncomfortable position.
"I think [Trump has] put the Fed in a difficult position because there's a pretty good case for not raising rates now," Nobel Prize-winning economist and New York Times columnist Paul Krugman told CNN this week. If the Fed does not raise rates on Wednesday, he said, they "would look like they're allowing themselves to be bullied."
Still, Powell has held strong against the pressure and is expected to ignore the president's wishes on Wednesday. "We are absolutely committed to serving the public in a nonpartisan, professional way, in a way that communicates what we're doing, why we're doing it, as clearly as possible," said Powell last month.
He has also increased his meetings on Capitol Hill, taking the time to explain his decision-making to senators and representatives, perhaps a move to preemptively protect himself from the president's wrath.
"I invest in all of those things," said Powell about his meetings. "External relations with Congress and the administration," he said, are a "very, very important part" of the job.