Who Is Joe Kennedy III? Bobby Kennedy's Grandson and JFK's Grandnephew Will Give Democratic Response to Trump's State of the Union
The Democratic congressman handpicked by party leadership to give the formal "response" to President Donald Trump's first State of the Union on Tuesday night is either a "relentless fighter" for the middle class or an "Ivy League blue blood" with the famous Kennedy name, depending on who you ask.
Representative Joe Kennedy III will deliver the Democratic response roughly 55 years after his great-uncle, President John F. Kennedy, delivered his last State of the Union.
The Massachusetts representative has emerged as a rising star in the Democratic party this year. He made headlines this year for a number of impassioned speeches against Republicans' attempted Obamacare repeal and for blasting Trump's response to the riots in Charlottesville this summer.
His last name doesn't hurt either.
"Congressman Kennedy is a relentless fighter for working Americans," House Democratic Leader Nancy Pelosi said in a statement. "While President Trump has consistently broken his promises to the middle class, Congressman Kennedy profoundly understands the challenges facing hard-working men and women across the country."
How deeply he understands those concerns is unclear. Kennedy is a Stanford and Harvard Law grad whose net worth is $42.3 million, according to an analysis of financial disclosure forms. That includes a $5 million trust fund.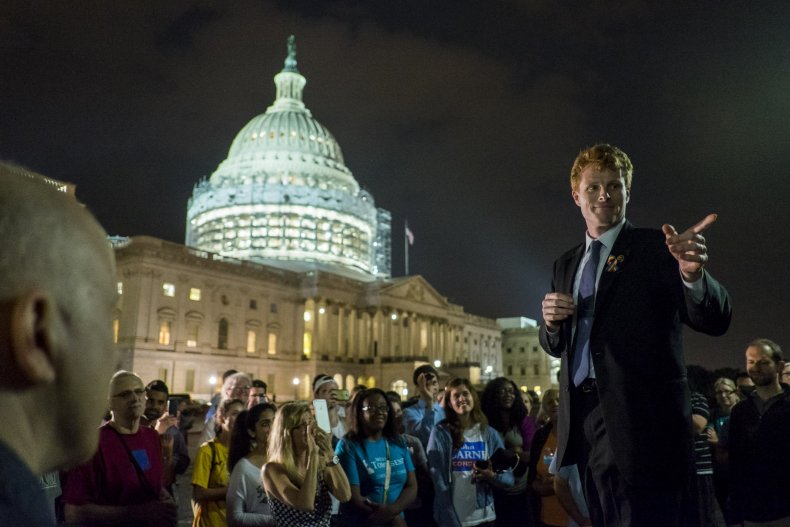 He is the grandson of Robert Kennedy, the former New York Senator who was assassinated during his 1968 run for president, and the great-nephew of JFK and late Massachusetts Senator Edward Kennedy. His last name may play well with a nostalgic Democratic base—and at age 37, he represents a younger wave of Democrats hoping to take the reins of an aging party.
Still, Democrats could face some criticism over their choice. The party has opted for a white man from a legacy family during the height of the #MeToo and Time's Up women's movements and in the midst of an immigration debate that puts great strain on many first-generation Democrats.
"Democrats have deputized an Ivy League blue blood with a trust fund and a famous name to reconnect with the common man," conservative columnist Philip Wegmann wrote.
The Republican political action committee America Rising called him a "rich, boring Pelosi ally."
Kennedy served with the Peace Corps in the Dominican Republican from 2004 to 2006. Elected to Congress in 2013, he's now a member of the Congressional Progressive Caucus and the LGBT Equality Caucus. He also serves on the Committee on Foreign Affairs and the Committee on Science, Space and Technology.
Young party members often use the response as a launching pad for greater political ambitions, Republican responders to President Obama included then Representative Paul Ryan, now speaker of the House; Senator Marco Rubio; and then–South Carolina Governor, and now U.N. Ambassador, Nikki Haley.
Kennedy has told reporters that he aspires to run for Senate. He has yet to indicate any presidential ambitions, but that hasn't stopped others from fantasizing. Town & Country magazine called the redhead "the next President Kennedy."
Kennedy previewed the contents of his rebuttal on Twitter this week, writing, "From health care to economic justice to civil rights, the Democratic agenda stands in powerful contrast to President Trump's broken promises to American families. Deeply honored to be chosen to deliver the response to the State of the Union next week. Stay tuned for updates!"
Kennedy is married to Lauren Anne Birchfield, a health policy lawyer. The two met at Harvard Law during a class taught by Elizabeth Warren, who later became a senator. They have a young daughter and son.