Who is John Dickerson? 'Face The Nation' Moderator Expected to Replace Charlie Rose
CBS journalist John Dickerson is expected to replace Charlie Rose on CBS This Morning, filling the role left open after Rose's firing for sexual misconduct.
Related: Who are the eight women who accused Charlie Rose of sexual harassment?
Dickerson is no stranger to CBS—he's hosted Face the Nation since 2015 and served as the network's political director. During the 2016 election campaign, he drove political coverage on the network, leading a contentious debate between soon-to-be President Donald Trump and five primary opponents for the GOP nomination shortly after the sudden death of Supreme Court Justice Antonin Scalia.
The CBS journalist was raised by Nancy Dickerson, the first female member of the Washington TV news corps. Dickerson wrote a book in 2008 called On Her Trail: My Mother, Nancy Dickerson, TV News' Star outlining his mother's influence and frequent absence from his life in pursuit of her news career. Despite the challenging relationship, he followed in her footsteps to become a television reporter.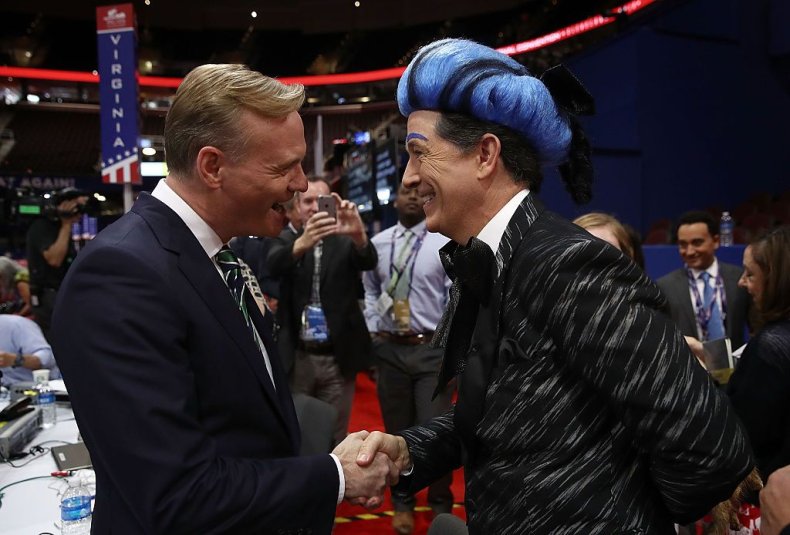 Besides his on-screen time, Dickerson is a political columnist for Slate Magazine and oversees a podcast called "Whistlestop," which details presidential history. He has two children, who make occasional appearances in his columns, including a pre-Christmas article entitled "I Can No Longer Get a Decent Photograph of My Children."
He is now set to replace Rose, who was fired in November 2017 after The Washington Post published the accounts of eight women claiming he sexually harassed them. The accusations span a large period of the 75-year-olds career—from the late 1990s to 2011. The women said Rose groped their breasts, buttocks or genitalia without consent and called them on the phone and spoke in a sexually explicit manner.
His dismissal was announced on CBS This Morning by Rose's former co-hosts, Gayle King and Norah O'Donnell. At the time, O'Donnell said, "This I know is true: Women cannot achieve equality in the workplace or in society until there is a reckoning and a taking of responsibility."
The reckoning, which came amid the "Me Too" movement of women sharing stories of sexual misconduct from powerful men, encouraged many on social media to suggest that a woman replace Rose. Mother Jones editor-in-chief Clara Jeffery first started the replacement thread asking "Which woman should be given Charlie Rose's show?" Though Dickerson does not fit that description, Jeffery and other reporters seemed pleased with the prospect.
"Congrats @jdickerson! Hope this doesn't cut into podcasting time," Jeffery wrote on Twitter.