Who is John Dunkin? Trump Wants His Personal Pilot to Head the FAA
Updated | President Donald Trump is pushing for the pilot of his private jet, Captain John Dunkin, to head the Federal Aviation Administration and its budget of more than $16 billion, according to a report.
"He's on the list because he's the president's pilot, but if he gets the job it won't be because he's the president's pilot," a senior administration official told Axios Sunday. Dunkin, they noted, has sat for an interview and is qualified for the job. Some industry insiders suggest Dunkin is unqualified to head America's civil aviation regulator.
During the 2016 election campaign Dunkin flew Trump's Boeing 757 to events across the country and coordinated the candidate's travel schedule. He has worked as Trump's pilot since 1989 when Trump started his own airline that then folded in 1992.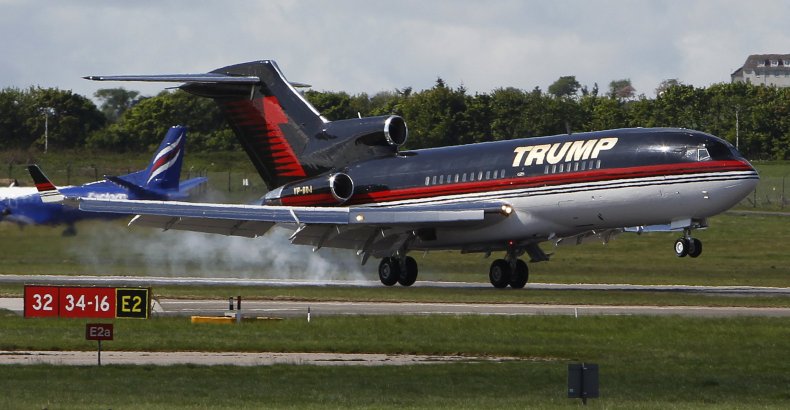 Trump has frequently talked up Dunkin's expertise. During a meeting with top airline executives at the White House in February 2017 Trump said "my pilot, he's a smart guy, and he knows what's going on." The president criticised the FAA's efforts to modernize its aging air traffic control system.
"I have a pilot who's a real expert," Trump said, without naming Dunkin. "He said, 'Sir, the equipment they're putting on is just the wrong stuff.' If we're going to modernize our system we should be using the right equipment."
"It's a system that's totally out of whack. It's way over budget. It's way behind schedule. And when it's complete, it's not going to be a good system," Trump said.
"I think it maybe would be good to have a pilot—like a really good pilot that knows what's going on. ... I would think you need a very sophisticated person in that job," he said taking aim at then FAA Administrator, Michael Huerta. Huerta's term as administrator ended in January.
Read more: Russia set for rocket fire off Libya coast, U.S. FAA warns
Acting FAA Administrator Dan Elwell, who is filling in after Huerta's departure, is also a candidate to take on the job full-time. Elwell is a former pilot and has served in various roles at the FAA for years. He also worked as an executive representing the airline industry's trade association from 2013-2015. Republican Rep. Sam Graves, who sits on the aviation subcommittee of the House Committee on Transportation and Infrastructure is also reportedly a candidate.
The Trump administration's latest budget blueprint continues to push for America's air-traffic control system to be taken out of the FAA and turned into a non-profit corporation. Airlines have been pushing for privatization in the belief that it will will speed the modernization of the FAA's technology from ground-based radar to a NextGen satellite-based tracking system.
Trump believes Dunkin is the one to oversee that. "John Dunkin isn't just a pilot," another Trump administration source told Axios.
"He's managed airline and corporate flight departments, certified airlines from start-up under FAA regulations," they said, pointing out Dunkin "oversaw the Trump presidential campaign's air fleet, which included managing all aviation transportation for travel to 203 cities in 43 states over the course of 21 months."
This story has been updated to include potential candidates for the role of FAA Administrator.