Who is Jonathan Mattingly? Outcry After Breonna Taylor Cop Given Book Deal
A Louisville police officer involved in the Breonna Taylor shooting has been given a publishing deal to write a book about the case.
Sgt. Jonathan Mattingly was among three officers who fired their weapons during an attempted search warrant execution that left the 26-year-old Black woman dead in her apartment in March 2020.
He was shot in the leg during the incident and was subsequently put on administrative assignment.
Mattingly's book, which is reportedly still being written, will be published by Post Hill Press, The Courier Journal reported.
The Fight For Truth: The Inside Story Behind the Breonna Taylor Tragedy is set for release in the fall.
However Simon & Schuster, which has a deal to distribute Post Hill Press books, said it had decided not to be involved in the process.
The announcement of Mattingly's book deal was condemned by Attica Scott, a Democratic representative in the Kentucky state legislature. She tweeted: "People love to profit off of Black pain and tragedy. It sells."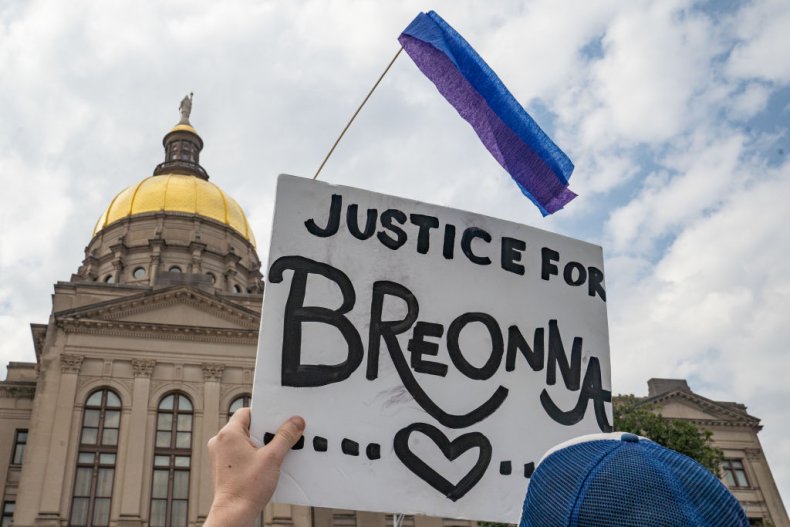 None of the seven officers involved in the raid on the Louisville apartment, including Mattingly, were charged in connection with Taylor's death.
Mattingly was one of three Louisville Metro Police Department (LMPD) officers—the other two being Brett Hankison and Myles Cosgrove—who were the focus of investigations led by Kentucky Attorney General Daniel Cameron's office and the FBI last year.
Only Hankison, who was dismissed from the LMPD in June, faced criminal charges—three counts of wanton endangerment related to Taylor's neighbors when bullets fired into her apartment traveled through a wall.
FBI analysis suggested one of the bullets either Mattingly or Cosgrove shot directly into Taylor's apartment, of which there were more than two dozen, killed her, but both officers were protected under a Kentucky self-defense law.
Kenneth Walker, Taylor's boyfriend, shot Mattingly in the leg when officers entered the apartment.
Mattingly has since sued Walker, saying he was entitled to damages for the "medical treatment, trauma, [physical] pain, and mental anguish he suffered."
Mattingly drew criticism in the aftermath of the shooting after labeling those protesting over Taylor's death "thugs" and saying the LMPD was in a battle of "good versus evil."
In October, Mattingly spoke about the night Taylor died in an interview with ABC News and The Courier-Journal.
He said: "The frustration came from our command, and from the mayor's office, because there was so much misinformation out.
"Because this is not relatable to George Floyd, it's nothing like it. It's not Ahmaud Arbery, it's nothing like it...it's not a race thing like people want to try to make it to be."
He claimed "false narratives" had led attorneys for Taylor's family "to inflame people to get the end result they wanted."