Who Is Joseph Gentile? Silicon Valley Bank Exec Scrutinized After Collapse
Amid the fallout of the collapse of Silicon Valley Bank (SVB), numerous commentators and industry analysts have highlighted an executive at the bank who previously worked at another financial institution that notoriously went under.
Founded in 1983 in Northern California's Silicon Valley tech corridor, SVB rose over the decades to become the premier financial institution for technology and health startup businesses in the United States. Spurred on by rapid growth during the COVID-19 pandemic, it had over $200 billion in assets as of the end of last year.
On Friday, however, customers began a run on their deposits with SVB, after it was revealed that a large number of its investments had been adversely affected by recently hiked interest rates. This initiated a rapid downward spiral for the institution, forcing California regulators to step in and hand over control of it to the Federal Deposit Insurance Corporation (FDIC), with a bid for its assets underway as of Sunday. At the time of its collapse, it was the 16th biggest bank in the U.S.
With pundits and commentators across the financial sector sifting through the wreckage of SVB, many have highlighted a major executive at the bank with a checkered history. Joseph Gentile, listed on the SVB Securities website as the investment bank's chief administrative officer, previously served as the chief financial officer (CFO) of the Fixed Income Division at Lehman Brothers, a global finance firm that became one of the biggest banks to declare bankruptcy during the 2008 financial crisis due to its involvement in the subprime mortgage crisis. Gentile left Lehman in May 2007, before the collapse.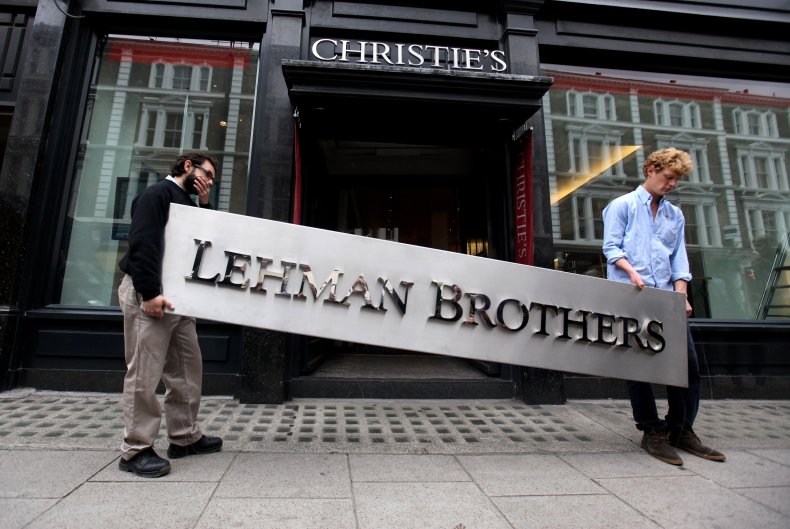 Gentile's connection to Lehman Brothers has sparked numerous takes on Twitter, with some using the connection to liken SVB's collapse to the 2008 crisis, while others have had a more humorous take on the situation.
"Like I said, Lehman 2.0—when you're levered over 10x++ and you sell assets for a loss, it's a catastrophe," Twitter user @StrattonOak tweeted. "Joseph Gentile was the Chief Administrative Officer at [SVB]. Prior to joining in 2007, he served as the CFO for Lehman Brothers' Global Investment Bank."
"This is truly unusual," user @unusual_whales tweeted. "Meet Joseph Gentile. He was the Chief Administrative Officer at Silicon Valley Bank. Prior to joining the firm in 2007, he served as the CFO for Lehman Brothers' Global Investment Bank."
"Just in case you thought you were bad at your job, Silicon Valley Bank's... Chief Administrative Officer Joseph Gentile was the former CFO of Lehman Brothers," the account Stock Talk Weekly tweeted.
Neither Gentile nor SVB at large has commented on the situation or the former's connection to Lehman Brothers. Newsweek reached out to SVB for comment via its official contact form on its website.
Update, 03/12/23, 6:02 p.m. ET: This article was updated with additional information.
Update, 03/14/23, 9:48 a.m. ET: This article was updated with additional information.