Jovita Idár, a pioneer of Mexican-American civil rights, is celebrated in today's Google Doodle, on the anniversary of the week the First Mexican Congress was held, September 14—22, 1911.
Born in the border city of Laredo, Texas, in 1885, Jovita Idár lived at a time when Mexican-Americans faced rampant discrimination.
But Idár was determined to stand up for her community, so became a teacher in 1903, later resigning due to the segregation and the poor conditions that Mexican-American students faced.
Idár then joined her father's influential activist newspaper, La Crónica (The Chronicle). In her articles, Idár wrote about the discrimination they faced, fought for women's suffrage, and affirmed the importance of Mexican culture.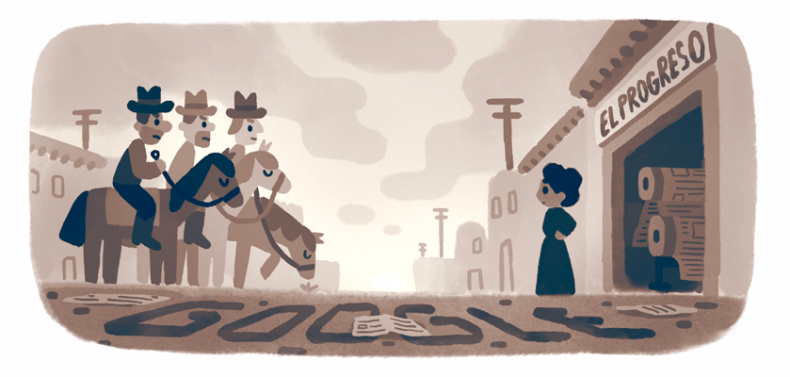 In 1911, Idár and her family helped establish the First Mexican Congress to organize Mexican-Americans across Texas in the fight for their civil rights.
Idár then founded the feminist organization League of Mexican Women and served as its president. The groundbreaking organization united women around the educational, social, and political issues facing the Mexican-American community.
Then, Idár headed to Mexico to take care of the injured during the Mexican Revolution, serving as a nurse before joining La Cruz Blanca, a group similar to the Red Cross.
In 1914, Idár continued her journalism career at El Progreso (The Progress) newspaper, where she criticized the U.S. army's involvement in the Mexican Revolution.
This resulted in the Texas Rangers attempting to shut the newspaper down, but when the officers rode up to the office, Idár stood in their way, forcing them to turn back. This powerful scene is recreated in today's Google Doodle, which sees Idár in a stand-off against the rangers, as she guards the newspaper.
However, the rangers returned the next day and shut down the El Progreso. Idár refused to be silenced though and returned to La Crónica, eventually running the paper with her brothers and using it as a platform in her pursuit for justice.
In 1917, Idár and her husband moved to San Antonio, Texas where she became a leader of the city's community. She opened a free kindergarten, worked as a Spanish translator at a hospital, and taught childcare and feminine hygiene. Women's education was especially important for Idár, who often said: "Educate a woman and you educate a family."
In relation to today's doodle, Google says: "Gracias, Jovita Idár, for dedicating your life to the pursuit of equality and justice."