Who is Kacey Musgraves? Everything You Need To Know About The Grammy's Album Of The Year Winner
Country star Kacey Musgraves won big at Sunday's 61st Annual Grammy Awards. To cement her celebration, she was crowned with one of the night's most prestigious award: Album of the Year. Musgraves was nominated for the award alongside huge names in rap like Cardi B, Drake and Post Malone. Along with Album of the Year, Musgraves also took home awards for Best Country Song, Best Country Solo Performance and Best Country Album.
This isn't the first time Musgraves has won a Grammy. In 2014, Musgraves won Best Country Song for her release "Merry Go Round" and in 2016, she won Best Country Album for Same Trailer, Different Park. Despite her handful of awards, Musgraves had yet to become a household name, though that's likely changing after Sunday.
Her Grammy-winning album Golden Hour, released in March 2018, blurs the lines between country and soft pop and is generally considered a positive and calm record. Despite the album's award wins, Musgraves has yet to see her music widely represented on the radio. Songs like slow and reflective "Golden Hour" or a similar "Slow Burn" may appear on Sirius XM Coffee House, but are rarely played on country radio.
The crossover artist doesn't see a problem with this, as she didn't write the record specifically for air time. "That's not what I had in mind when I was making this album," Musgraves told journalists at The Grammys, according to Fox News. "It's been really amazing and incredible to see it do some really wild, gratifying, unbelievable things—going further than I ever thought that it could. I'm just really thankful. I think streaming was a big part of it. And ultimately, I feel like it just lets me know that it doesn't really matter where someone hears your music, it's if they connect or not."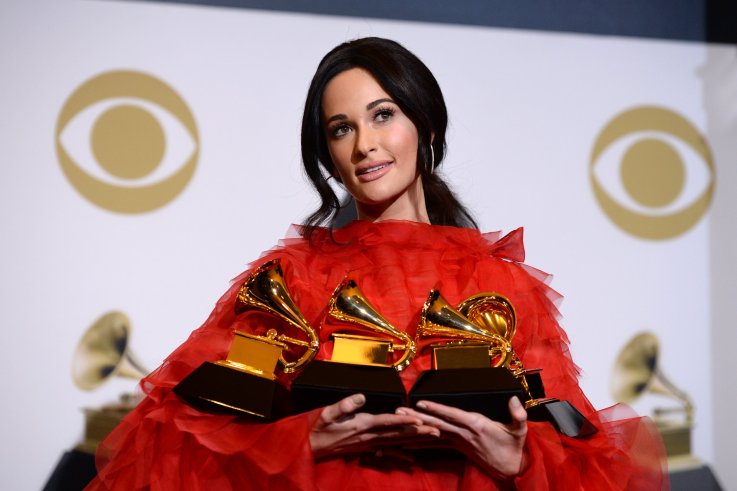 Musgraves may not be cut off from the country community, but she does things differently. On her first album, Same Trailer, Different Park, Musgraves released what has become a cult-like favorite track, "Follow Your Arrow." It was the song that opened up her casual drug use to a wider audience; Musgraves spoke of lighting a joint when things get too stressful, and she's added more drug references as her music has continued.
With Golden Hour, Musgraves spoke of how LSD helped her write some of the album's biggest hits. She explained writing the shorter track "Mother" on Golden Hour after an odd, "Halloween-y" acid trip in a May conversation with Rolling Stone. "It made me more compassionate as a daughter, as a granddaughter, as a partner," she said of the acid trip. "It put me in my place in the universe, gave me perspective that I think everyone should have. Yes, we're all special, but we're also nothing, just a fraction of a grain of sand in the book of time, and make what you have count and make the relationships around you mean something."
Musgraves, 30, birthed Golden Hour, full of gratitude-based songs like "Oh What A World," which speaks of the beauty of the Earth; and "Slow Burn," which talks about slowing down time and appreciating things that take a while, out of the mindset. "Whenever you are affected by hallucinogenics, especially mushrooms, you care for the Earth," she explained. "When you're, like, tripping, it just floods out."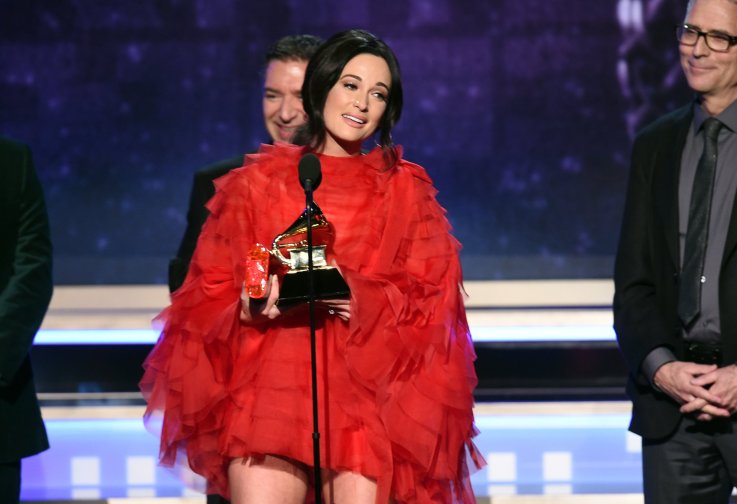 And the result was a serene, easy-to-grasp album that strayed from her former, deep country sound. Her career started when Musgraves sang loudly about life in a small town—see "Biscuits" or "This Town" on Pageant Material—then grew into a larger entity who tackles the beauty of the whole world and the things that make life special.
In creating the album, Musgraves said she was ultra-selective when it comes to instrumentals and production, a tactic that earned her the nickname "Ax-man." "In some instances, I had to be like, 'Let's reel it in,'" she told Rolling Stone. "I learn a lot by deletion. That's my biggest tool in the studio: I love to load tracks up, and then start erasing until you find the perfect amount of space."
Musgraves also compared writing the album to feeling "like a long drink of ice water after being in the desert" in a March conversation with Spin.
Musgraves is constantly on the road. She's currently on her own headlining tour and has added more dates. She previously opened for former One Direction heartthrob Harry Styles.
Musgraves lives in Nashville with her husband, country musician Ruston Kelly.
Who is Kacey Musgraves? Everything You Need To Know About The Grammy's Album Of The Year Winner | Culture