Who is Kamala Harris' Husband? Doug Emhoff Hits Pause on Hollywood Lawyer Career Ahead of Election
Kamala Harris' husband Douglas Emhoff has taken a leave of absence from his law firm ahead of the California senator officially becoming the Democratic nominee for vice president on Wednesday.
Emhoff, 55, a litigator in DLA Piper's Los Angeles office, "is currently on a leave of absence," according to his profile on the firm's website.
It's not clear when Emhoff's leave began, but the development was first reported by The American Lawyer earlier this week.
A spokesman for the firm told the legal magazine that Emhoff was in the process of transferring his clients to other attorneys at the firm. DLA Piper has been contacted for comment.
Emhoff joined DLA Piper as a partner in 2017. According to the firm's website, Emhoff has practiced law for more than 25 years "aggressively litigating high-stakes cases in the public glare or acting as a trusted advisor behind the scenes."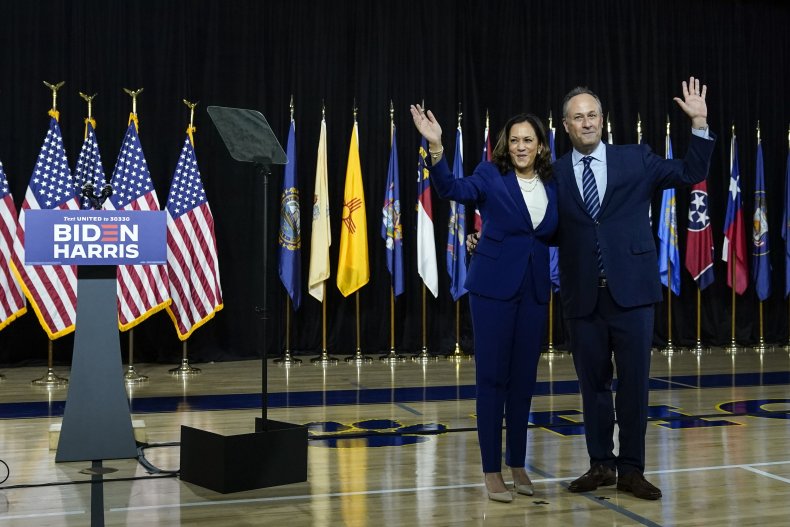 He represents "large domestic and international corporations and some of today's highest profile individuals and influencers in complex business, real estate and intellectual property litigation disputes."
His profile also adds that "he is passionately involved in numerous community, civic and charitable activities that include legal aid, human rights, social justice and the well-being of children."
He is licensed to practice Washington, D.C., as well as California.
Emhoff's admission to the bar in Washington, D.C., in 2017, the year Harris joined the U.S. Senate, prompted speculation that he may be planning to spend more time in the U.S. capital, The New York Times reported.
But according to the newspaper, DLA Piper's client list includes a number with government interests, including foreign entities, raising the possibility of ethical conflicts if Harris is elected vice presidency.
DLA Piper's website boasts that it is a global law firm with lawyers located in more than 40 countries throughout the Americas, Europe, the Middle East, Africa and Asia Pacific "positioning us to help clients with their legal needs around the world."
Bob Shrum, who has acted as an adviser to Democratic candidates, told The Times that the Biden-Harris campaign is likely already considering options to avoid any ethical conflicts.
"I have no doubt that a Biden-Harris administration would look at this issue very carefully and would impose rules that would ensure that there was no conflict of interest," Shrum said. "I think Biden's own internal compass and Harris's own internal compass will set really clear and tough standards."
It's not clear yet what role Emhoff will play as the Democratic presidential campaign kicks into gear.
But during Harris' own bid for the presidential nomination, Emhoff served as the unofficial leader of Harris supporters dubbed the #Khive.
Early Wednesday, he took to Twitter to say: "Good morning #KHive! We see you out there and you know how much you mean to us. Truly. So, let's celebrate today, and then we have to stay focused and do everything we can to get Joe and Kamala elected."
Emhoff and Harris have been married since 2014 and his two adult children, Ella and Cole, from a previous marriage reportedly call her their "Momala."
Harris will formally accept her nomination as Joe Biden's running mate on Wednesday night, the penultimate night of the first ever virtual Democratic National Convention. She is the first Black and Indian American woman to join a major party ticket.