Who Are the Strongmen Leaders of Central Asia?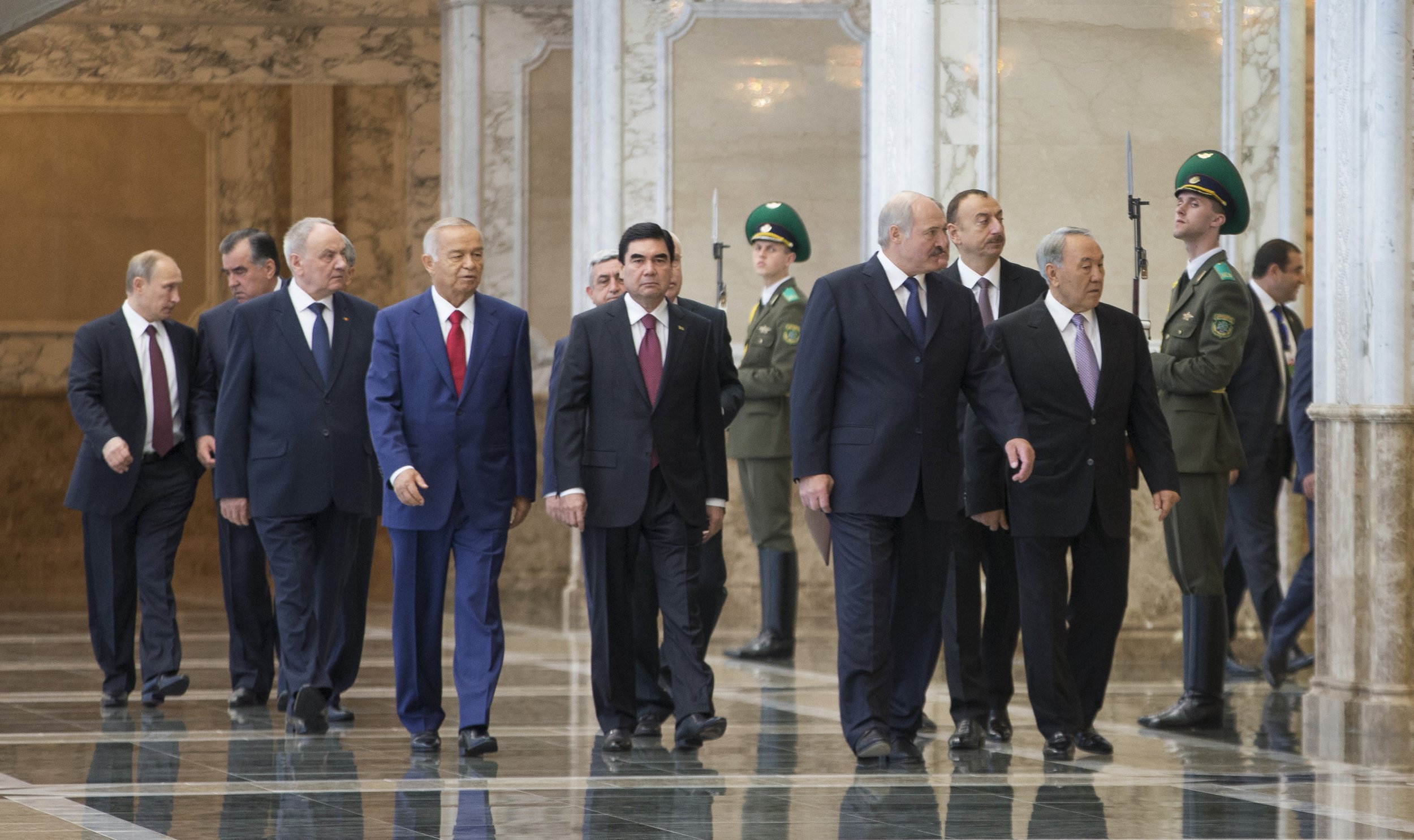 Uzbekistan's president Islam Karimov was rushed to hospital on Monday, prompting a wave of reports that he was dead or at least in no condition to rule again. By Friday, the government had confirmed that the 78-year-old had died. With no experience of power changing hands in Uzbekistan for over a quarter of a century, speculation about who would succeed the leader was rife. It is easy to see why.
Karimov came to power while his country was still part of the Soviet Union in 1989, staying on through a succession of wins in elections that have failed international standards. Uzbekistan's people have never cast ballots in an election where the winner was not easy to predict outright. With the average age of the Uzbek population at 27, according to Moscow's Carnegie Centre, many Uzbeks will not even remember an election that was not won by Karimov.
Karimov is no anomaly in his geographic neighborhood. The region is ruled by long-reigning ex-Communist strongmen, who are surely watching events in Tashkent closely.
Name: Nursultan Nazarbayev
Age: 76
Country: Kazakhstan
Reign: 27 Years
Lifelong Title: Leader of the Nation
The man in charge of the second biggest economy in the former Soviet Union (behind Russia) is also one of the few to rule longer than Karimov, without being crowned king. Nursultan Nazarbayev has governed his country since 1989, when he chaired the local Communist Party. Like Karimov, the fall of Communism in his country saw him change titles, but not lose power.
The similarities between the two are easy to spot. Nazarbayev has never won an election that was not lambasted by international observers, winning each by a bigger margin. In 2015, he got 98 percent of the vote and since 2010 he has officially adopted the lifelong title of "Leader of the Nation". Karimov's last election saw him claim over 90 percent of the vote.
Although presiding over economic prosperity in oil-rich Kazakhstan, Nazarbayev's regime has been criticized for lacking freedom of expression and association, while peaceful protests in 2011 resulted in police killing at least 15 civilians.
Like Karimov, Nazarbayev's daughters are regarded as potential successors, though Karimov's eldest daughter Gulnara Karimova apparently fell foul of her father's regime in 2013, when she was accused of graft and has not been seen in the last two years. Nazarbayev's eldest daughter, Dariga, is touted as a potential successor in Kazakhstan.
The leader has hinted as much: When he was asked if a woman could ever be president of Kazakhstan, at a conference in Russia earlier this summer, Nazarbayev said there were already female candidates ready for the job. Russian President Vladimir Putin, who was sitting next to Nazarbayev, joked that he has met several of the candidates personally. Nazarbayev, who could not hold back his laughter, reminded the audience that he himself had three daughters, so he was competent to comment on the future of women in Kazakh politics.
Name: Emomali Rahmon
Age: 63
Country: Tajikistan
Reign: 24 Years
Lifelong Title: Leader of the Nation/Founder of Peace and National Unity
Rising to power only three years later than Karimov and Nazarbayev is "the founder of peace and national unity of Tajikistan." Emomali Rahmon, whose parliament has given him lifelong immunity from prosecution, also rose through the ranks of the Soviet system as an agrarian farm chief. He solidified his grasp of power in the midst of a bloody civil war in 1994 and invited Karimov to visit him this summer.
Rahmon has also won four elections in independently disputed results, with his fourth term set to run out in 2020. Recent legal changes mean that he can run for re-election then, however, the age limit for the election has also been lowered from 35 to 30, meaning his eldest son, Rustam, will be eligible to run as well. There is no major indication that the 63-year-old leader is preparing to step down, though the amendment could be a way to ensure he does not pose as much of a succession void as Karimov.
The Tajik leader has nine children, several of whom have high ranking jobs in government, including his daughter, Ozoda, who heads his administration. Reportedly, she began her diplomatic career while she was still in university, as cultural attache in Tajikistan's U.S. embassy.
The regime has been criticized by Human Rights Watch for allegedly detaining and beating critics, most recently with the abduction of businessman Abubakr Azizkhodzhaev in February. The organization has said that the country currently faces "the worst political and religious crackdown since the end of the country's 1992-1997 civil war."
Name: Gurbanguly Berdimuhamedov
Age: 59
Country: Turkmenistan
Reign: 10 Years
Lifelong Title: Patron
Gurbanguly Berdimuhamedov succeeded the man who ruled gas-rich Turkmenistan through the fall of Communism, Saparmurat Niyazov, in 2006. Like his colleagues in Kazakhstan and Uzbekistan, Niyazov was head of the republic's Communist Party and stayed on as leader after 1992. He ruled until his death at age 66, in a reign that saw him declare himself "Head of All Turkmen" and name airports and buildings after himself.
After Niyazov's death and immediate arrest of his constitutional successor, Turkmenistan's former health minister, Berdimuhamedov, took the reins. In the space of a decade Berdimuhamedov has arguably surpassed Niyazov in cultivating an extravagant image of himself.
Berdimuhamedov's presidency has seen him reverse some of Niyazov's bans such as those banning entry to foreign circus and opera performers. He has also introduced Gulf-style policies of offering citizens free gas and building a luxury tourism centre in the Caspian state. However, Human Rights Watch has noted freedom of expression, opposition and assembly are virtually non-existent and meaningful political reform has not taken place.
The current president's more eye-catching achievements have amounted to what has widely been regarded as building a cult of personality around himself. He has published 35 books while in power, sharing his apparent expertise on topics such as tea, herbal medicine, carpets and his beloved horses. Each book's unveiling has been honored by state officials with the sort of deference paid to scripture in other Muslim countries.
So pervasive is the leader's presence in his country's public life that he has televised musical appearances and, as a self appointed head of horse-breeding in the country, has also taken part in televised prize horse races. State news declared him the winner of an $11 million race in 2013, though leaked footage from the track later showed Berdimuhamedov tumble at the finish line, prompting a track invasion by dozens of black suited men from the stands. State broadcasts featured no mentions of the incident.
Berdimuhamedov's love for horses has continued unabated since, when he symbolically moved a golden statue of his predecessor to the capital of Ashgabat's suburbs from the city centre, but made ample room for an even larger golden monument of himself, riding a horse.
Despite the Turkmen leader's celebrity, his family life is shrouded in secrecy and the number and identities of his children are a cause of speculation. The member of his family who has received the most attention, riding with the president, giving televised piano recitals and sharing the stage with Jennifer Lopez at a concert, is his teenage grandson, Kerimguly. Needless to say he is a long way from succeeding his grandfather yet.