Who is Kate Gorney, T.J. Miller's Wife? Artist Remains Silent amid Husband's Violent Sexual Assault Allegations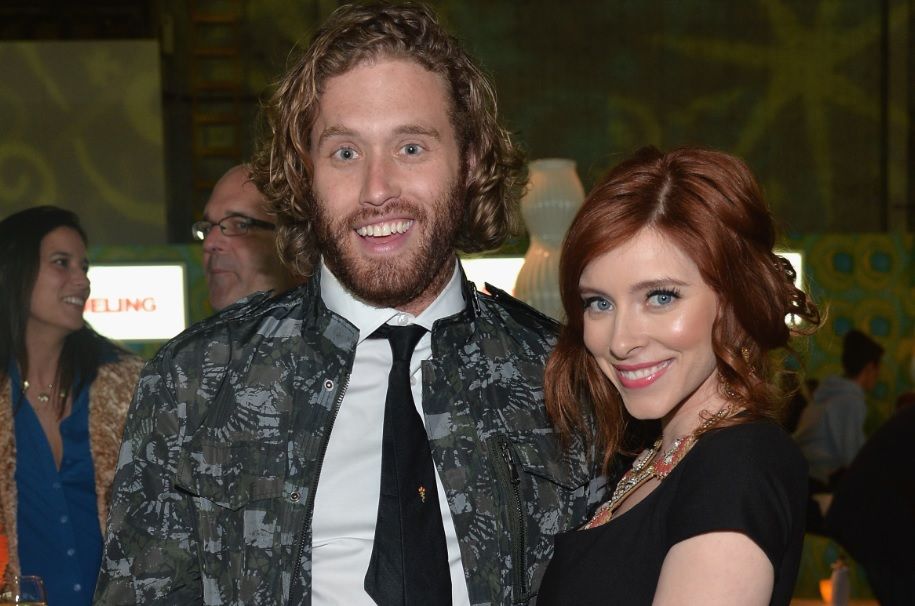 Artist Kate Gorney didn't immediately issue a statement after her husband, Silicon Valley actor T.J. Miller, was accused of brutal sexual assault in a report published by The Daily Beast on Tuesday.
In an Instagram post from October, Gorney and Miller affectionately held each other, showing the comedian in a drastically different light from the violent predator portrayed in The Daily Beast piece.
"Silence is music and harmony. Silence is the language of love. In the silence you receive all," she captioned the photo. The post was liked hundreds of times by her nearly 10,000 followers.
Hours before the allegations against Miller broke, Gorney posted an ethereal picture of herself.
Gorney runs a website called Rose Petal Pistol where she shares her art, poetry and performances. "A French painter once set out to make a self-portrait, it turned out to be a vase of Chrysanthemums. Mine is a rosepetalpistol. I make art, I do poetry, I perform," she writes on her site's About section. "The mediums change. The sentiment is the same. I believe awareness of life's troubles brings deeper appreciation of beauty. And that fragility and strength travel together down the same barrel...Fire."
In August, Gorney told Vanity Fair she was fine with "being misunderstood." It is "the best way to stay sane," she said.
Miller already had the reputation of a villain after his July interview with Vulture where, among other things, he called out former colleagues and implied women weren't funny. Gorney considers herself a serious artist and didn't feel it was necessary to detach herself from Miller, despite his reputation.
"I think the trouble with defining people based on the people around them or putting them in a specific box or in a specific category is that you don't really then have an opportunity to look at all of the aspects of the well-rounded person," she told Vanity Fair.
Gorney and Miller married in 2015 in Denver. At the time, Town and Country magazine described their "whimsical art deco-inspired wedding" as "nothing you've ever seen before."
Like Gorney, Miller didn't immediately respond to the allegations against him. An ex-girlfriend, who chose to only be identified as Sarah, told The Daily Beast that physical and sexual assault allegedly occurred when they dated in college at George Washington University in 2001.
"He just tried a lot of things without asking me, and at no point asked me if I was all right," Sarah told The Daily Beast. "He choke[d] me, and I kept staring at his face hoping he would see that I was afraid and [that he] would stop… I couldn't say anything."
Another time, Miller allegedly punched her in the face while they were having sex, fracturing her tooth and leaving her with a bloody lip the next morning. "I couldn't bring myself [at the time] to believe this had happened," Sarah said. "It was me not wanting it to be true."
Miller is just the latest man in the entertainment world to be accused of sexual assault. Allegations have followed dozens of men since Ronan Farrow's October bombshell story about Harvey Weinstein debuted in the New Yorker.