Who Is Kate Steinle? Boycott San Francisco Trending As Conservatives Decry Immigrant Trial Verdict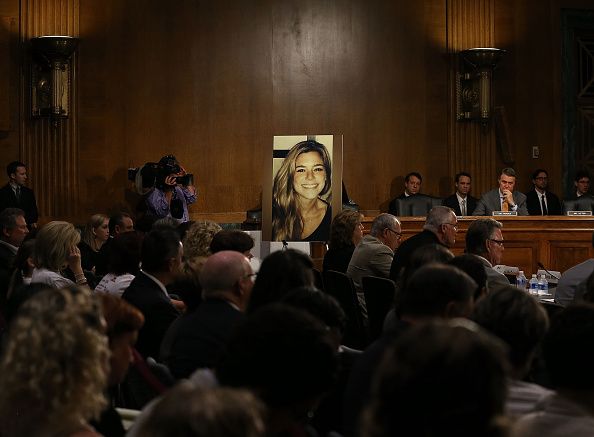 Twitter blew up after a jury found an undocumented immigrant not guilty Thursday of killing a woman in San Francisco two years ago.
On Thursday, Jose Ines Garcia Zarate, a 45-year-old Mexican national, was found not guilty of first-degree murder, second-degree murder and involuntary manslaughter for the killing of Kate Steinle as she walked on the city's Pier 14 on July 1, 2015.
Garcia Zarate's lawyers said the shooting was an accident. They said he shot his handgun into the ground and the bullet ricocheted and hit Steinle.
President Donald Trump was critical of the verdict and made Steinle's death a central issue of his 2016 campaign. Trump took to Twitter Friday and blamed the justice system. "A disgraceful verdict in the Kate Steinle case! No wonder the people of our Country are so angry with Illegal Immigration," he tweeted.
Shortly after the verdict, #BoycottSanFrancisco went viral on Twitter, with many conservatives outraged by the outcome. "When no justice can be found in the "justice system," people will take matters into their own hands. There is only so much that Americans will tolerate. #BoycottSanFrancisco #KateSteinle," tweeted Mark Patano.
"#BoycottSanFrancisco. Defund sanctuary cities. Deport illegal felons. Unseat politicians who care more about their wallets than the American people," tweeted Jack Posobiec, an alt-right activist who supports Trump.
But others defended the verdict and criticized the Twitter users who were calling for a boycott of the city. "Conservatives are more outraged over 1 death caused by an illegal immigrant than 58 deaths caused by an American," tweeted Kevin Alexander, referring to October's mass shooting in Las Vegas, which failed to bring new gun control measures.
Many others said a boycott of San Francisco would not work, as big companies like Apple, Google and Twitter call the city their home. "The morons who are trying to #BoycottSanFrancisco because of a Jury's verdict are idiots. You literally have to delete your Twitter account to do so. Twitter's headquarters are there, and dozens of other major tech companies as well. Plus It's not 'San Francisco's' fault!" tweeted Brian Krassenstein.
Steinle's murder launched a national immigration debate when Trump cited her death in calling for a crackdown on sanctuary cities that protect immigrants from federals authorities. Garcia Zarate was released from jail several months before the shooting, despite his criminal record and immigration status.
Trump supported a bill, known as "Kate's Law," that passed in the House in June and was based on the Steinle case. The law seeks to increase penalties and jail time for immigrants who have been deported and are captured after returning to the U.S. It has not moved forward in the Senate.