Who Is Katelyn Ohashi? Gymnast Who Went Viral Almost Left the Sport Completely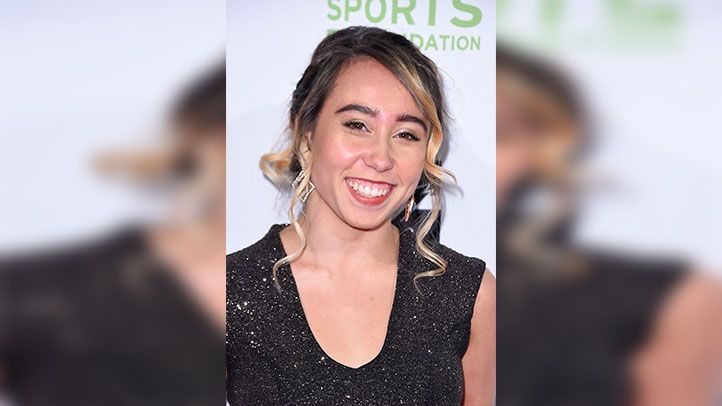 Over the weekend, a collegiate gymnast stepped onto the floor. With flawless execution, while also jamming to Tina Turner and Michael Jackson, the routine wowed audiences present and around the world—later breaking the internet.
The 21-year-old star is Katelyn Ohashi, and she almost stepped away from gymnastics altogether.
Like many world-class gymnasts, Ohashi started the sport at a young age. She grew to become an unmatched champion and an Olympic hopeful; however, as noted in her profile by The Player's Tribune, Ohashi began to feel empty.
"That girl, you would think had it all. All these medals in her room, podiums she's standing on, she thought she had nothing," Ohashi said, speaking in third person, in the video posted in August.
Dealing with constant criticism from "fans" and the pressure of obtaining perfection, the young athlete became burned out from the grueling sport.
"She was on a path of almost invincibility, and then, her back just gave out," she added.
The video revealed Ohashi was competing on a fractured back and tears in both shoulders. Due to her injuries, the Olympic hopeful stepped down from elite competition with a goal to return on a collegiate stage.
After her recovery, and while slowly falling in love with the sport again, Ohashi became a Bruin in April 2015. She noted in her profile piece that she had gained weight when she stepped away from gymnastics and following her return, she was compared to a "bird that couldn't fly."
"I was told that it was embarrassing how big I'd become.… These were all things I had heard before I'd even got injured," Ohashi said. "So what would they think of me when I had become big."
"I couldn't accept myself. Gymnastics was my worth, it was my life—and I hated myself," she added.
Ohashi began to find happiness once again in the sport after meeting Valerie Kondos Field—often referred to as Miss Val—UCLA's head gymnastics coach. Showing her a new path to follow, UCLA's gymnastics team was the missing element for Ohashi to "feel like a person again."
"I think gymnastics can be a very brutal sport, but I don't think it's supposed to be," Ohashi said.
The injured, low self-esteemed woman that once filled Ohashi was no longer in existence during Saturday's floor routine. The 21-year-old exuded a type of confidence that stunned the audience, judges and millions of people who would later view her routine.
Garnering over 21 million views as of Monday afternoon, many referenced to Ohashi's performance as the best floor routine ever seen.
"I haven't been able to feel this type of happiness in a long time," Ohashi said. "I found my joy, my voice, myself and love for the sport."
"It's not the outcome. It's not me standing on the podium with medals. It's me being able to walk out with a smile on my face and truly being happy with myself," she concluded.
Newsweek reached out to Ohashi but hasn't yet heard back.