Who is Katie Hopkins? Far-Right British Activist Known For Racist Rants Finds Support from Donald Trump
British far-right activist Katie Hopkins has found an ally in President Donald Trump, who frequently promotes her controversial social media posts and political commentary — especially those focused on migrants.
Hours before a mass shooting that killed 22 people in El Paso, Texas, on Saturday, Trump retweeted a post from Hopkins in which she attacked London's Muslim mayor. Hopkins called for Mayor Sadiq Khan to be ousted from office over the increase in knife crimes around the city.
A few days earlier, Trump also promoted a video shared by Hopkins that slammed German Chancellor Angela Merkel for crimes committed by immigrants. In the clip, Hopkins repeatedly referred to the criminals as "Merkel's migrants" and said:
"It's not us that hates, it's not the right that hates, it's you. You brought in a million of them, the thing is you never asked if we wanted them here."
Hopkins, 44, rose to fame on the British-version of "The Apprentice" and other reality television shows. She also had her own shows including "If Katie Hopkins Ruled the World" and "My Fat Story." Hopkins has written about her right-wing views for The Sun and MailOnline.

In the past, Hopkins has compared to migrants to cockroaches and has called for a "final solution" for Muslims after the terror bombing at Manchester Arena in 2017. She was forced to leave her job at the radio station LBC after her "final solution" remark.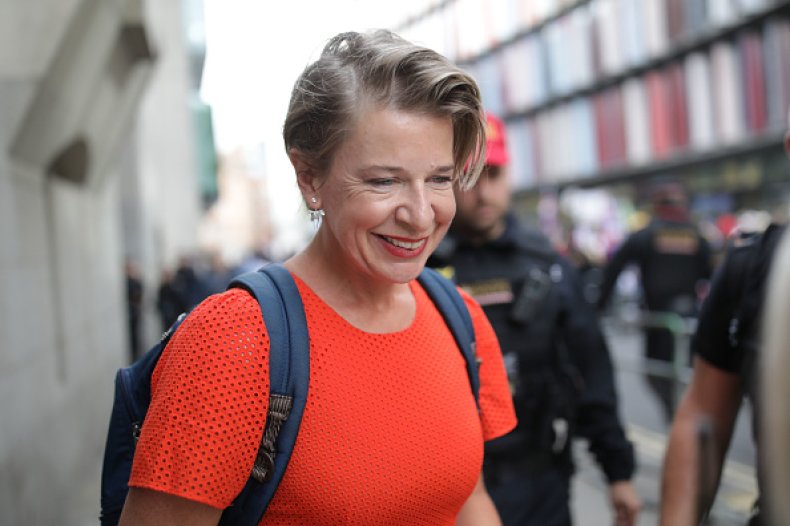 Trump first began retweeting Hopkins during his 2016 presidential campaign. In December 2015, Trump praised Hopkins for supporting his "total" ban on Muslims coming to the United States. He tweeted at the time: "Thank you to respected columnist Katie Hopkins...for her powerful writing on the UK.'s Muslim problems."
Their relationship has been renewed in recent months, as Trump launched his 2020 re-election bid.
Last month, Trump retweeted Hopkins after she defended him in the midst of his feud with the "Squad" of progressive freshman Democrats including Ilhan Omar, Alexandria Ocasio-Cortez, Ayanna Pressley and Rashida Tlaib. Trump urged the four congresswomen of color to "go back" to the "crime infested places from which they came" even though three of the four women were born in the United States and all of them are American citizens.
At one of his rallies, the crowd started chanting "send her back" in reference to Rep. Omar. Trump was widely criticized for the chant, which he later said he disagreed with, but Hopkins voiced her support for the racist rhetoric.
Hopkins has also supported Trump in his tirade against Baltimore and Representative Elijah Cummings. The president attacked the predominantly black Maryland city as "rat infested" and mocked Cummings after the congressman's house was broken into during their feud.
In a tweet, Hopkins agreed with Trump that Baltimore was a "proper sh*thole."