Who Is Keith Raniere? Self-Help Guru Accused of Sex Trafficking and Branding 'Slave' Followers
The leader of secretive self-help group NXIVM was on Tuesday arrested in Mexico on sex-trafficking charges.
Keith Raniere, known to followers as the Vanguard, was arrested in a luxury villa outside Puerto Vallarta and deported to the U.S., where he has been charged with sex trafficking, sex trafficking conspiracy and conspiracy to commit forced labor.
Several female followers reportedly chased the car in which Raniere was being transported by investigators from the Mexican villa.
Raniere appeared in a federal court in Fort Worth, Texas, on Tuesday, where he declined to make a statement, reported the Star-Telegram.
What Is NXIVM?
NXIVM is a secretive self-help organization based in New York founded by Raniere and Nancy Salzman.
Raniere on his website claims to hold "147 international patents, including 47 in the United States," to have "earned degrees from Rensselaer Polytechnic Institute (RPI) in mathematics, biology and physics, with minors in philosophy and psychology," and to have authored two books. The second, The Sphinx Thelxiepeia, he claims, has a foreword by Tibetan Buddhist leader the Dalai Lama.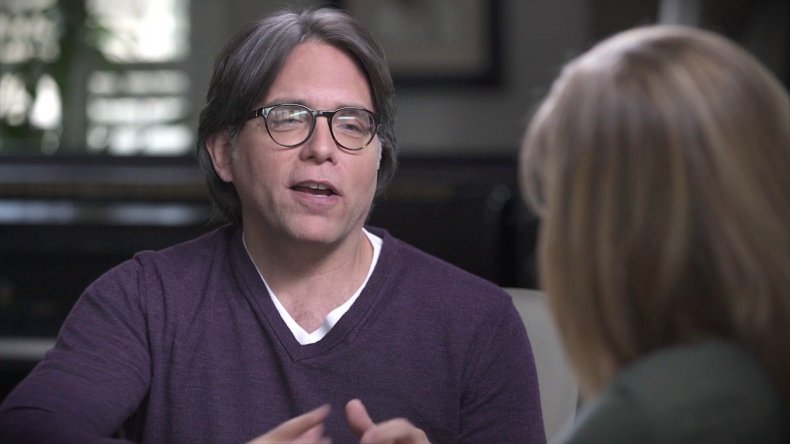 The organization on its website claims to offer "Executive Success Programs," or "ESP," in New York, California, Canada, Mexico and elsewhere.
It describes itself as a "community guided by humanitarian principles that seek to empower people and answer important questions about what it means to be human."
Hollywood stars and the son of a former Mexican president are alleged to be members of the group.
Former members have alleged brutal practices within NXIVM. In October, several women spoke to The New York Times, leading to the U.S. attorney's office in Brooklyn opening an investigation.
Back in 2012, the Albany Times Union published reports alleging cult-like practices in the group.
"As alleged in the complaint, Keith Raniere created a secret society of women whom he had sex with and branded with his initials, coercing them with the threat of releasing their highly personal information and taking their assets," U.S. Attorney for the Eastern District of New York Richard Donoghue said in a statement Tuesday.
In a statement issued after the Times published its investigation, Raniere denied the allegations.
What Is the Group Accused Of?
Investigators claim that the group operated according to a pyramid structure in which members paid thousands to participate in exclusive workshops.
Raniere is accused of setting up a secret sorority in the group known as Dominus Obsequious Sororium (DOS), meaning Master Over the Slave Women.
According to the complaint, members were forced to perform menial chores and have sex with Raniere.
They were forbidden to have sex with anyone other than Raniere and were also banned from discussing their relationship with him to others, according to investigators.
Members were also expected to adhere to low-calorie diets because Raniere liked thin women.
To join, members were forced to hand over sexually explicit or otherwise compromising material as a form of "collateral."
The affidavit describes ceremonies in which members were branded in the pubic region with a symbol incorporating his initials.
Former member Sarah Edmondson described being forced to strip naked and being branded with a cauterizing device without anesthetics.
"It was a horror movie," she told ABC News. "It was the most inhumane, horrific way to treat anybody. But the most horrific thing is that it's women doing it to women."
The FBI's New York Field Office Assistant Director-in-Charge William F. Sweeney Jr. in a statement alleged that Raniere "displayed a disgusting abuse of power in his efforts to denigrate and manipulate women he considered his sex slaves."
"He allegedly participated in horrifying acts of branding and burning them, with the cooperation of other women operating within this unorthodox pyramid scheme. These serious crimes against humanity are not only shocking but disconcerting to say the least, and we are putting an end to this torture today."
What Next?
On Tuesday, police raided the upstate New York home of group co-founder Salzman, suggesting a broader probe into NXIVM's activities.
At a federal court in Texas earlier, Raniere waived his right for an identification hearing and is to be transferred to New York in the next fortnight.
Raniere denied the allegations of abuse in a 2017 statement posted on the NXIVM website.
"These allegations are most disturbing to me as nonviolence is one of my most important values," a letter on his website said.
In the letter, he added that members of the sorority were "thriving, healthy, happy, better off, and haven't been coerced."