Who Is Kelli Ward, the Arizona Candidate Running for Jeff Flake's Senate Seat?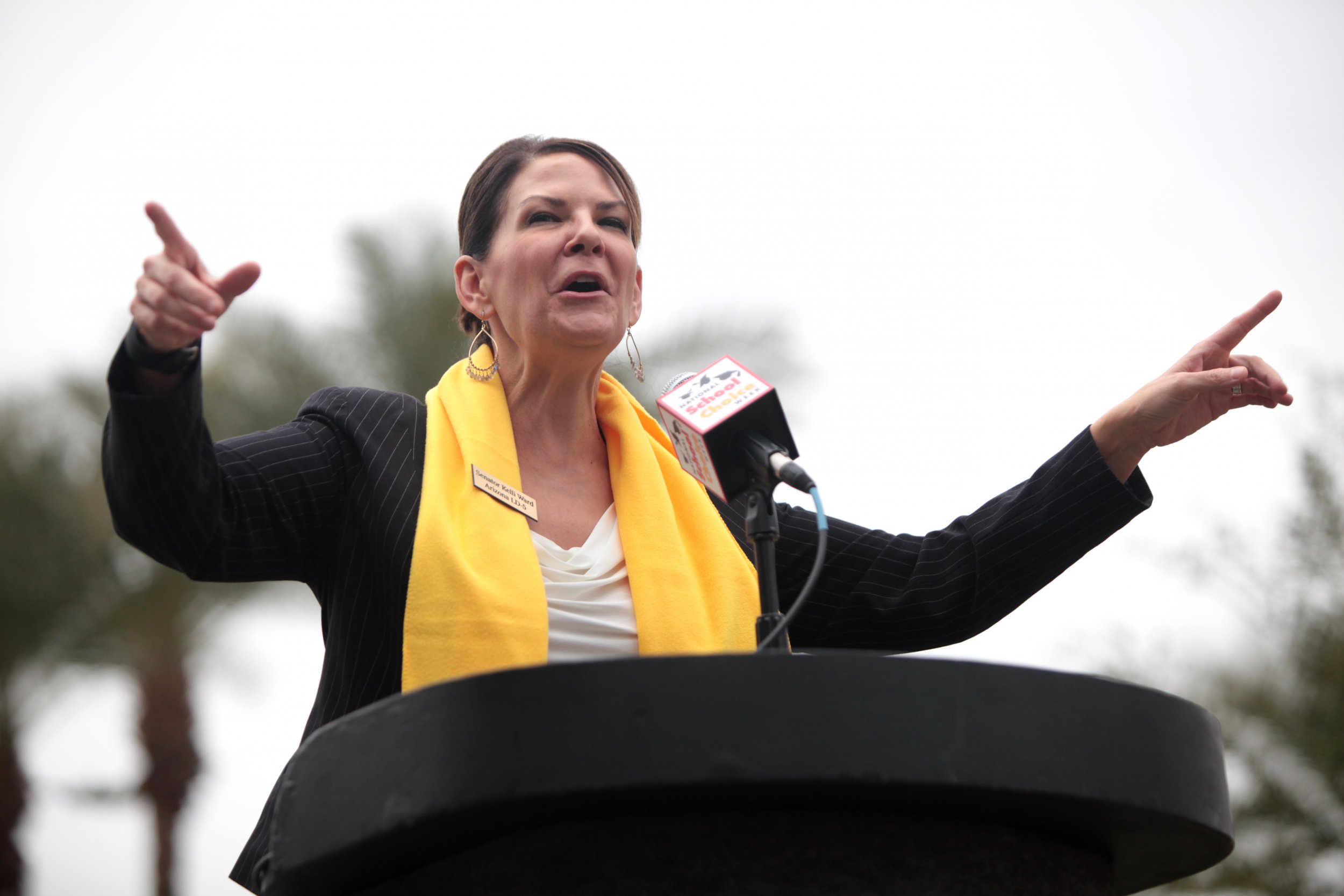 Senator Jeff Flake of Arizona may have paved the way to Congress for Dr. Kelli Ward when he announced Tuesday he would not seek re-election. Ward had been running to unseat him in the 2018 Republican primary.
A former physician and state senator, Ward challenged Senator John McCain in the 2016 Republican primary. Although unsuccessful, she came within 11.3 percentage points of defeating the 30-year incumbent, the closest anyone has come, and garnered 39.9 percent of votes. After that race, she announced she would challenge Flake, who has held his seat since 2013.
Following Flake's announcement on Tuesday, Ward tweeted, "Arizona voters are the big winners in @JeffFlake's decision not to seek re-election. They deserve a strong conservative in the Senate who supports @POTUS & the 'America First' agenda."
Related: Meet Robert Mercer, the mysterious billionaire benefactor of Breitbart
This was more of Ward portraying herself as an adherent of President Donald Trump. The president has sparred with Flake, saying about him at a rally in Phoenix in August, "Nobody wants me to talk about your other senator, who is weak on borders, weak on crime, so I won't talk about him." In case anyone didn't get the reference, Trump tweeted the next day, "Not a fan of Jeff Flake, weak on crime & border!"
Ward has recycled that rhetoric. On her campaign website, she says she will "stand with President Trump and fight to make Arizona great again," co-opting the president's (literally) trademarked phrase. Borrowing other Trumpian language, her site says of Flake, "He is simply too weak to fight for Arizona." She also says on the site, "I'm going to the swamp to drain it," and refers to Flake as "one of President Trump's biggest foes."
That language appears new for Ward. In the lead-up to the 2016 primary, her website attacked the "establishment" but did not feature the other Trump catchphrases. She instead played up her background in medicine ("I've spent my life healing the sick in private practice and in the ER") and wrote about her family life.
Trump has yet to throw his full support behind Ward. She reportedly had a meeting with the White House, and Trump has tweeted about her, but he has also met with Arizona State Treasurer Jeff DeWit and with Robert Graham, the state's former Republican Party chairman, both of whom are reportedly considering running in the primary.
Ward does have the support of Steve Bannon, Trump's former chief strategist, and of Robert Mercer, the hedge fund executive and megadonor behind Trump's campaign. Bannon stumped for Ward on October 17, and Mercer donated $708,100 to her previous election efforts and $300,000 so far in 2017, according to Federal Election Commission filings.
Mercer and his daughter Rebekah, who served on Trump's transition team and is said to have convinced the president to hire Bannon, are working with Bannon on pushing anti-establishment candidates, The New York Times reported last month. In a closely watched Republican race in Alabama in September, Bannon threw his support behind the controversial Roy Moore. "You're going to see in state after state after state, people that follow the model of Judge Moore, that do not need to raise money from the elites, from the crony capitalists, from the fat cats in Washington, D.C., New York City, Silicon Valley," Bannon said at Moore's victory party. Bannon and the Mercers or people close to them have spoken with at least seven Republicans about running for Senate, according to the Times.
The Alabama race showed that voters could be open to embracing Bannon-backed, anti-establishment candidates in the mold of Trump and Moore, which could boost Ward. Senate Majority Leader Mitch McConnell responded to this apparent trend, telling Fox News on Sunday, "Well, let me just say with regard to the element that you're referring to here, they've been out there for a number of years. They cost us five Senate seats in 2010 and 2012. We would have gotten the majority sooner, but for the fact that they were able to nominate people who could not win in November." He made similar comments at a press conference with Trump in the Rose Garden earlier in October.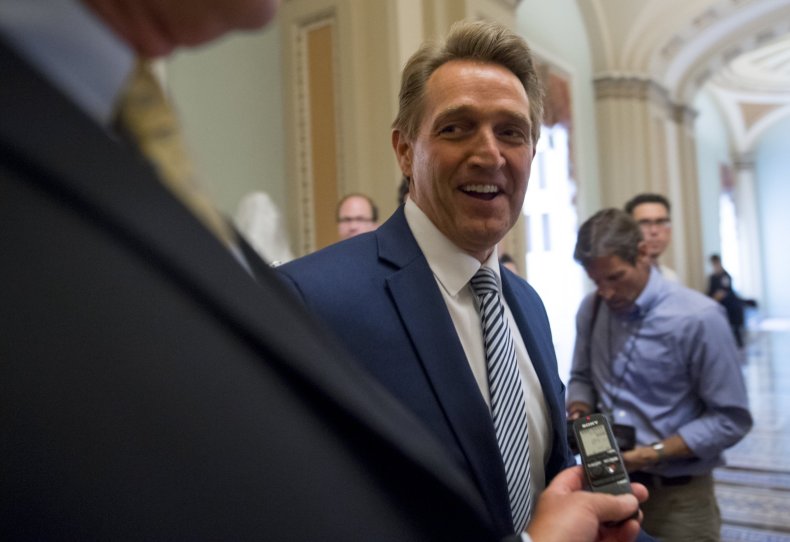 But Ward's pro-Trump messaging might also hurt her in Arizona, a state that Trump carried last November with just a 3.6 percentage-point margin over Hillary Clinton. That's smaller than the difference between winner Mitt Romney and former President Barack Obama in 2012 (9.1 points), and between McCain and Obama in 2008 (8.5 points).
Opponents of Ward like to point to a public meeting she held in 2014 on the "chemtrails" conspiracy theory (that the trails airplanes leave behind in the sky spray chemicals on humans). She has said she does not believe the theory, but that didn't stop people from referring to her as "Chemtrail Kelli." She has also been a guest on the radio show of Alex Jones, a right-wing media personality and conspiracy theorist. (Trump has appeared on his program, too.) Her campaign did not respond to an interview request.
Critics also came after Ward for how she reacted to the news in July that McCain was diagnosed with brain cancer. Following that announcement, Ward told the radio station WOWO, "As a Christian, I know there can always be miracles. But the likelihood that John McCain is going to be able to come back to the Senate and be at full force for the people of our state and the people of the United States is low." In a follow-up statement, she offered McCain "prayers" and said, "The medical reality of his diagnosis is grim…When the time comes that Senator McCain can no longer perform his duties in the Senate at full capacity, he owes it to the people of Arizona to step aside."
Constantin Querard, an Arizona-based conservative political consultant with the firm Grassroots Partners, says Flake's departure might end up hurting Ward. "She basically removed the villain from the story," he says. "Her pitch to donors, her purpose to voters, had largely been based on the need to replace Flake, and with that mission now accomplished, her mission has to change. And I don't know that any other pitch could be as emotionally appealing." Querard says he expects more Republicans to enter the race.