Who is Kenneth 'Zoo' Petty? Nicki Minaj Defends Boyfriend's Sex Offender Status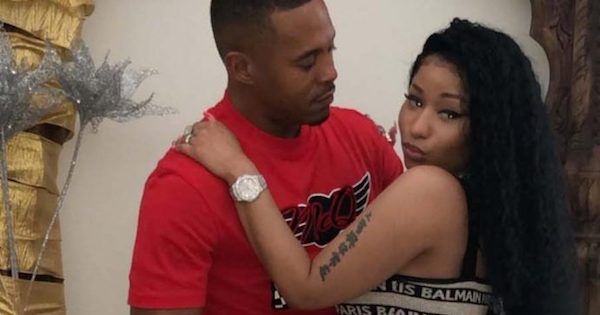 Nicki Minaj defended new boyfriend, Kenneth "Zoo" Petty -- a registered sex offender in New York -- after announcing their relationship in an Instagram post over the weekend.
"He was 15, she was 16...in a relationship. But go awf (sic), Internet. y'all can't run my life. Y'all can't even run you own life," Minaj responded to a fan who brought up his criminal record.
Minaj added another photo of herself and Petty with the caption "Oh, they wanna talk? Let's give'm something to talk about. *Shania voice*"
Petty was convicted of first-degree attempted rape in April 1995 when both he and the victim were 16 years old and was sentenced to four years in New York state prison, according to court records obtained by TMZ. The 40-year-old used a sharp object when he tried to force the accuser into having sexual intercourse, according to prosecutors. He reportedly served four years for the crime, according to TMZ.
Petty was also convicted of first-degree manslaughter after his release. A criminal complaint filed by the Queens City District Attorney revealed that he pled guilty to the shooting of a man named Lamont Robinson, who died in a nearby hospital shortly after the incident.
Petty was initially charged with second-degree murder, but reached a plea deal in order to bring the charge down to manslaughter. According to the criminal complaint, Petty shot Robinson "with a loaded handgin (sic) multiple times thereby causing his death" on April 27, 2002 at approximately 12:30 a.m.
Petty was sentenced to 10 years in prison, but was released after seven in May 2015 and was on supervised release for five years, which concluded last May, according to court records.
Minaj confirmed her relationship with Petty on Sunday via Instagram after speculation of their involvement grew when he appeared on her Snapchat previously.
The rapper shared two photos -- one featuring her wrapping her leg around Petty while he gazes at her and another of him looking off into the distance -- with a caption including lyrics from Adele's 2015 hit single, "Hello."
"Did you ever make it out of that town where nothing ever happens?…it's no secret…that the both of us…are running out of time," Minaj wrote.
The photos were taken during Minaj's 36th birthday celebration in Turks and Caicos this past weekend. According to TMZ, Petty is a longtime friend from New York that she knew prior to becoming famous.