Who Is Kiara Mia? 49ers QB Jimmy Garoppolo Dating Adult Film Star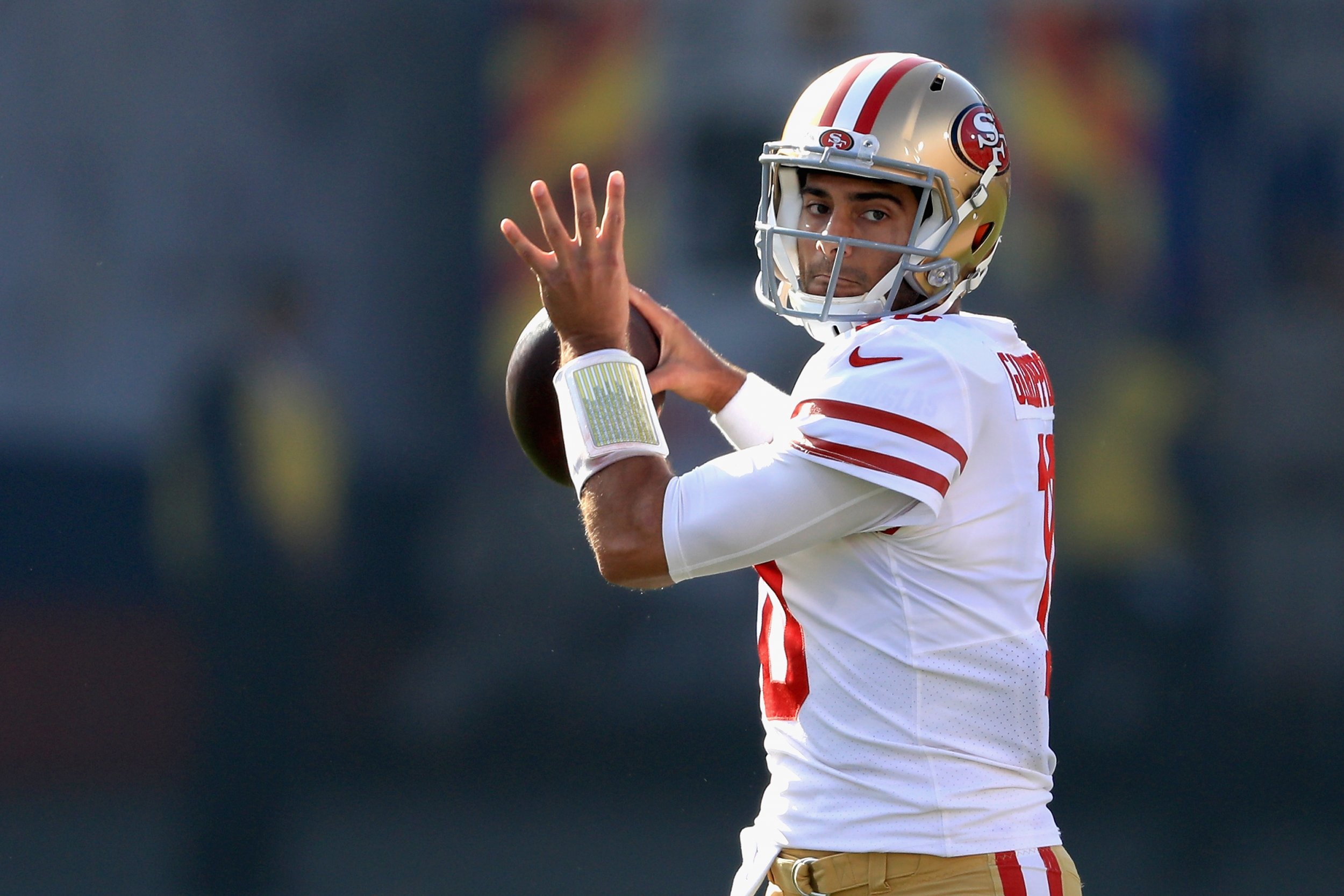 The NFL season might still be two months away but Jimmy Garoppolo has already made the headlines, albeit for reasons that have little to do with his passing abilities.
The San Francisco 49ers quarterback was spotted on a date with adult film star Kiara Mia in Los Angeles on Wednesday night.
A video posted by gossip site TMZ shows the duo sharing a toast while dining at the Avra restaurant in Beverly Hills, before leaving the restaurant and getting in a car together to escape the crowd of paparazzi.
Unlike other NFL stars, Garoppolo has largely kept his private life to himselff. He was dating Instagram model Alexandra King back in March, before being spotted with outside a cocktail lounge with an unidentified woman a few months later.
With 2.7 million Instagram followers, Mia is a social media sensation herself and used the platform to reveal she was going on a date, although she did not directly name Garoppolo. In the post, the adult film star is wearing the same outfit she was pictured in at the restaurant.
However, Garoppolo's date did not go down well in some quarters.
"Jimmy Garoppolo is the franchise quarterback of a prominent NFL team," tweeted Fox 5 host Britt McHenry.
"He should have more values and class than parading a porn star in LA. Slam me for saying that, but guarantee someone in his camp said the same thing."
The 26-year-old, who penned a five-year deal worth $137.5 million with the 49ers in February, is one of the NFL's most high-profile stars and his jersey is the second-highest selling in the league.
After video of his date emerged, some suggested it could force some of his sponsors to reconsider their deals, given some marketers might not want to endorse a player dating an adult film star.
However, Dallas Mavericks owner Mark Cuban suggested Garoppolo has nothing to fear about losing some of his sponsors. In a video posted on TMZ, Cuban revealed some Mavs players dated adult film stars in the past without it ever becoming an issue.
In fact, Cuban hinted the 49ers quarterback might have helped himself by coming off as very authentic.
Garoppolo will have little time to worry about his sponsors' reaction as pre-season training for NFL teams begins in a week. The Illinois native started five of the six games he played for the 49ers since he swapped the New England Patriots for the Bay Area in October last year, recording 1,560 passing yards and seven touchdowns.