Who Killed 4 U.S. Soldiers in Niger? An ISIS Splinter Group Is Being Blamed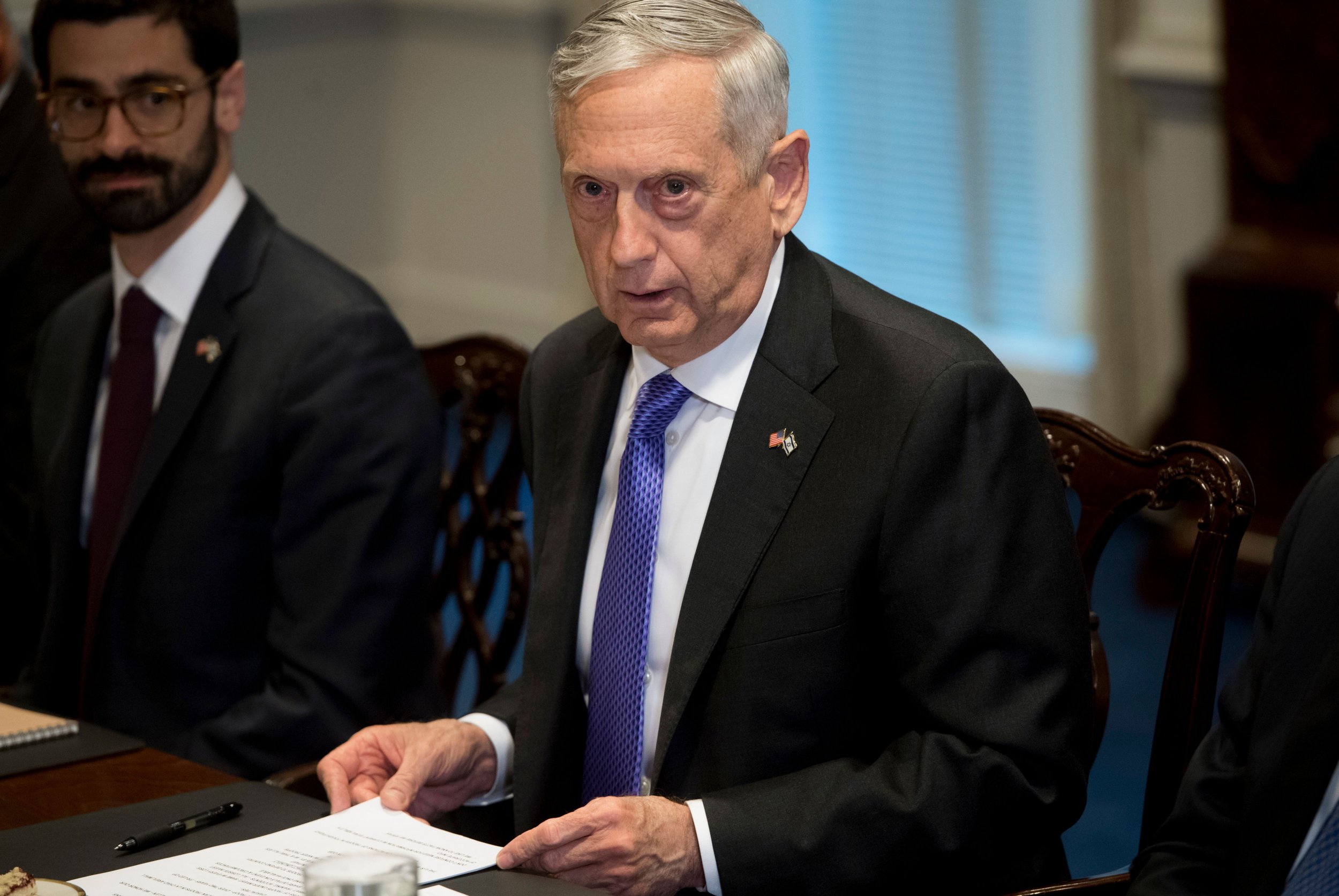 The ambush in Niger that left four U.S. soldiers dead was the result of a major intelligence failure—and more than two weeks after the fatal incident, the Pentagon is still unable to confirm who is responsible.
The Pentagon says groups linked to both ISIS and Al Qaeda are active in and around Niger, but won't explicitly blame anyone.
There are many questions about what went down in Niger, but few answers at this point.
What do we really know about the Niger ambush?
Staff Sergeants Bryan Black, Dustin Wright, Jeremiah Johnson and Sergeant La David Johnson—the four soldiers killed in the October 4 ambush—were part of a 12-man team training Nigerien troops. They were departing from a meeting with village elders when they were ambushed by roughly 50 militants.
The soldiers were in unarmored pickup trucks, so they immediately got out of the vehicles and returned fire. A 30-minute firefight ensued, which was eventually broken up by French air support and the soldiers were evacuated with helicopters.
Johnson, however, was separated from his team at some point during the firefight. His body was found by the Nigerien army roughly 48 hours later. It's unclear how Johnson became separated and the nature of his death is also open to question.
All that's been confirmed is that four Green Berets were killed along the Mali-Niger border on October 4 during what the Pentagon says was part of a larger training mission.
But after that, almost nothing has been confirmed.
Patrick Barnes, a spokesman for U.S. Africa Command (AFRICOM), tells Newsweek it would be "inappropriate to speculate as to which extremist organization was responsible for the attack" at this point, given the details of the incident are under review.
"I can say that a number of groups are active in the region, to include Al Qaeda in the Islamic Maghreb and ISIS," Barnes adds.
Some blame an ISIS-linked group for the ambush.
The Pentagon is reluctant to attribute the ambush to any specific group, but the Defense Intelligence Agency told ABC News it is "highly likely" a group linked to ISIS is responsible.
The group, known as ISIS in the Greater Sahara (ISGS), has been active in Niger for roughly two years. In 2015, the current leader of the group, Adnan Abu Walid al-Sahrawi, severed ties with an Al Qaeda affiliate and pledged allegiance to the Islamic State and its leader, Abu Bakr al-Baghdadi. But ISGS has not been formally recognized as an official branch of ISIS, according to ABC News.
"[ISGS] primarily operates along the Mali-Niger border in Mali's Menaka region, but its reach may extend as far as Niamey, Niger," Robyn Mack, a spokesperson for AFRICOM, tells Newsweek. "The group has conducted small-scale attacks against regional security forces."
AFRICOM is one the Pentagon's six geographic combatant commands and is responsible for military relations with African nations, the African Union and African regional security organizations.
ISIS recently suffered a major defeat when it was driven from Raqqa, a Syrian city that became the de facto capital of its self-declared caliphate. But the attack in Niger highlights the terrorist organization's continued global appeal, even as its presence in Iraq and Syria dwindles.
Al Qaeda's presence in the region is much more significant than ISGS.
Other terror organizations are also active in the region where the ambush occurred, including Al Qaeda's rebranded Mali-based affiliate Jama'at Nusrat al-Islam wal-Muslimin (JNIM).
"JNIM is an umbrella organization of regionally-focused terrorist groups, including al-Qaida in the Lands of the Islamic Maghreb (AQIM) Sahara Emirate, al-Mourabitoun, and locally-focused groups Macina Liberation Front (MLF) and Ansar al-Din (AAD)," Mack says.
The group has claimed responsibility for at least 35 attacks since it formed in early March, "including the June 18 attack on a Western-frequented hotel near Bamako, Mali, and probably are responsible for the August 13 attack on a Western-frequented cafe in Ouagadougou, Burkina Faso," Mack adds.
Experts were surprised to hear ISGS is being blamed for the ambush.
Jason Warner, an assistant professor at the Combating Terrorism Center and the Department of Social Sciences at the U.S. Military Academy at West Point, tells Newsweek he was "surprised" when he heard the October 4 ambush was being blamed on ISGS.
Warner, who's done extensive research on terrorism in Africa, says he "never really heard anyone mention ISGS in a serious way" and the group has "not really ever come up as a real threat" in conversation.
"When it first came out that these four Americans were killed, for most of us who watch this region, it seemed unlikely it was ISGS since they haven't been so active," Warner adds.
In Warner's view, if the attack is indeed "pinned down to [ISGS], it would be the most ideologically significant" it has been involved in thus far.
Why wasn't there more warning?
The government has said the soldiers were not expected to be met by a large, hostile force that day. This perception could be linked to the fact ISGS hasn't been seen as a major presence in the region and was perhaps underestimated by intelligence.
The U.S. military is active across Africa, as part of a broader counterterrorism effort and has been in Niger since 2013. At present, there are roughly 800 U.S. troops in Niger and a major drone base is being built near Agadez, a city in the center of the country.
Congress is getting impatient for answers.
AFRICOM said in a statement on Friday the U.S. military "does not have an active, direct combat mission in Niger" and maintained its presence there is for "training and security assistance to the Nigerien Armed Forces." This contradicts characterizations of America's presence there from Defense Secretary James Mattis.
"War is war and these terrorists are conducting war…on innocent people. There's a reason we have U.S. Army soldiers there and not the Peace Corps, because we carry guns and so it's a reality, part of the danger that our troops face in these counterterrorist campaigns," Mattis said Thursday.
A number of members of Congress are suggesting the Trump administration is being deliberately evasive about both the ambush and America's presence in Niger more generally. Some have gone as far to say Niger is "Trump's Benghazi."
As long as the Pentagon cannot provide answers on basic aspects of the ambush, such as who was responsible and how Johnson became separated, it will further fuel speculation and controversy.