Who Killed JFK? A Recap of Lee Harvey Oswald's Assassination Timeline As JFK Files Released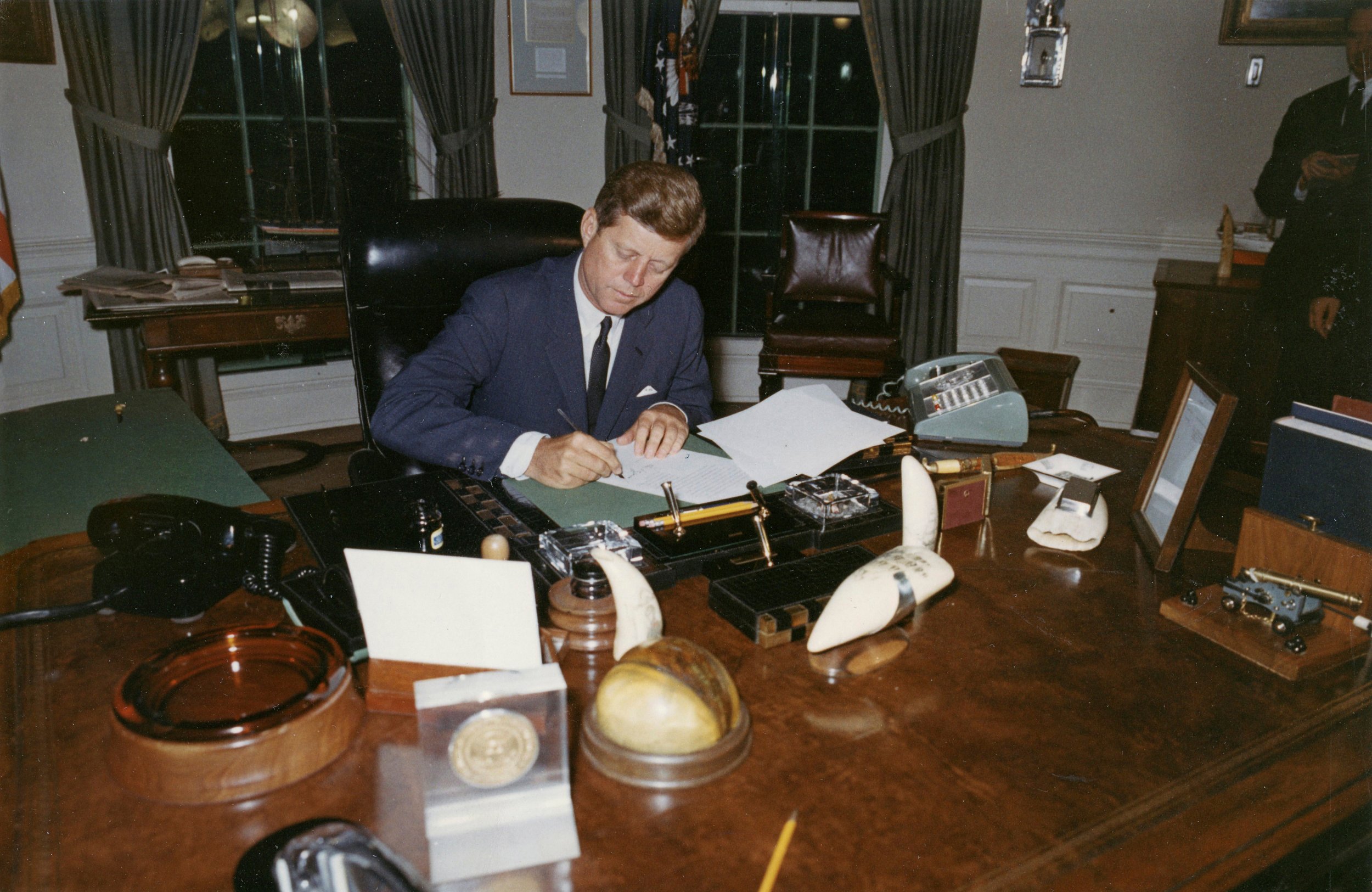 Who killed President John F. Kennedy? Did Lee Harvey Oswald act alone? What will the secret files reveal?
The assassination of JFK has fueled decades of conspiracy theories and speculation, and there will undoubtedly be more when the U.S. government releases thousands of assassination-related files Thursday. The National Archive library estimates that 3,100 files have never been seen before, many of which are from the CIA, FBI and Justice Department, and the full text of over 30,000 files that were previously redacted.
The files will be released on the National Archives website as part of a 1992 law designed to quash conspiracy theories about the killing. The President John F. Kennedy Assassination Records Collection Act of 1992 requires the federal government to release the files by October 26, 2017, unless President Donald Trump allows federal agencies to keep files classified due to national security concerns.
Trump did not seem interested in that route, posting Wednesday on Twitter: "The long-anticipated release of the #JFKFiles will take place tomorrow. So interesting!" Here is a recap of the assassination timeline before the files are released:
When was JFK Assassinated?
President Kennedy was assassinated on Nov. 22, 1963, from a book depository on Dealey Plaza in Texas by Lee Harvey Oswald. The timeline follows interactive data and timestamps from the JFK Museum and details from news outlets that covered the event.
7:23 a.m: Oswald, an employee at the Texas book depository building in Dallas, goes to work with a long, paper-wrapped package to await Kennedy, who landed in Dallas, Texas at Love Field around 11:30 a.m. on Air Force One, according to The Guardian.
11:44 a.m: President Kennedy and first lady Jackie Kennedy got in an open-top limo to join a tour of Dallas with Texas Governor John Connally. Vice President Lyndon Johnson was in a separate car.
12:27 p.m: The limo entered Dealey Plaza on a route toward the downtown Dallas Trade Mart. Around 150,000 people lined the 10-mile motorcade route to see JFK wave to the crowd.
12:30 p.m: A bullet struck Kennedy in the back while he waved, followed by a second shot to the back of his head. Connally was also hit. The presidential limousine drove to Parkland Memorial Hospital. A man standing in the crowd captured footage of the assassination. The JFK Museum notes that witnesses thought there were three shots, but some thought there were two or four or more.
12:32 p.m: A Dallas police officer stops Oswald in the second floor lunchroom of the Texas school book depository, then lets him go. Oswald walks down a stairwell and leaves the building, returning to his room in Oak Cliff, Texas around 12:58 p.m. before grabbing his pistol and heading to the bus stop.
1 p.m: Doctors declare President Kennedy dead. Johnson is later sworn in aboard Air Force One.
1:50 p.m: Oswald arrested after a struggle at the Texas Theatre in Oak Cliff. Within 30 minutes, he would be interrogated at the Dallas Police Headquarters.
Who was Lee Harvey Oswald?
Oswald reportedly used the alias "A. Hidell" to order the rifle, according to PBS Frontline. Dallas police officers would later find a rifle hidden on the sixth floor of the depository with empty rifle shells nearby.
Two days after Oswald was arrested by Dallas police officers, he was shot at police headquarters by nightclub owner Jack Ruby on live television during a prison transfer. Oswald died of a gunshot wound after attempted surgery at Parkland Hospital.
There are many conspiracy theories surrounding Oswald. Here are the ones people are looking to confirm or debunk with the document dump.
Did Oswald act alone in killing JFK?
After the assassination, U.S. Ambassador to Mexico Thomas Mann speculated that Oswald had an accomplice. POLITICO reported that Mann "was certain" the shooter did not act alone. Oswald had visited Mexico City several weeks before the assassination of Kennedy, sparking questions over whether he had hoped to secure a visa to flee to Cuba after the crime.
People questioned reported CIA surveillance of Oswald and whether he worked alone or as an agent of a foreign government. Those suspicions have never been confirmed, but the unknown details about the trip to Mexico City have fueled conspiracy theories about whether the CIA attempted to cover its contact with Oswald and the shooter's motivations for assassinating the president.
PBS Frontline reported in 2013 that Oswald did not hold any hatred for Kennedy. "What he did hate was the system and what Kennedy stood for," Posner told PBS. "He despised America."