Who Killed North Korea's Leader Kim Jong Un's Half-Brother? Women Facing Death Sentence Plead Not Guilty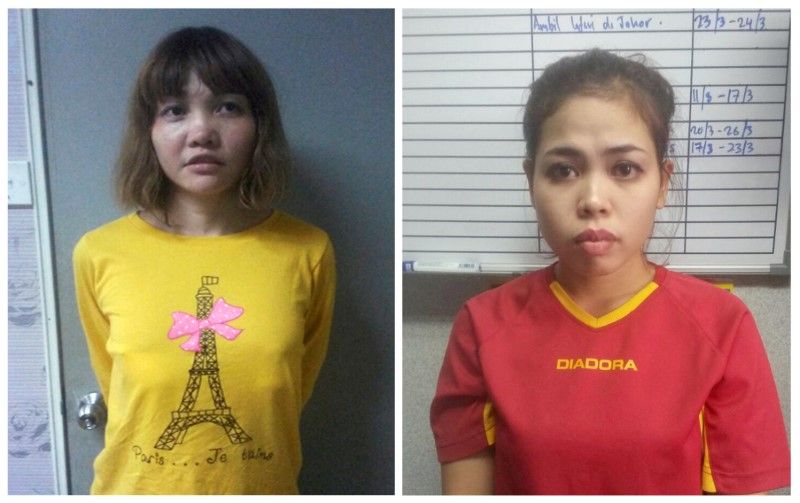 Eight months after Kim Jong Nam dropped dead at Kuala Lumpur international airport, two women arrested and charged with his murder pleaded not guilty on the first day of the much-anticipated trial in Malaysia on Monday.
The women wore bulletproof vests in court and nodded as interpreters read out the charges. The interpreters said both women pleaded not guilty, Reuters reported.
The estranged half-brother of North Korean leader Kim Jong Un was killed with a banned nerve agent on February 13. Footage from the airport security cameras showed the two women, 25-year-old Indonesian citizen Siti Aisyah and 28-year-old Doan Thi Huong of Vietnam, smearing his face with VX, which the U.N. describes as a weapon of mass destruction.
According to the prosecution, the assassination was practiced several times in Kuala Lumpur's shopping malls with the aid of four other North Korean citizens, who are treated as suspects in the case and were caught on video footage observing the murder from a distance.
"The prank practice carried out by the first and second accused with the supervision of the four who are still at large was preparation to see through their common intention to kill the victim," stated the prosecution's charge sheet.
The four suspects' names have not been released although police said an Interpol red notice, an international alert just short of an arrest warrant, was issued because they are believed to have fled Malaysia.
Diplomatic relations between North Korea and Malaysia, once somewhat friendly, collapsed as a result of the murder. The two countries fell out after Malaysia expelled the North Korean ambassador—believing that embassy staff had been involved in the murder—leading Pyongyang to bar all Malaysians from leaving the country.
Malaysia secured its citizens' release in return for Kim's body and safe passage home for the North Korean citizens sought in relation to the murder. Last week, Malaysia imposed a North Korea travel ban, forcing the postponement of a football match that was scheduled to take place in Pyongyang this Thursday, after it was alread rescheduled twice in the wake of the assassination.
The women face the death penalty if convicted. They claim they did not know they were participating in an assassination and were told they were partaking in a prank for a reality TV show.
The court heard the testimony of airport worker Juliana Idris and Police Lance Corporal Mohd Zulkarnain Sanudin, who saw Kim before he died in the airport clinic. Kim said he had been attacked by a woman from behind. His eyes were red and the police officer said he could still see some liquid on Kim's face.
Zulkarnain also said he mistakenly recorded Kim's nationality as South Korean, as he could not understand the acronym "DPR Korea" written on his passport—which stands for North Korea's official name, Democratic People's Republic of Korea.
"I did not know what DPR meant. I was only sure that Korea was South Korea," he told the court.
The trial is expected to last until November 30.