Who Killed This Pregnant Dolphin? A $11,500 Reward Is Being Offered To Find Out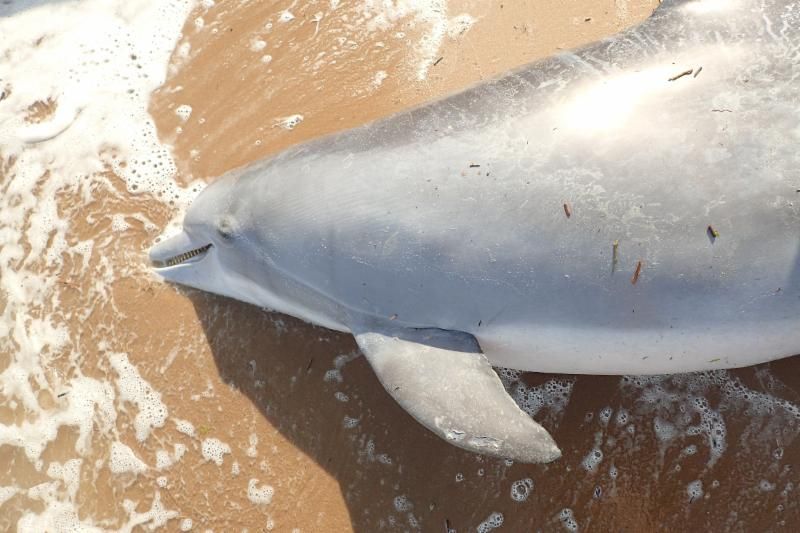 After a dead bottlenose dolphin washed up on a beach in Mississippi this spring, veterinarians discovered there had been foul play.
A bullet was found lodged in the animal's lung.
Someone had shot the dolphin to death.
Now, a $11,500 reward is being offered to help find the person who killed the animal, according to a news release from the National Oceanic and Atmospheric Administration (NOAA).

For information leading to the identification and prosecution of the person or people responsible, several wildlife agencies—Lightkeepers, The Humane Society of the United States, CetLaw, Ocean Experience, the Animal Welfare Institute and Dolphins Plus Marine Mammal Responder—are pooling their resources to offer the reward.
According to NOAA, violence against dolphins has been on the rise in the Northern Gulf region in recent years. Since 2002, at least 24 dolphins have died as a result of being shot with a gun, an arrow or being impaled by some sort of object.
In 2014, a dolphin washed ashore on Orange Beach in Alabama. The animal was hit with a hunting arrow, leading to an infection, which ultimately led to the animal's death, Reuters reported at the time. A child later confessed to killing the dolphin off the coast of Florida with a bow and arrow.
In another incident, a bottlenose dolphin washed up on Miramar Beach in Florida. The animal suffered from a gunshot wound and was within weeks of giving birth to a calf, the NOAA reported.
Dolphins in the waters of the United States are protected under the Marine Mammal Protection Act of 1972, which covers all marine mammals. This prohibits harassing, harming, killing or feeding the animals. Violators can face up to $100,000 in fines and one year in jail for each offense.
NOAA is urging people not to feed dolphins, because it could teach the animals to associate people with food and put themselves in dangerous situations.
When dolphins approach boats, they are known to grab food off fishing gear. In some cases, this can result in fisherman losing their catch and retaliating against the animals.
"You should never feed or attempt to feed dolphins from vessels or from shore," NOAA said.
Anyone with information is asked to call either the NOAA Enforcement Hotline at 1-800-853-1964 or the Slidell, LA, Enforcement Field Office at 985-643-6232. Information can be left anonymously, but those hoping to claim the reward should leave contact information.
SaveSave