Who is Kim Jong Un's sister? Kim Yo Jong Is Becoming North Korea's Most Powerful Woman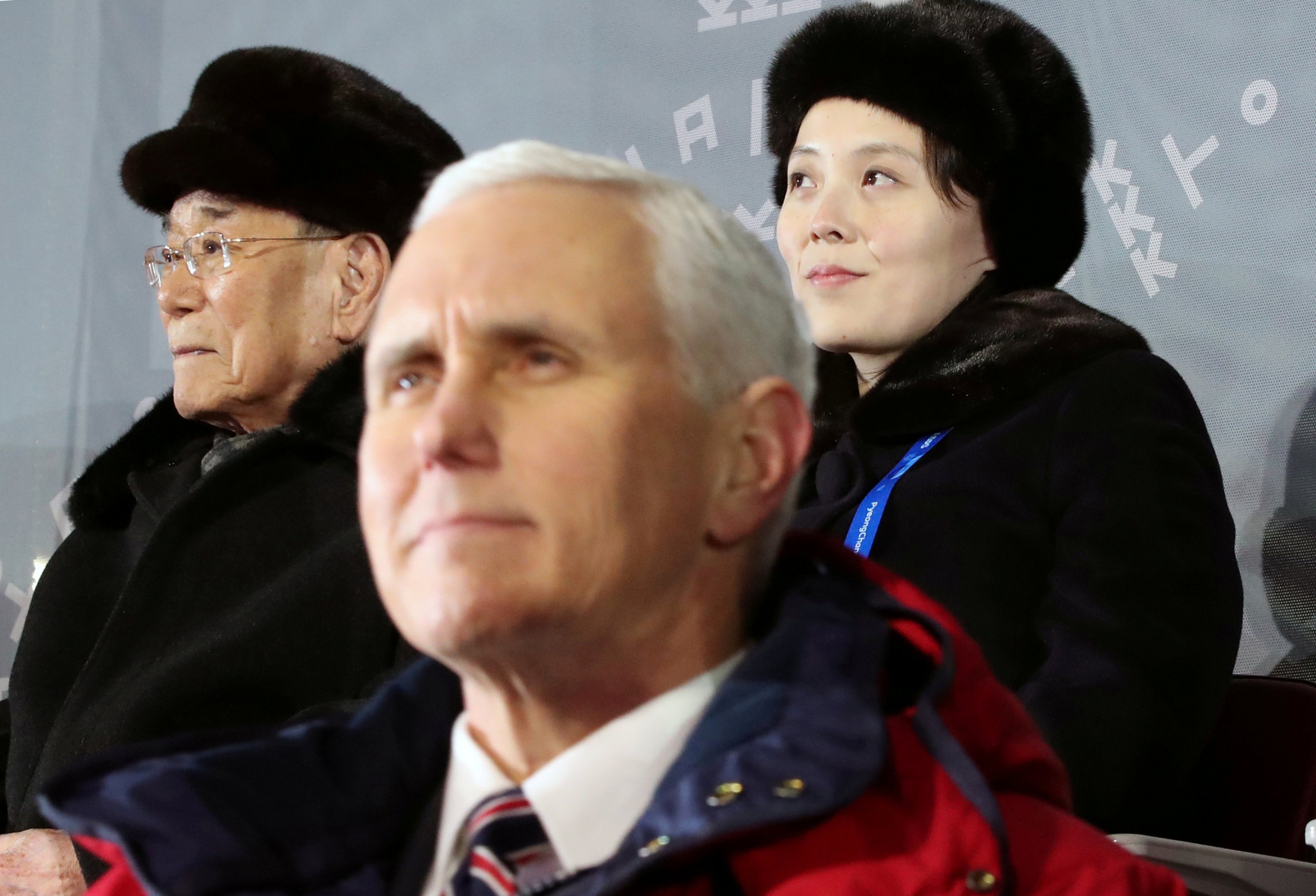 Kim Yo Jong made history Friday when she shook hands with South Korean President Moon Jae-in during the opening ceremony of the 2018 Winter Olympic Games. Her arrival in South Korea, the first of any member of North Korea's ruling family, was the latest sign that supreme leader Kim Jong Un's sister is becoming the most powerful woman in North Korea.
Until recently, Kim Jong Un was the only one of his siblings to enjoy international headlines. Having inherited his family's throne after his father's death, in 2011, Kim Jong Un easily outshone his siblings, which may number up to six by some accounts. His older half-brother Kim Jong Nam was rumored to have been the front-runner before being passed on, but this account has been disputed, and he was assassinated last year in what the U.S. and South Korea suspect to an attack orchestrated by North Korea, which denied involvement.
Related: Who is Kim Jong Un's wife? You know Melania Trump, meet North Korea's first lady, Ri Sol Ju
In the past few months, however, a new star has risen from perhaps the most secretive dynasty on Earth. Kim Jong Un promoted his sister Kim Yo Jong to a major position last October and, while little remained known for sure about the woman now representing North Korea at this year's Winter Olympic Games in Pyeongchang, South Korea, what experts have observed could prove useful as she becomes an increasingly important figure in a largely male-dominated society.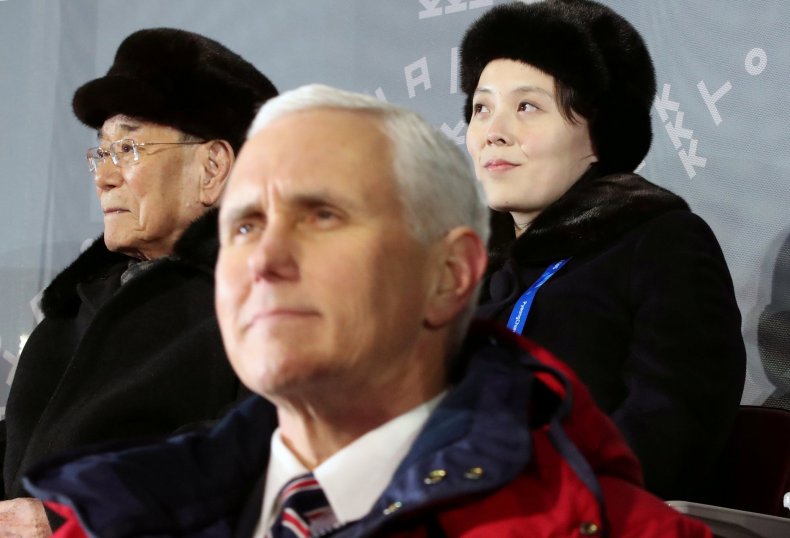 According to North Korea Leadership Watch, a blog run by frequent 38 North contributor Michael Madden of the U.S.-Korea Institute at Johns Hopkins University's School of Advanced International Studies, Kim Yo Jong was born September 26, 1987. This would make the 30-year-old four years younger than Kim Jong Un, who was believed by Madden and the U.S. government among others to have been born January 8, 1984.
Kim Yo Jong is believed to be the youngest child of late North Korean supreme leader Kim Jong Il's mistress Ko Yong Hui, an ethnic Korean dancer who was born in Japan and, as a child, moved to North Korea about a decade after the devastating three-year war with its U.S.-backed southern rival. Ko Yong Hui was believed to have met Kim Jong Il after he had already been married once and had one son, Kim Jong Nam, and one daughter, Kim Sol Song, with separate women.
After Ko Yong Hui gave birth to future Eric Clapton fan Kim Jong Chol and future supreme leader Kim Jong Un, Kim Yo Jong became the latest addition to the ruling family, then still led by North Korean founder Kim Il Sung, who died in 1994. All three siblings were brought up in relative isolation from the rest of the family, likely due to Kim Jong Il's efforts to keep them away from his father. She joined her brothers in Berne, Switzerland, where she attended a private elementary school in the late 1990s.
Not much is known about Kim Yo Jong after she returned to study in North Korea; however, her mother likely died of breast cancer while receiving treatment in Paris in 2004. Kim Yo Jong was appointed a junior cadre in the ruling Korean Workers' Party in 2007 and later worked at the National Defense Commission and as her father's personal secretariat. She attended her father's funeral in 2011 and, after her brother's accession to power, became "one of her brother's close aides," who managed "his public events, itineraries and logistical needs, among other tasks," according to the North Korea Leadership Watch blog post.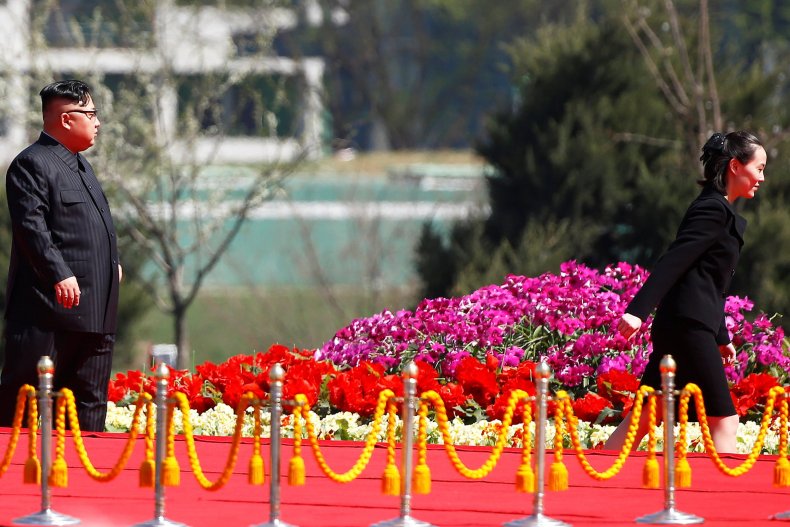 Kim Yo Jong continued to appear at her older brother's side as a more bubbly foil to the stern Kim Jong Un. She was mostly seen as a behind-the-scenes player, but she emerged in the spotlight last October after North Korea's state-run media announced she had been promoted as an alternate member of the politburo of the ruling Korean Workers' Party Central Committee.
In a bureaucracy as rigid and unforgiving as North Korea's, little is left to chance and experts have speculated as to how Kim Yo Jong's ascendance has played into young Kim Jong Un's overall game plan to consolidate power over a system that was dominated by his father's elderly elites, some of whom may have been skeptical toward the millennial leader's ability to rule.
Kim Jong Un answered these suspicions with purges, including that of his uncle Jang Song Thaek, who was executed in 2013 as his nephew replaced the old guard with younger faces.
Dr. John Park, director of the Korea Working Group at Harvard University's Kennedy School, suggested Kim Yo Jong's diplomatic debut, made possible by Kim Jong Un's overture to South Korea during a New Year's speech was part of Kim Jong Un's efforts to give his government a more youthful, approachable makeover. South Korean officials have warmly received Kim Yo Jong, drawing attention away from even North Korea's nominal head of state, 90-year-old Kim Yong Nam.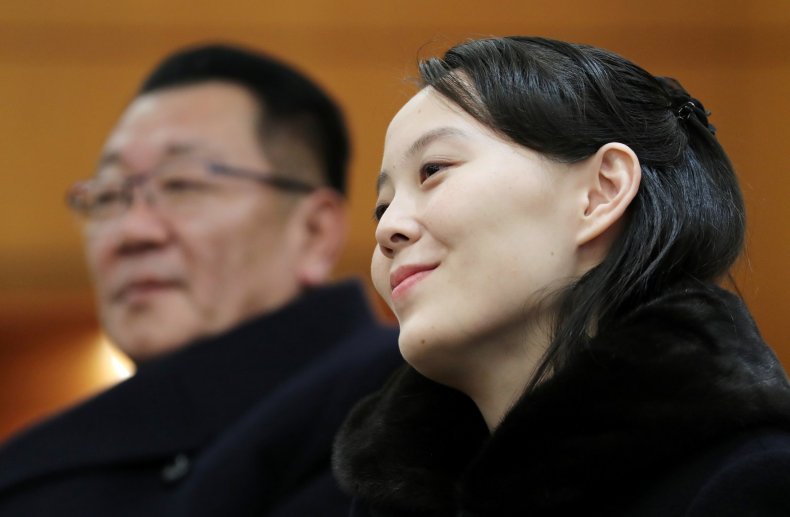 Park told Newsweek Kim Yo Jong has defied early speculation "that she was a lightweight or somewhat insignificant" and has instead proven to be part of Kim Jong Un's "new generation" of leadership. Kim Jong Un—who became the first North Korean leader to introduce his wife, Ri Sol Ju, to the public in 2012—has managed to improve the economy modestly and achieve never-before-seen military advances, despite increasingly tight sanctions against his country because of his nuclear weapons program, missile tests and reports of widespread human rights abuses.
These accomplishments, seen as a deterrent to a potential U.S. invasion, along with Kim Jong Un's endeavor to make himself out to be the reincarnation of his revered grandfather in North Korea's glory days, has reportedly had the desired effect among North Koreans. By sending Kim Yo Jong to the Winter Olympic Games, Kim Jong Un has presented a preview of what Park called "North Korea version 3.0."
"It's a very optimistic time in North Korea," Park added. "There's a feeling of prosperity and hope."