Who Is Kim Yong Chol? Trump Welcomes U.S.-bound North Korean General, Who Was Blamed for Sony Hack
A high-ranking North Korean general is heading to the U.S. to discuss preparations for a summit between Kim Jong Un and President Donald Trump.
Kim Yong Chol, a septuagenarian former intelligence official and trusted aide to Kim Jong Un, was first spotted on Tuesday boarding a New York-bound flight in Beijing. Trump confirmed that Kim Yong Chol, who holds the official title of vice chairman for South Korean affairs and director of the Workers' Party of Korea's United Front Department, was en route to the U.S.
"We have put a great team together for our talks with North Korea. Meetings are currently taking place concerning Summit, and more. Kim Young Chol, the Vice Chairman of North Korea, heading now to New York. Solid response to my letter, thank you!" Trump wrote in a tweet on Tuesday morning. The president did not give further details on the talks, but the general is expected to meet Secretary of State Mike Pompeo, whom he had already encountered during his visit to Pyongyang earlier this month.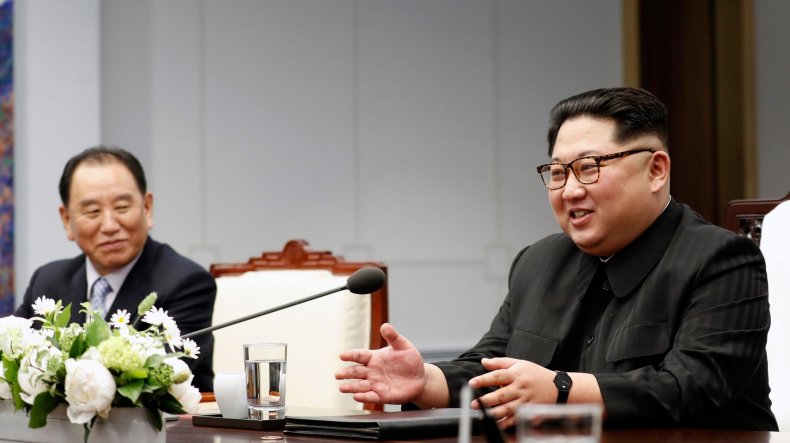 Kim Yong Chol is so close to the North Korean leader that he sat next to him during the inter-Korean summit on April 27. He has also held a key role in negotiations with South Korea.
Kim Jong Un dispatched the general to attend the closing ceremony of the Pyeongchang Winter Olympics in February. That visit was protested by conservative South Korean lawmakers because Kim Yong Chol was blamed for a 2010 torpedo attack against South Korean navy ship Cheonan that killed 46 sailors— an attack in which North Korea has always denied involvement—and for the shelling of Yeonpyeong Island, in which two civilians and two soldiers died that same year.
Kim Yong Chol's reputation in the U.S. is no less controversial. The general was included in a U.S. list of sanctioned individuals in 2015 after Director of National Intelligence James Clapper identified him as the official responsible for approving the hacking of Sony Pictures Entertainment in November 2014.
Kim Yong Chol's surprise visit comes amid renewed efforts to plan the summit between Kim Jong Un and Trump, which is due to take place June 12 in Singapore. Trump abruptly canceled the meeting last week, citing "hostility" from North Korea in a letter to Kim Jong Un, but then said the meeting was back on after Pyongyang expressed its willingness to pursue talks.
South Korean President Moon Jae-in met the North Korean leader on Saturday at the border village of Panmunjom to discuss the summit, their second face-to-face meeting in just over a month, following their first meeting on April 27. Moon told the media on Sunday that Kim Jong Un is seeking security guarantees from the U.S. in exchange for giving up its nuclear and missile development program.
As preparations for the summit resumed, U.S. and North Korean officials held talks in Panmunjom on Sunday and headed to Singapore for a pre-summit meeting on Monday, Reuters reported.