Who Is Kirstjen Nielsen, Trump's Pick for Secretary of Homeland Security?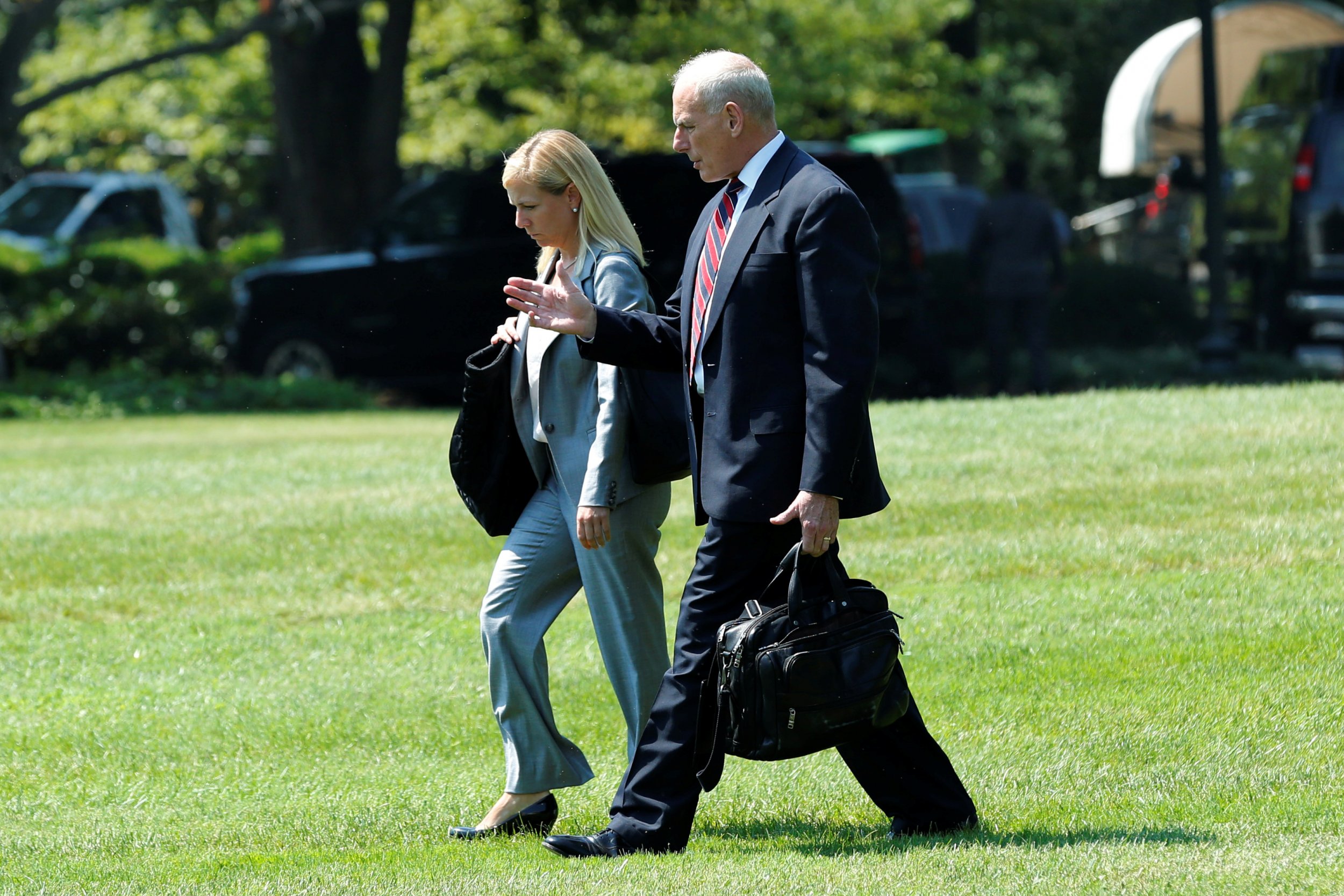 Updated | President Donald Trump has decided to nominate Kirstjen Nielsen to succeed John Kelly as secretary of the Department of Homeland Security, the White House announced Wednesday evening. Politico, Reuters and other outlets had reported earlier on Wednesday that the nomination was imminent, citing unnamed sources.
Nielsen was Kelly's chief of staff while he was Homeland Security secretary. After Kelly became chief of staff to Trump, Nielsen became his deputy chief of staff and special assistant to the president.
Related: Who is John Kelly, Trump's new chief of staff?
Prior to joining Kelly at Homeland Security, Nielsen was president of the firm Sunesis Consulting. Prior to that, she worked as president and general counsel for the homeland and national security arm of the Civitas Group, a consulting firm.
Before her time in the private sector, she served during the President George W. Bush administration as special assistant to the president and as senior director for prevention, preparedness and response at the White House Homeland Security Council. She also ran the Transportation Security Administration's offices of legislative policy and government affairs, a section she started.
She attended the Georgetown School of Foreign Service and the University of Virginia Law School.
Nielsen has a reputation as Kelly's "brusque, no-nonsense longtime aide," as Maggie Haberman and Glenn Thrush of The New York Times have described her. People close to her "have counseled her to lighten up and to pay more attention to the perfunctory niceties of a not-so-nice job," they wrote when she became deputy White House chief of staff.
One former Homeland Security official, who asked for anonymity so that the person could speak candidly, says the pick is a controversial one, and that people at the department are already speaking about leaving if the nomination moves forward. "The pick is not being received well," the official said. "While she's probably had some great jobs, it doesn't speak to the level of running a 200,000-person law enforcement agency."
The Democrats on the House Committee on Homeland Security also raised issues on Wednesday. "I am very concerned about her past work in the Bush administration during its botched response to Hurricane Katrina and am fearful that DHS—as well as this president—has not learned all the lessons from that tragedy, given what we are seeing unravel in Puerto Rico and the U.S. Virgin Islands," Representative Bennie Thompson, the ranking member of the committee, said in a statement.
But in a tweet, White House press secretary Sarah Huckabee Sanders called Nielsen a "great choice."
In July, Trump selected Kelly, a retired Marine Corps general, to take over from Reince Priebus as White House chief of staff. That left a leadership vacuum at Homeland Security at a time when around half of its top positions were filled temporarily or vacant.
After Trump formally submits the nomination, it goes to the Senate Committee on Homeland Security and Governmental Affairs.
This article has been updated to reflect that following initial reports, the White House announced President Donald Trump's intent to nominate Kirstjen Nielsen. It was also updated to include comments by Representative Bennie Thompson and White House press secretary Sarah Huckabee Sanders.