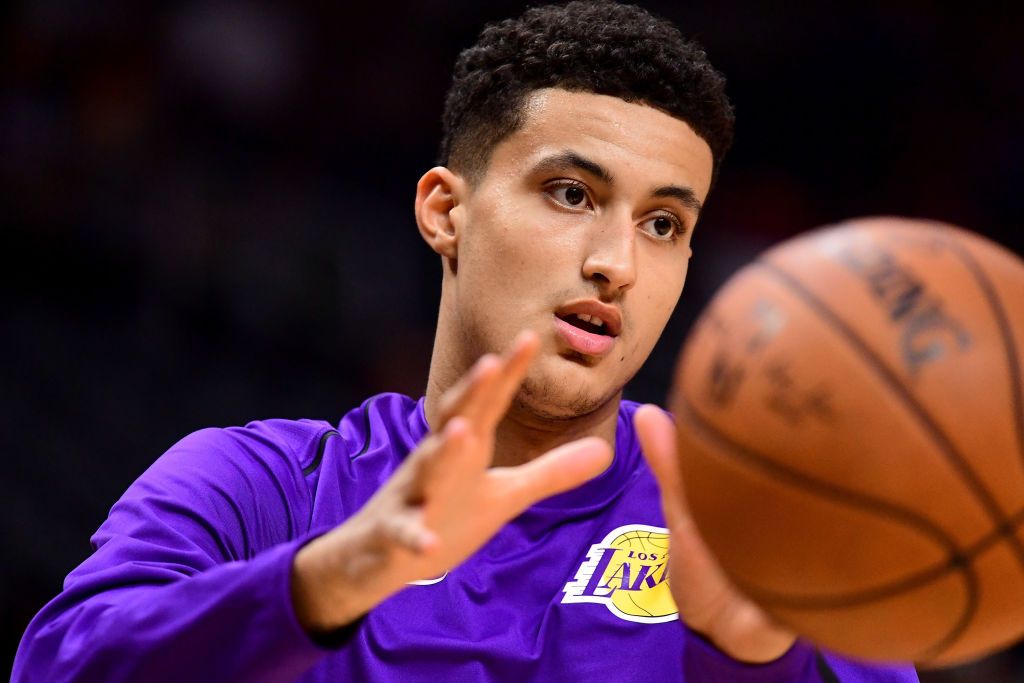 Los Angeles Lakers rookie Kyle Kuzma caught attention from fans on Wednesday by leading a hard-fought win against the Houston Rockets, 122-116. Before the game was even over, Kuzma was trending on Twitter, inspiring gifs alongside hundreds of messages expressing disbelief.
Kuzma, 22, is only the second Lakers rookie to finish a game with at least 38 points, 7 rebounds and 4 assists. Magic Johnson was the first, a fact pointed out by Spectrum reporter Chris Palmer.
Kuzma was the 27th pick in the 2017 NBA draft, and he wasn't necessarily a star before standing out in Wednesday's game. In fact, ESPN reported that before the Brooklyn Nets originally drafted him, most analysts expected him to move into the second round of picks.
Though the world was surprised to watch him run circles around the Rockets, Kuzma didn't emote any excitement during or after his breakout performance. In a post-game interview with Spectrum, Kuzma was asked if he expected to play well from the beginning of his career, despite being a rookie. He replied simply, "Yes. No problem."
The guy's obviously confident. But that isn't quite evidence of an inflated ego. He told ESPN in November that his small increase in fame has been the most difficult part of his life. "I wasn't a Duke, Kentucky kind of guy," he said. "I never got that kind of love. But everything happens for a reason." (Kuzma played college ball at the University of Utah, by the way.)
Kuzma hails from from Flint, Michigan, the town that made headlines in 2014 for its horrific public health crisis. (Hundreds of thousands of Flint locals were poisoned by dangerous lead levels in the town's drinking water due to contamination in Flint River.) According to CBS, Kuzma described his hometown as a "really violent place" with a lot of social pressure for young people to "get into the streets."
Today, Kuzma shares the spotlight with fellow Lakersr Lonzo Ball, whose two brothers and cousin have all attracted fame and scrutiny in 2017.
We'll find out if Kuzma is the real deal, or if his game against the Rockets was a fluke, when the Lakers play the Warriors on December 22. Sharing the court with Steph Curry, Kevin Durant, and Klay Thompson—arguably the most socially awkward but fascinating NBA player of all time—has a way of revealing how good a player really is.