Although Saturday's royal wedding will be all about Prince Harry and Meghan Markle, the soon-to-be newlyweds will still take a moment during their ceremony to honor Harry's late mother, Princess Diana.
An announcement by Kensington Palace on May 4 revealed all three of Diana's siblings—Earl Charles Spencer, Lady Sarah McCorquodale and Lady Jane Fellowes—will be in attendance at the royal wedding. Fellowes, Harry's aunt, is expected to give a reading dedicated to Diana during the ceremony.
"Prince Harry and Ms. Markle both feel honoured that Lady Jane will be representing her family and helping to celebrate the memory of the late Princess on the wedding day," the palace said.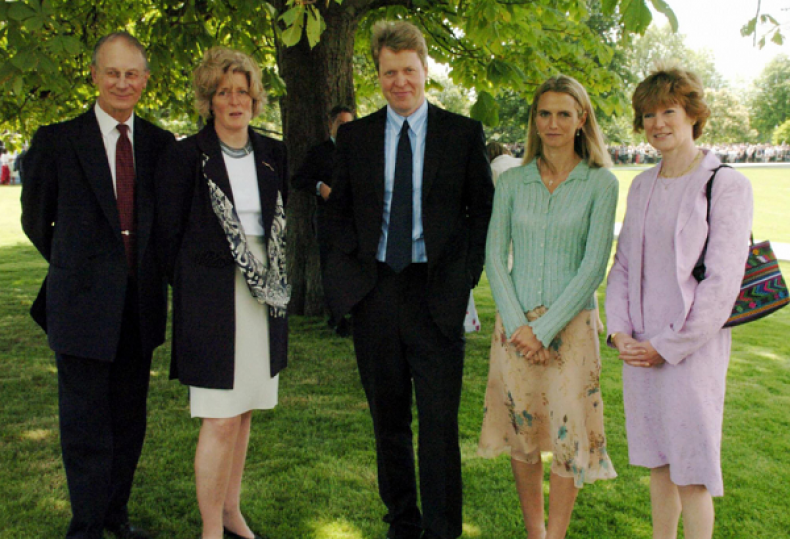 Having briefly dated Prince Charles in 1977, McCorquodale, Diana's oldest sister, introduced her to the royal. But Diana's relationship with the second oldest of the Spencer children, Fellowes, was said to be particularly special. Diana had a close bond with each of her siblings, but it was Fellowes whom she was closest to during their adulthood.
Although she wasn't involved in BBC's documentary Remembering Diana, which debuted on the 20th anniversary of Diana's death in August 2017, Spencer revealed in the program that it was Fellowes who was the first of Diana's family to be notified of her tragic death. Fellowes relayed the devastating news to the rest of the Spencer family in the early hours of the morning of August 31, 1997.
Fellowes, along with McCorquodale, was also on hand with Prince Charles to retrieve Diana's body from Paris ahead of the princess's burial. Fellowes recited a poem by Henry Van Dyke Jr. at Diana's funeral.
Fellowes still has strong ties to the royal family. Her husband, Robert Fellowes, was Queen Elizabeth II's private secretary from 1990 to 1999. When her husband was appointed a Baron and welcomed into the House of Lords in 1999, Fellowes took the title of Baroness.
Both Harry and Prince William are said to have maintained close relationships with their mother's family after her death. Harry and Fellowes are both involved in the same charity organization, Only Connect, which works with at-risk youth and young offenders in prison. Fellowes' daughter, Laura Fellowes, is godmother to Princess Charlotte, the second child of Prince William and Kate Middleton, the Duke and Duchess of Cambridge.