Who Is Lana Marks? Trump Names Handbag Designer and Mar-a-Lago Club Member as South Africa Ambassador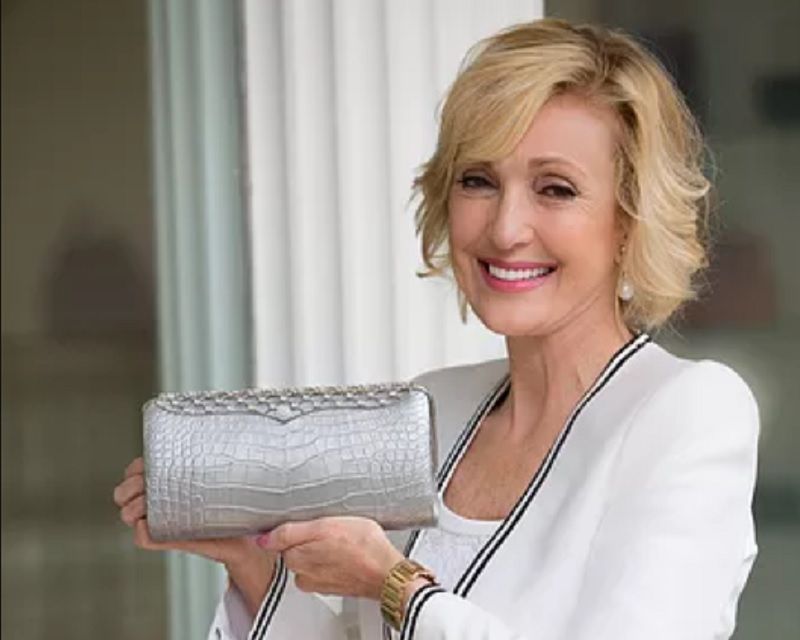 President Donald Trump plans to nominate Lana Marks, a luxury handbag designer and member of his Mar-a-Lago club, as the U.S. ambassador to South Africa, the White House announced.
Marks, 65, is the CEO of an eponymous fashion brand that counts royalty and Hollywood stars among clients willing to pay thousands of dollars for her handbags. She was also a friend of the late Princess Diana, after whom she named a design collection.
Born Lana Bank in East London, South Africa, her father was a property developer from whom she learned about business and design. She now lives in Palm Beach, Florida, with her husband, the British psychiatrist Neville Marks.
"The idea for a luxury exotic leather fashion brand came in 1984, when Lana Marks and her husband were invited to a birthday celebration for Queen Elizabeth II aboard the royal yacht Britannia," her website bio reads.
"A fruitless search for a red alligator handbag to match her suit led Marks to conclude that a niche existed in the marketplace for luxury, exotic leather fashion handbags in fabulous colors.
"She devoted several years to studying the techniques of accessories design and Italian production, working with the most skilled artisans in the world. In 1988, she launched her first design, a hot pink alligator lunchbox handbag. It was an instant success."
According to the White House, Marks served on the Women's Leadership Board at the Harvard Kennedy School and the Women's International Forum for more than a decade.
Marks, according to her bio, attended the University of the Witwatersrand and the Institute of Personnel Management in Johannesburg, and speaks Afrikaans and Xhosa.
Palm Beach Daily News reported that Marks was a member of the Mar-a-Lago Club and golf resort owned by Trump, which charges a $200,000 membership fee. She is not the only person tapped by Trump from his own club to work for his administration.
Others include Robin Bernstein, one of the club's founding members, who is now U.S. ambassador to the Dominican Republic.
"It's the most exclusive part of the U.S.," Marks said of Palm Beach in an interview with South Africa's Business Live. "It's a small enclave, an island north of Miami. One-third of the world's wealth passes through Palm Beach in season. The crème de la crème of the world lives there."
In an interview with The Sun, Marks spoke of her friendship with Diana and revealed that the princess was supposed to have been on vacation with her when she died in Paris in 1997.
The vacation was canceled at the last minute when Marks's father had a heart attack, so Diana went to Paris with her partner Dodi Fayed instead.
"For the next few years, I was in shock. I still feel the pain of it all. I constantly think, 'What if she'd been with me?' All that might not have happened," Marks told The Sun.
"I feel terrible when I have that thought but can't get rid of it. I'm thinking of her more than usual now due to the anniversary and it definitely still plays on my mind."