WHO Expert Condemns Language Stigmatizing Coronavirus After Trump Repeatedly Calls It the 'Chinese Virus'
A senior World Health Organization (WHO) official criticized the use of stigmatizing language which associates the ongoing COVID-19 pandemic with ethnic Chinese people.
Mike Ryan, head of the WHO's health emergency programs, made the comments after President Donald Trump defended his use of the term "Chinese virus" when referring to the outbreak.
"I think we've been very clear right since the beginning of this event that viruses know no borders and they don't care [about] your ethnicity, the color of your skin, how much money you have in the bank," Ryan told a reporter from the South China Morning Post at a WHO press conference on Wednesday.
"It's really important that we are careful in the language we use lest it lead to profiling of individuals associated with the virus," he said. "This is just something we need to all avoid. It's easy in situations to summarize or to make comments that are not intended to do that but ultimately end up having that outcome. I'm sure anyone would regret profiling a virus along ethnic lines. That's not something anybody would want."
On Wednesday, the president said his use of the term "Chinese virus" in reference to the pandemic was justified.
"It's not racist at all. No, not at all. It comes from China, that's why. It comes from China. I want to be accurate," Trump told reporters at a press conference.
However, the president's remarks have been branded as offensive and racist, with some commentators arguing that it could fuel xenophobia against Chinese people.
"I absolutely think that words used by him matter," John Yang, president and executive director of Asian Americans Advancing Justice, told NBC News. "Certainly use of this term by him and others even in the last couple of weeks have led to a noticeable incline in hate incidents that we are seeing. I do think that there is a correlation."
New York State assemblymember Yuh-Line Niou, whose district includes Chinatown in New York City, said that Trump was "fueling the flames of racism" with comments like these.
"To continue calling COVID-19 the 'Chinese virus,' is to basically be racist. It's fueling the xenophobia we're seeing all over our districts," she told NBC. "When people already fear something, they now have something to blame for it."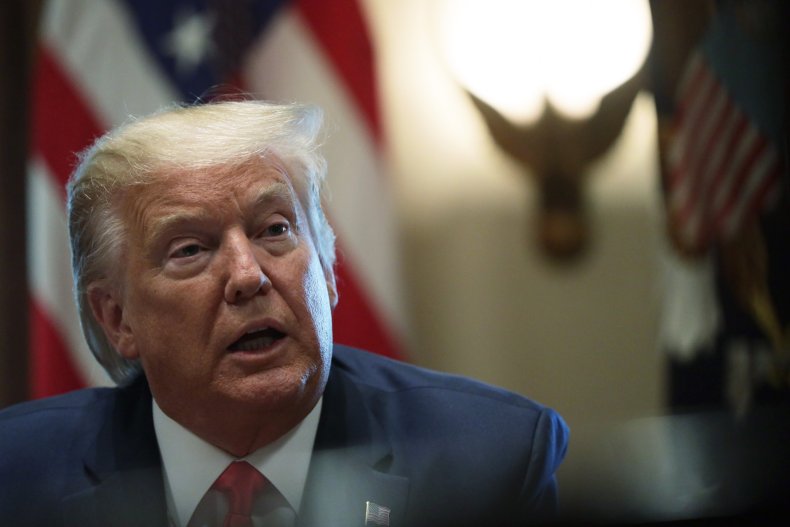 WHO guidelines state that scientists, national authorities, and the media follow best practice when naming infectious diseases in order to minimize unnecessary negative effects on nations, economies and people. An important part of this is not associating diseases with specific geographical locations.
"We need solidarity, we need to work together," Ryan said. "There are many different origins — I've said it before in these press conferences — the pandemic of influenza in 2009 originated in North America. We didn't call it the North American flu. So it's very important that we have the same approach when it comes to other viruses to avoid that. And we ask for that to be the intent that everybody has."
"This is a time for solidarity, this is a time for facts, this a time to move forward together to fight this virus together. There is no blame in this. All that we need know is to be able to identify the things we need to do, to move forward quickly with speed, with certainty, and to avoid any indication of ethnic or other associations of this virus," he said.
Maria Van Kerkhove, who leads the WHO's emerging diseases and zoonoses unit, said at the same press conference on Wednesday that we have seen "overwhelming international unity and solidarity" with this pandemic.
"We see acts of kindness, of people helping older people in their neighborhoods, of doing grocery shopping, of delivering care packaging," she said. "All of that is international unity, and every single one of us has a responsibility to contribute to that."
"These are very tough times. In many countries this is going to get a lot worse before it gets better, but this will be temporary and we will get through this, and we will get through this together," she said.
Newsweek has contacted the White House for comment.
World Health Organization advice for avoiding spread of coronavirus disease (COVID-19)
Hygiene advice
Clean hands frequently with soap and water, or alcohol-based hand rub.
Wash hands after coughing or sneezing; when caring for the sick; before; during and after food preparation; before eating; after using the toilet; when hands are visibly dirty; and after handling animals or waste.
Maintain at least 1 meter (3 feet) distance from anyone who is coughing or sneezing.
Avoid touching your hands, nose and mouth. Do not spit in public.
Cover your mouth and nose with a tissue or bent elbow when coughing or sneezing. Discard the tissue immediately and clean your hands.
Medical advice
If you feel unwell (fever, cough, difficulty breathing) seek medical care early and call local health authorities in advance.
Stay up to date on COVID-19 developments issued by health authorities and follow their guidance.
Mask usage
Healthy individuals only need to wear a mask if taking care of a sick person.
Wear a mask if you are coughing or sneezing.
Masks are effective when used in combination with frequent hand cleaning.
Do not touch the mask while wearing it. Clean hands if you touch the mask.
Learn how to properly put on, remove and dispose of masks. Clean hands after disposing of mask.
Do not reuse single-use masks.