Who Is Larry Kudlow? Former Democrat Turned Conservative Republican in Line for Top White House Economic Job
President Donald Trump has expressed interest in making media personality Larry Kudlow director of the White House's National Economic Council once Gary Cohn leaves, according to three sources close to the president.
The president confided the decision on Monday to those close to him, CNN reported. Although nothing has been formally announced, one of the sources said Trump will likely make the appointment within the next 24 hours. Another said Kudlow is the top contender for the role.
Kudlow, 70, a conservative commentator, economist analyst and host of The Kudlow Report on CNBC, acted as an informal adviser to Trump during his 2016 presidential campaign. Sources told CNN that Trump and Kudlow have been chatting in recent weeks but a job offer has yet to be made.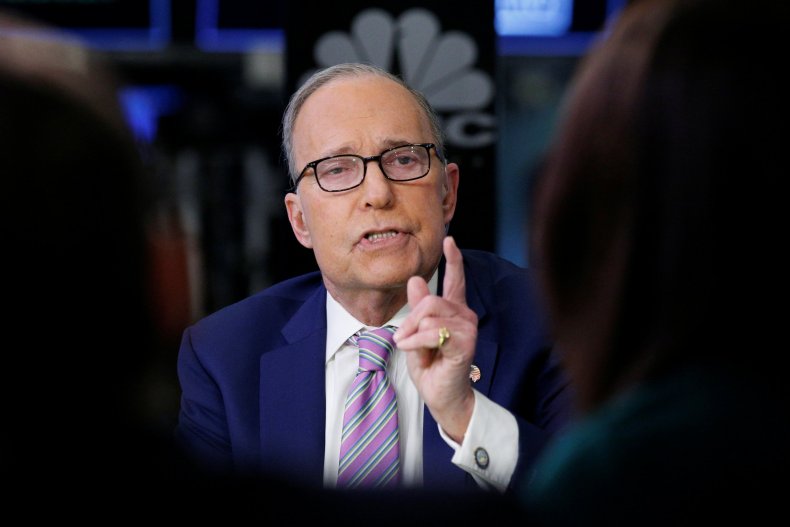 Kudlow, a conservative Republican, was once a Democrat. He supported Daniel Patrick Moynihan in the 1976 New York Senate race and Joe Duffey in the 1970 Connecticut Senate race, both Democrats.
Sources claim Kudlow has also been on the phone with Treasury Secretary Steven Mnuchin and Trump son-in-law Jared Kushner, which indicates the selection process is well on its way.
Kudlow and Trump have a lot in common, personally and politically. The pair have both hosted TV shows, love being in the spotlight and have hard-charging, impatient personalities.
Recently, Kudlow criticized Trump's decision to impose tariffs on steel and aluminum imports. Earlier this month, he co-wrote a column for National Review urging the president to change his mind.
"Trump should also examine the historical record on tariffs. If he does he'll see they have almost never worked as intended and have almost always delivered an unhappy ending," he wrote along with Stephen Moore and Arthur Laffer.
This kind of dissent would usually disqualify a candidate from a position in the Trump administration, but sources told The Washington Post that the president has not ruled him out.
A former Goldman Sachs president, Cohn announced his resignation from the National Economic Council last week, after losing a fight with the president over the steel and aluminum tariffs.
Kudlow did not immediately respond to Newsweek's request for comment.