Who is Larry Nassar? McKayla Maroney and Dozens of Young Athletes Accuse Him of Sexual Assault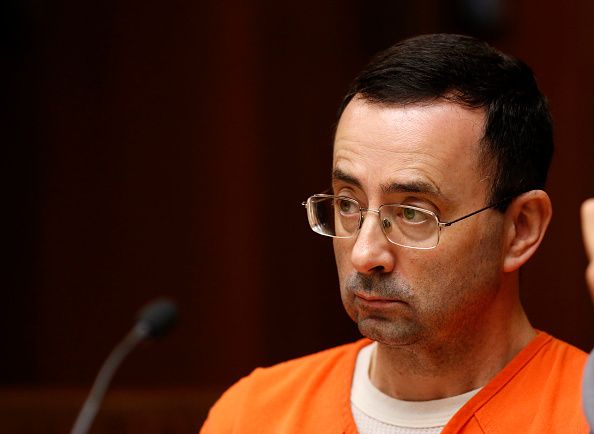 Former USA Gymnastics doctor, Larry Nassar, is being accused again of sexual assault — this time by Olympic gold medalist McKayla Maroney.
Maroney tweeted on Wednesday that Nassar repeatedly abused her over the course of seven years as a gymnast, beginning at a Texas training camp when she was 13-years-old and continuing until her retirement after winning a gold and silver medal in the 2012 Olympic games in London.
"It seemed whenever and wherever this man could find the chance, I was 'treated,'" Maroney wrote, referring to the doctor's harassment. "It happened in London before my team and I won the gold medal, and it happened before I won my silver."
The abuse became even worse after 2011 world championships in Japan, when Maroney broke out as an Olympic star. The gymnast said Nassar gave her a sleeping pill on the flight to Tokyo and she woke up in his hotel room.
The 21-year-old Olympian used the hashtag #MeToo, referencing the movement that has blossomed in the aftermath of Harvey Weinstein's reported sexual harassment. She did say she was able to pursue her dreams of Olympic glory — but reminded of the cost.
"Sure, from the outside looking in, it's an amazing story. I did it. I got there, but not without a price," she said.
Maroney is just the latest "patient" of Nassar's to publicly come out about the sexual abuse.
There have been dozens of young athletes from USA Gymnastics and Nassar's clinic at the University of Michigan accusing Nassar of sexual abuse. But his alleged reign of terror ended in November 2016, when the doctor was charged with three counts of criminal sexual conduct with a person under 13, USA Today reported.
Now Nassar is being sued by dozens of women claiming they were sexually assaulted by him while receiving medical treatment. Victims said Nassar's treatment would involve vaginal or anal penetration without explanation or consent, according to a Michigan Live report.
Nassar reportedly targeted victims ranging from teens to women in their early 20s, with complaints going all the way back to 1994, two years before he started working as a doctor for the U.S national gymnastics team.
In May, ex-gymnast Rachael Denhollander accused Nassar of sexually assaulting her while she was receiving treatment for back pain at his Michigan clinic.
He would often videotape the girls he abused, and pleaded guilty in July to federal child pornography charges.
Sexual abuse is not uncommon in the sport of gymnastics. An IndyStar-USA Today investigation found that 368 gymnasts said they were sexually abused by a gymnastics coach, gym owners, and others who work in the gym.
In March, Steve Penny, the former U.S gymnastics chief, stepped down after accusations of the organization failing to report sexual abuse.