Who is Lauren Kitt? Nick Carter Gets Restraining Order Against Brother Aaron, Claims He Threatened to Kill Wife
Backstreet Boys star Nick Carter has taken out a restraining order against his brother Aaron Carter, claiming his younger sibling threatened to kill his pregnant wife Lauren Kitt.
Nick Carter, 39, shared a statement on Twitter Tuesday in which he said he and sister Angel "regret that we were required to seek a restraining order against our brother Aaron today."
The singer said he and his sister were "left with no choice" but to take out a restraining order, citing Aaron Carter's "increasingly alarming behavior" as well as his "recent confession that he harbors thoughts and intentions of killing my pregnant wife and unborn child."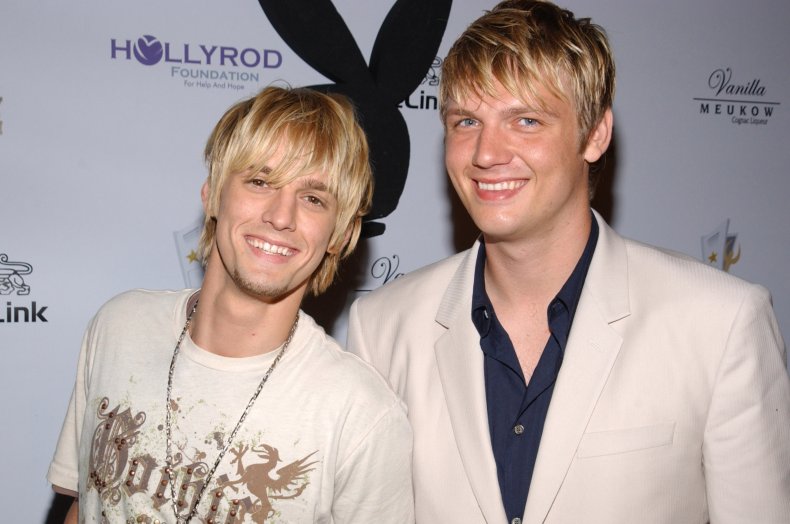 Nick Carter said he he and Angel wanted to "take every measure possible to protect ourselves and our family."
The statement concluded that the two Carter siblings "love our brother and truly hope he gets the proper treatment he needs before any harm comes to himself or anyone else."
Aaron Carter, 31, responded with his own series of tweets Tuesday, saying "my brother just got a a restraining order against me. And I was just served lol.
"Take care. @nickcarter we're done for life.
"I haven't seen him in four years. And I don't intend."
In later tweets, Aaron Carter said he "never threatened anyone," and claimed the restraining order was part of a plot to "5150 me," referring to the section of the California Welfare and Institutions Code that permits involuntary psychiatric holds on people deemed a danger to themselves or others.
Aaron Carter appeared on Friday's episode of The Doctors, revealing he suffers from "multiple personality disorder, schizophrenia, acute anxiety" and manic depression.
The singer opened up about all of the prescription medication he takes to deal with his mental health, as well as revealing for the first time his huffing addiction—that is the abuse of inhalants such as paint, glue or gasoline.
Who is Lauren Kitt, Nick Carter's wife?
Nick Carter's wife Lauren Kitt has yet to comment on her husband's allegations that Aaron Carter threatened to kill her, but she did retweet his statement.
Nick Carter and Lauren married in 2014 and had their first child together, son Odin, in 2016.
In September 2018, Nick Carter revealed on Twitter that Lauren had experienced a miscarriage and they had been expecting a "little sister for Odin."
The couple shared in May that they were expecting another baby in an Instagram post shared to Nick Carter's 1.3 million followers.