Who Is Leta Powell Drake? The Quirky Interviewer Is Being Compared to Zach Galifinakis and 'Between Two Ferns'
A viral compilation of hilarious interview moments is circling the Internet for your viewing pleasure and it's all thanks to one woman: Leta Powell Drake. The journalist with a taste for tacky questions is being compared to Zach Galifianakis and his spoof interview show Between Two Ferns because of how charismatically awkward each interview is.
In the compilation video, which went viral from the Twitter account of user John Frankensteiner, Powell Drake asks some questions and makes some remarks that might seem beyond the pale for a typical interview. From bluntly stating someone's former co-worker is "dead now" to asking "how do you kiss underwater without bubbles coming out of your nose," Powell Drake puts some very famous actors, like Tom Selleck, in hilariously awkward conversations.
It all happened in the '80s on the local KOLN Morning Show, a CBS affiliate. For 25 years, Powell Drake interviewed hundreds of celebrities with painfully blunt questions that we can't stop replaying.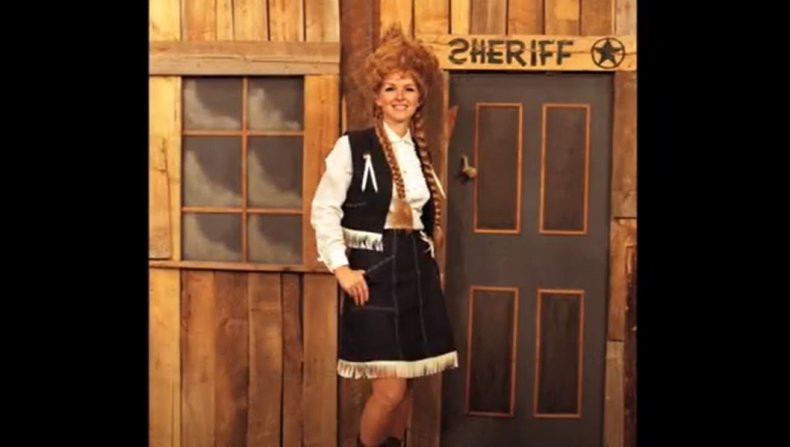 Viewers who have seen Between Two Ferns, the Funny or Die parody talk show, know why it's comparable. Both Powell Drake and Galifinakis make a point of asking unexpected questions to put their guests on the spot. The difference appears to be that Galifinakis knows his series relies on jokes designed to make guests uncomfortable. Powell Drake, however, didn't seem to be joking.
But how is Powell Drake not more famous? Her interviews are more than entertaining and show her undeniable charisma. Well, it appears to be because her content hasn't really been seen outside of the Nebraska area.
And Nebraskans don't take Powell Drake for granted. The local television reporter is in both the Nebraska Broadcasters Hall of Fame and the Nebraska Press Women's Hall of Fame. Those who have seen Powell Drake's brilliance on television for years urged Twitter users to look up full interviews in their free time, instead of just replaying the compilation.
In addition to her talk show, Powell Drake was also seen by Nebraskan viewers as the host of a children's television show called Cartoon Coral, in which she played host as the character "Kalamity Kate." Though that show has passed, she's still working as a television journalist, even now, at the age of 82.
Currently, Powell Drake hosts Live and Learn, a show that airs only in Lincoln, Nebraska. Locally, she's a legend. And we're willing to bet as viral videos of her creative interviews continue to spread, Powell Drake will become beloved by many more who come across her online.