Who Is Lil Durk? Judge Finds Probable Cause To Charge Rapper With Intent To Murder From February Shooting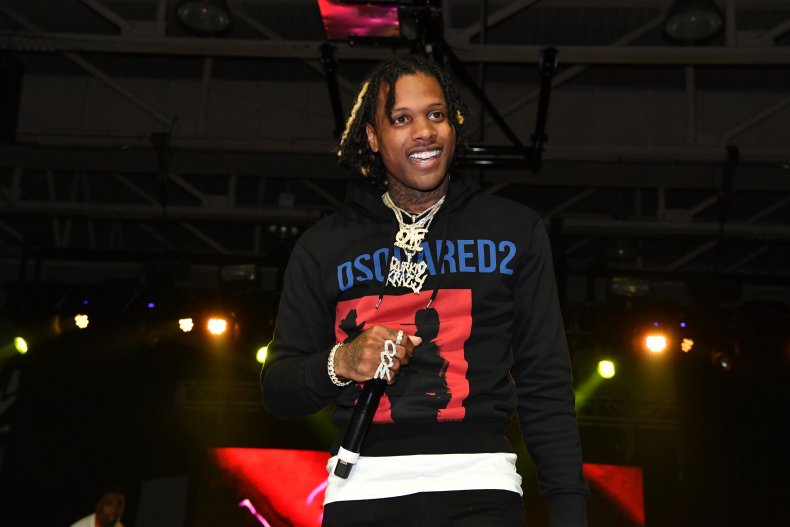 "Turn Myself In" rapper Lil Durk was charged with intent to commit murder in Fulton County, Georgia, on Friday. The charge comes just a month after he surrendered to police for a February 5 shooting in Atlanta, according to WSBTV.
The reasoning for the newly found "probable cause" to charge the rapper, whose real name is Durk Derrick Banks, is allegedly from a surveillance video of him carrying out the shooting. The victim was 23-year-old Alexander Weatherspoon. Lil Durk allegedly shot him in the thigh, and Weatherspoon did not die. The motive was seemingly robbery, as the shooter stole $30,000 and a gold necklace during the altercation. It's unclear if Lil Durk and Weatherspoon have any previous relationship.
Lil Durk has a large following on Spotify, with an average of nearly 2.5 million listeners per month. He has even more followers on Twitter: 3.17 million. The last time Lil Durk tweeted was on May 29, when he said he would be turning himself in.
Lil Durk did "Turn Himself In" for the shooting, but denied involvement, according to Complex. He even previously said he's innocent in a televised interview with WSBTV, an Atlanta news channel.
"I have nothing to hide," he explained. "I have nothing to run from." He canceled his tour when he heard there was a warrant in his name.
The rapper is 26 years old and grew up in Englewood, Chicago. He has six children.
Lil Durk will not be in prison because of this. He has yet to face trial. He does have a list of charges revolving around the incident, including "intent to commit murder, aggravated assault, possession of a firearm during the commission of a felony, and possession of a firearm by a convicted felon," according to Complex.
The rapper is best known for his songs "No Label" and "Neighborhood Hero." His song "Turn Myself In" was released on May 31, and may address the shooting charges directly. The song details lyrics about turning oneself in, but procrastinating doing the right thing until the person can do a series of things one more time. Some of the things Lil Durk sings about doing again are kissing his children goodnight, having sex and releasing an album.
Fans of Lil Durk have stepped up to support him from the time he tweeted that he's be turning himself into authorities. Many commented on the last tweet with Lil Durk's own lyrics, telling him everything will be okay.