Who Is London Breed? Meet San Francisco's First Black Woman Mayor
London Breed made history by becoming the first African-American woman elected mayor of San Francisco, after her opponent Mark Leno conceded defeat in the race.
She will serve out the rest of former mayor Edwin Lee's term, until 2020, after Lee died of a heart attack at the end of last year. Breed had initially been appointed acting mayor after Lee's death but was replaced until the election after city supervisors voted her out.
"I am so hopeful about the future of our city, and I am looking forward to serving as your mayor. I am truly humbled, and I am truly honored," Breed, a Democrat, said at a news conference after her victory.
Leno, a Democrat and former California state senator, said he called Breed to congratulate on her victory and to "wish her every success both personally and professionally in her new job." He added, "She was very gracious."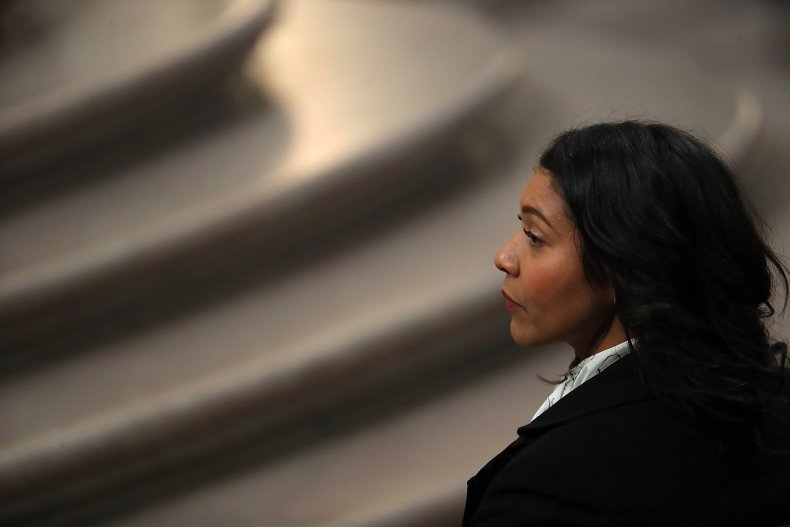 Breed, 43, is president of the San Francisco Board of Supervisors. She was born and bred in San Francisco, raised by her impoverished grandmother in low-quality public housing. Her siblings had drug problems, a sister died of an overdose in 2006 and a brother is now in jail.
"Housing insecurity isn't just an abstract point of policy for me. I've lived it," Breed wrote on Medium in a post outlining her approach to policy.
"When I was in college, we were told our home was being torn down. It was up to me and my grandmother, the woman who cared for me all my life and now needed to be cared for, to find a new place to live.
"With my grandma, growing up in public housing in the Western Addition I have seen generations of my family, friends, and classmates leave San Francisco. Today, my housing situation is like many living in San Francisco. My home is a rent-controlled apartment in the Lower Haight. Until two months ago, I still had a roommate.
"I'm still paying off my student loans. I drive a 16-year-old car and bring coupons to the store. San Francisco is experiencing an affordability crisis, and I'm right there with you."
Breed graduated with honors from Galileo High School, according to her campaign website, and attended the University of California to earn a degree in Political Science/Public Service, minoring in African American Studies. She later earned a master's degree in public administration from the University of San Francisco.
A profile of Breed in San Francisco Chronicle says she started out as an intern in Mayor Willie Brown's Office of Housing and Neighborhood Services after working on his election campaign in 1999.
Breed later worked as an office manager and then lease negotiator for the Treasure Island Development Authority in the city before Brown made her executive director of the African American Art & Culture Complex in 2002. She oversaw a multimillion dollar renovation of the arts center and gave it a new lease on life as a vibrant cultural hub in the community.
Furthermore, Breed served as a San Francisco Redevelopment Agency Commissioner for five years and in 2010 was appointed by Mayor Gavin Newsom to be a San Francisco Fire Commissioner.
In 2012, Breed was elected as a city supervisor for District 5. In 2015, she was elected president of the San Francisco Board of Supervisors by her peers. And now she is mayor of the city and county of San Francisco.
"London has dedicated her entire adult life to serving our communities and improving the City's housing, environment, public safety, transportation, and quality of life," says her campaign website.