Who Is Louis Farrakhan? Nation of Islam Leader Says Spirit of Nipsey Hussle Is 'Alive'
Louis Farrakhan said late rapper Nipsey Hussle's spirit was "alive" during his memorial service on Thursday. Farrakhan, 85, is the leader of the Nation of Islam. He's a minister and a black nationalist who formerly called himself Louis X.
Farrakhan was responsible for launching the Million Man March, an historic event that brought together millions of black men to promote unity within the African American community, around the National Mall in Washington, D.C.
The Southern Poverty Law Center has called the Nation of Islam a hate group, and Farrakhan has a history of anti-Semitic and other offensive remarks. He has called Judaism a "gutter religion." In February 2018 he said "white folks are going down, and that "Farrakhan, by God's grace, has pulled the cover off of that Satanic Jew and I'm here to say your time is up, your world is through." In an October 2018 tweet he said "I'm not an anti-Semite. I'm anti-Termite."
Farrakhan has said Hurricane Katrina was "God's way of punishing America for its warmongering and racism."
Farrakhan was tasked with speaking at Hussle's memorial service at Los Angeles' Staples Center on Thursday. According to Rolling Out, Hussle has a "special connection" to the Nation of Islam because of his desire to end gang violence with peace.
"He is the prophetic voice of all in that community," Farrakhan said Thursday. "He lived the gang life, but he didn't stay there. He lived the life of the 'hood, but he rose above the pull of gravity. Ermias was more than a hip-hop artist: He was a voice; he was a brilliant mind, and the spirit of God was in his life."
"His body is dead, but the mind of Ermias Asghedom and the spirit of Nipsey is alive," he added.
Farrakhan appeared at Hussle's store, The Marathon Store, in Los Angeles on Wednesday to pay tribute to the rapper and business ahead of Thursday's memorial. Several members of the Nation of Islam were in attendance as he spoke to the crowd about Hussle and told them they "cannot let his legacy die." He also said that Hussle was "someone God lent to the world."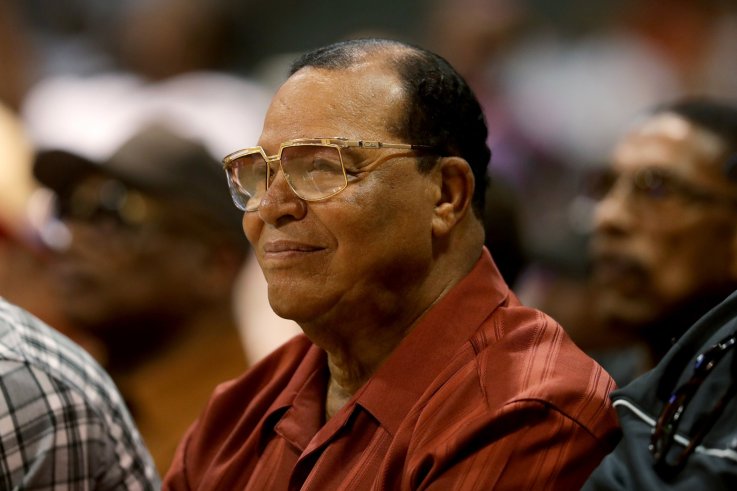 Farrakhan shared an official statement on behalf of the Nation of Islam on March 31. "The Nation of Islam mourns the loss of this great brother. His death, as well as his life, had so much meaning to it—for us and for unborn generations. We thank Allah that his life came this way from God and touched our lives," Farrakhan's statement read.
"I would advise the community not to react to rumors or false information to make us in our time of grief or sadness turn on each other," he continued, "A bigger hand than the hand of the man who pulled the trigger is behind it all. More will I say in the future. To his family, to those who loved him and have been affected positively by him, we offer to all—peace. The peace that we offer is the Gift of God to those who submit their will to do His will. Best wishes to the family and to all the friends."
Hussle, born Ermias Joseph Asghedom, died on March 31. He was shot to death outside of his Los Angeles store. Hussle, known for songs like "Victory Lap," was pronounced dead upon being transported to the hospital. He was 33.
Hussle's girlfriend was actress Lauren London, who had son Cameron Carter from her previous relationship with Lil Wayne. Hussle had a daughter, Emani Asghedom, from a previous relationship. Together, they welcomed son Kross Asghedom. They were all in attendance for Hussle's memorial service on Thursday alongside stars like Cassie, Snoop Dogg and Stevie Wonder.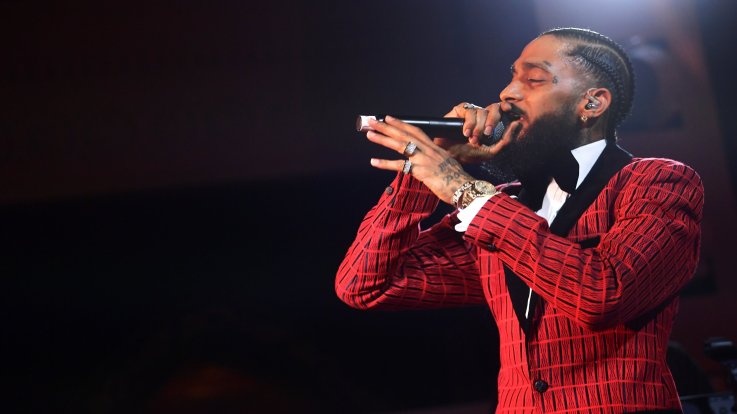 4/12, 3:30 p.m. This story has been updated to include Farrakhan's history of anti-Semitic comments.
Who Is Louis Farrakhan? Nation of Islam Leader Says Spirit of Nipsey Hussle Is 'Alive' | Culture