Who Is Lyna Khoudri? 'The French Dispatch' Star's Top Movies and TV Shows
The French Dispatch has been released to mixed reviews from critics, though many have praised the performances from Wes Anderson's ever-growing troupe of collaborators.
The movie is an anthology film where stories in a French outpost of an American magazine, styled after The New Yorker, are told by each of their writers as if they are being read by the editor ahead of publication.
One such story speaks of a group of student protestors in the fictional, 20th-century French town of Ennui-sur-Blasé, led by Timothée Chalamet and Lyna Khoudri as they are evaluated and watched by the writer Lucinda Krementz (played by Frances McDormand).
Khoudri is new to the Hollywood landscape, having made her name before in French-language films.
Who Is Lyna Khoudri?
Khoudri is a 29-year-old actress, born in Algiers, Algeria. She grew up in France with her family.
Her first-ever appearance was on TV in an episode of Joséphine, ange guardien, in 2014, but her big break was not for another three years.
This break came in Les Bienheureux, from writer and director Sofia Djama, which told the story of people living through the civil war in Algeria.
The movie won two awards at the Venice Film Festival, thrusting Khoudri into the limelight. That same year, the actress also performed in two other French-language films: La Fête est Finie and Luna.
In 2019, Khoudri starred in Papicha, a film set in Algeria about a woman who resists religious extremism to put on a fashion show.
The film was highly acclaimed and screened as part of Un Certain Regard at the Cannes Film Festival. For this, Khoudri won Most Promising Actress at the César Awards.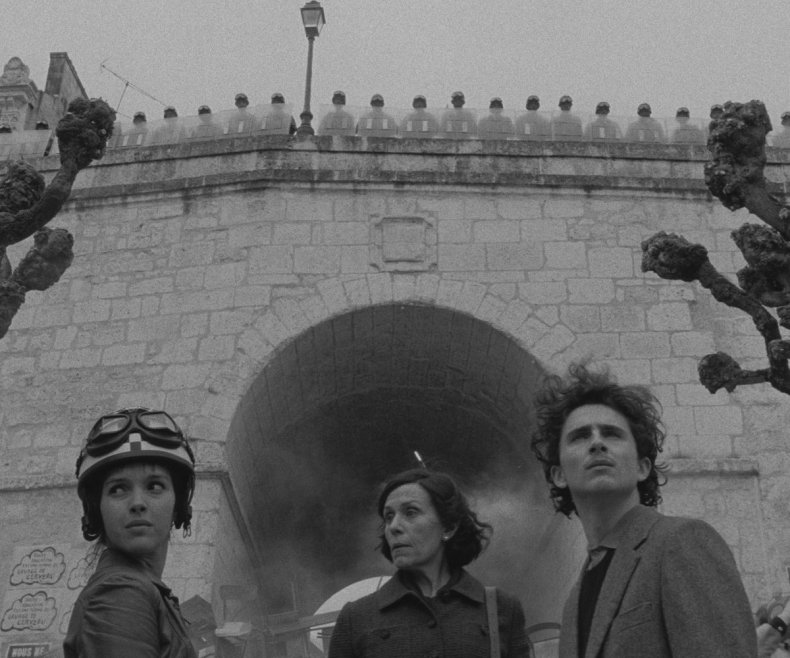 Another of her films in 2019, The Specials, was also screened at Cannes but out of competition. In that year Khoudri also dipped her toe into TV, performing in Canal+'s mini-series Les Sauvages.
In 2020 she appeared in the movie Gagarine, which had its Cannes screening canceled due to the pandemic. In 2021, she appeared in Haute Couture opposite veteran French actress Nathalie Baye.
She is set to star in upcoming film Novembre, which tells the story of the 2015 terror attacks in Paris, as well as two movies from Martin Bourboulon telling the well-loved story of The Three Musketeers.
Ahead are spoilers for The French Dispatch.
Who Does Lyna Khoudri Play in The French Dispatch?
In Wes Anderson's new anthology film, The French Dispatch, Khoudri plays Juliette, a young student protestor.
Juliette is a forceful, forthright student who joins a revolutionary protest which eventually turns into an intense game of chess: literally.
The leader of this protest is Zeffirelli (Chalamet) and he has strong chemistry with Juliette, who is constantly challenging him and his ideas.
Though she claims to have strong journalistic integrity, writer Lucinda Krementz (McDormand) ends up embarking on a short affair with Zeffirelli, which angers Juliette a great deal.
Krementz even helps him draft his manifesto for the student protest, which Juliette perceives to be an example of his lack of leadership.
Eventually, Zeffirelli realizes his feelings for Juliette and the pair become a couple. Though this is short-lived as Zeffirelli dies not long after when he attempts to fix an antenna used to share his manifesto message across town.
Soon, his image becomes a symbol of the revolution after a photograph of him standing in front of police is circulated.
The French Dispatch is in theaters now