Who Made the Teams on the First Week of 'The Voice' Season 19 Blind Auditions?
The first week of blind auditions on The Voice's 19th season really set the stage. There were rockers, R&B singers, even opera singers who managed to impress coaches Blake Shelton, John Legend, Gwen Stefani and Kelly Clarkson with their impeccable vocals and range.
With the level of talent that's already secured a spot on a team, it's anyone's guess as to who will make it to the finals in a few weeks. One thing is already certain, though: Each of member of Team Blake, Team Legend, Team Kelly and Team Gwen definitely deserves to be a part of the Season 19 competition.
Below, get to know a little bit more about the contestants who have landed a spot on a team so far. As the season progresses, we'll continue to update this list so you can keep track of who's in the competition and—when the time comes—who's out.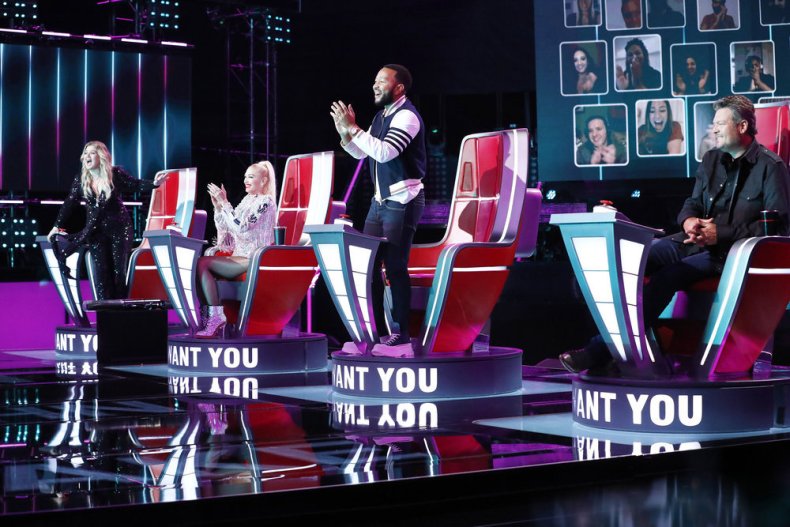 Team Blake
Ian Flanigan:
It's surprising that Shelton didn't immediately turn his chair for Flanigan when the 30-year-old singer first opened his lips to spill out the lyrics of the Zac Brown Band hit "Colder Weather." But when he finally did, it basically sealed the deal for Flanigan's fate on The Voice.
Jim Ranger:
Ranger won the affection of Legend, Stefani and Shelton with his rendition of "Blue Ain't Your Color" by Keith Urban. The third-generation preacher ultimately chose Team Blake, which was probably the best choice if Shelton's track record for getting pastors to the finals is any indication.
Taryn Papa:
The Tennessee native was another to cause a fight between the coaches, with her cover of Martina McBride's "Anyway." Clarkson wanted the 30-year-old singer and so did Stefani and Shelton. However, Clarkson ended up being blocked (it's unclear which of the lovebirds Stefani or Shelton blocked her), and it seemed like Shelton had the upper hand anyway, since Papa has already been singing at his bar in Nashville.
Aaron Scott:
The 36-year-old rock singer has performed with his band in his home state of Wisconsin for the last six years, but he was destined to have to choose between Team Shelton and Team Legend after his impeccable cover of Fuel's "Hemorrhage (In My Hands)."
Team Legend
Tamera Jade:
Season 19 started out with a bang, thanks to a riveting performance of Lizzo's "Cuz I Love You" by 30-year-old singer Jade. Her perfect rap-singing and powerhouse vocals landed her the first four-chair-turn of the competition. While every one of the coaches wanted Jade for their team, in the end, she decided to go with "Uncle John."
John Holiday:
Holiday barely got a full note of Ella Fitzgerald's "Misty" out when Legend smashed his buzzer. Kelly, who didn't realize Holiday was a dude thanks to his flawless falsetto tone, hoped to get the singer on her team, too, but was blocked from having a chance—by John, of course. While Stefani also wanted Holiday, it was Legend who managed to convince the opera singer to come on over to Team Legend.
Cami Clune
The 20-year-old singer started her set hoping to win the favor of either Stefani or Legend. Her breathtaking cover of Bon Iver's "Skinny Love" actually gained her the attention of all four coaches. It was a tough choice for the New Yorker, but it was Team Legend who got the final score.
Sid Kingsley
Kingsley brought new life to Bob Dylan's "Don't Think Twice, It's Alright," and thoroughly moved Shelton, Legend and Stefani. He may have defied his mother's wishes (she wanted him to go with Team Blake), but it was only right that the 37-year-old soul singer ended up getting coached by the soulful Legend.
Team Gwen
Lauren Frihauf:
Frihauf performed a knockout cover of Melissa Etheridge's "Come to My Window." Both Stefani and Legend swooned over her raspy rocker sound, but the 16-year-old farmer felt that Stefani would be a better fit.
Payge Turner:
What a sensationally smokey set of pipe Turner debuted on The Voice stage as she sang a cover of The Weeknd's "Call Out My Name." Her voice won her the affection of both Stefani and Shelton, causing the couple to have to fight each other for her. The fact that Stefani's parents almost named her Paige may have helped her close the deal and get the singer on her team.
Liam St. John:
St. John nearly started a lovers' quarrel between Shelton and Stefani with his cover of "Sex & Candy" by Marcy Playground. Shelton nearly had the 29-year-old rocker with a possibly fabricated story about Stefani not knowing the proper way to pronounce St. John's hometown of Spokane, Washington, but the style and uniqueness that Stefani has exuded over the course of her career out-weighed Shelton's fibs.
Chloé Hogan:
With a voice as smooth as silk, the 20-year-old Floridian stole Stefani's heart with her cover of Jackie DeShannon's "What the World Needs Now Is Love."
Team Kelly
Joseph Soul:
It was love at first listen for Clarkson when she heard the Hawaiian singer perform his ultra-smooth cover of Bob Marley's classic "Is This Love?"
Eli Zamora:
Clarkson has a penchant for picking bilingual singers for her team. So no one was surprised when she sought out Texas crooner Zamora during his flawless over of Juan Gabriel's "Yo Lo Se Que Tu Te Vas."
Madeline Consoer:
Energetic, lively and possessing both a killer set of pipes and a sparkly dress to match, the 24-year-old Wisconsin native had all the makings of a Team Kelly member. Naturally, that's exactly where she ended up.
Ryan Gallagher:
The classical singers are coming with their A-game this season, especially Michigan-born Gallagher, who blew the coaches away with his cover of "The Prayer" by Andrea Bocelli. It was a tough fight for him between Clarkson and Shelton, but those eggplant-purple Clarkson jackets and face masks were calling the 28-year-old.