Who Is Making Coronavirus Vaccine? Trump Administration Has 'Major' Investment in Pfizer, 4 Others
The Trump administration is taking a proactive approach to a coronavirus vaccine and has signed a contract with Pfizer for 100 million doses of a potential inoculation, the latest investment of this kind.
On Wednesday, Pfizer and Health and Human Services Secretary Alex Azar announced an agreement for the government to purchase up to 600 million doses of a potential vaccine. A "historic" advance purchase contract, according to Azar, the deal with Pfizer is similar to "major investments" the government has with Novavax, Johnson & Johnson, Moderna and AstraZeneca.
Under the contract, the U.S. government will pay Pfizer and BioNTech $1.95 billion for 100 million doses and is able to purchase up to 500 million more. The companies are evaluating at least four experimental vaccines, and early data from BNT162b1, one of the candidates, shows it's capable of producing neutralizing antibodies at or above levels observed in those who have recovered from COVID-19.
BNT162b1 and BNT162b2, another vaccine candidate, both received fast-track designation from the Food and Drug Administration. If studies are successful, the companies expect to receive an Emergency Use Authorization from the FDA as early as October.
With the advance purchase contract, Azar said, the federal government could have 100 million doses of a vaccine by December.
While vaccine development for the new coronavirus is moving forward at an unprecedented rate, no candidate has been proven to be fully viable yet. There are still more studies to be done to ensure it's not only effective but safe for human use, but the goal in making an investment before studies are complete is to prevent a delay in the vaccine reaching the public.
Dr. Anthony Fauci, director of the National Institute of Allergy and Infectious Diseases, told a Senate committee in May that the Trump administration would start making a vaccine "at risk." This requires investing "considerable resources," and there is no guarantee that any of the candidates will pan out, Fauci said. Some may even turn out to have negative consequences.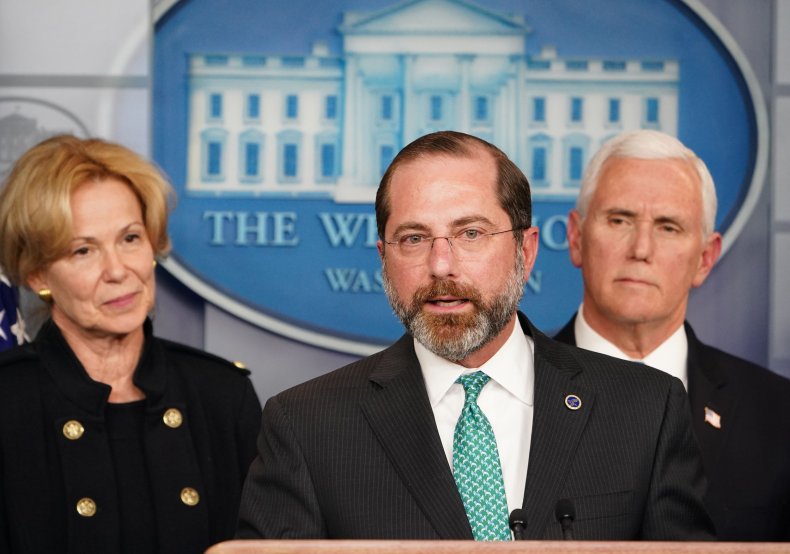 However, a quick rollout of a vaccine could be essential in getting the country back to life as it was before the pandemic, and with many candidates being tested, Fauci was hopeful at least one would work.
"This is what's really unprecedented with President Trump's Operation Warp Speed. We are literally making the commercial-scale vaccine now as we're going through the clinical trial," Azar told CNBC on Wednesday. "We're doing that at risk, using the full power of the U.S. government and our financial resources to do that. No one's ever done this before."
Azar noted during an interview with CNBC's Squawk Box that the deal with Pfizer is in addition to the other agreements the administration has with the four other companies.
In March, the administration signed a $456 million deal with Johnson & Johnson's pharmaceuticals arm Janssen, followed by a $483 million investment in Moderna's vaccine candidate in April. The administration also allocated up to $1.2 billion to support AstraZeneca's vaccine development and most recently entered a $1.6 billion agreement with Novavax. Under the Novavax agreement, the federal government will own 100 million doses of the investigational vaccine.
"Through Operation Warp Speed, we are assembling a portfolio of vaccines to increase the odds that the American people will have at least one safe, effective vaccine as soon as the end of this year," Azar said in a statement. "Depending on success in clinical trials, today's agreement will enable the delivery of approximately 100 million doses of vaccine being developed by Pfizer and BioNTech."
Newsweek reached out to the U.S. Department of Health and Human Services for comment but did not receive a response in time for publication.