Who Is Marc Siegel? Doctor and Fox News Contributor to Conduct Medical Evaluation of Trump On-Air
Dr. Marc Siegel, a practicing internist and Fox News contributor, will speak to President Donald Trump on Friday for his first on-camera interview since testing positive for the coronavirus last week.
Siegel "will conduct a medical evaluation and interview" during Tucker Carlson Tonight, according to Fox News. The doctor, 64, is a clinical professor in the Department of Medicine at New York University's Grossman School of Medicine. He is also a provider at NYU's Langone Health, an academic medical center.
Siegel specializes in internal medicine and treats conditions such as influenza, according to his faculty biography. He completed his residency at NYU in 1988 and was certified by the American Board of Internal Medicine in 1991.
He has authored several books and academic articles, including one published in the Missouri Medicine journal in 2014, "The Death of the Bedside Manner: ObamaCare Is Speeding the Decline in the Quality of Medical Practice."
"Patients still have the expectation that their doctor will be patient and listen carefully, but one by one doctors and patients are awakening from that comforting vision of the past to the rushed, restricted world of the ObamaCare future," Siegel writes in the article. He goes on to explain that "the new law brings more regulations and low-quality insurance at a time when we are already struggling to comply with the electronic health-record mandate."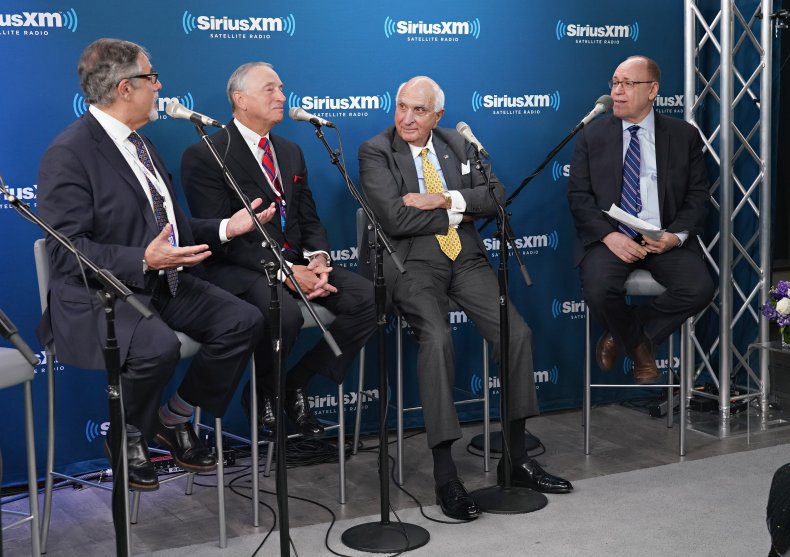 Friday's conversation will not be the first time Siegel and Trump have spoken one-on-one. The doctor conducted a July 22 interview with the president on Tucker Carlson Tonight, where they discussed the coronavirus pandemic and a possible vaccine timeline.
"I watch you all the time," Trump told a smiling Siegel. "You're almost like my guide to this, 'cause frankly you really have a good take on it."
Siegel and Trump seem to have similar stances on the virus. The doctor's latest book, COVID: The Politics of Fear and the Power of Science, will be published October 13. In it, he asserts that "it is possible for a massive pandemic and the fear and hysteria over that pandemic to exist simultaneously."
"Unfortunately, effective public health measures are compromised by both hysteria and denial," Siegel writes. "When we are afraid, fear hijacks our brain and we don't think rationally. The purpose of this book is to help us overcome our worries as well as vanquish the virus."
Trump echoed a similar message in a video he filmed moments after leaving the Walter Reed medical center on Monday night, where he was hospitalized for his coronavirus infection.
"I learned so much about coronavirus. And one thing that's for certain: Don't let it dominate you. Don't be afraid of it. You're gonna beat it," Trump said. "We have the best medical equipment, we have the best medicines, all developed recently."
Many people criticized the president's message, questioning why he would discourage fear when more than 211,000 Americans have died as a result of COVID-19.
Siegel, speaking Tuesday on Fox News, defended Trump's words. "I like it. In the face of disease, it's saying, 'Show strength, show courage,'" the doctor said.
"Courage in the face of illness, that's what we look for. How can that be disturbing?" Siegel said. "We want this message: This virus is very troubling, it's problematic, but you have to live with it. We have to deal with it. That's a very uplifting message and extremely appropriate, and it's what physicians want to see."
Since being released from the hospital Monday, Trump has done two phone interviews—one with Fox Business' Maria Bartiromo Tuesday and one with Fox News' Sean Hannity Thursday night. In the most recent interview, Trump had a raspier voice and paused to cough or clear his throat a few times, Mediaite reported.
Americans have been left with few answers about Trump's exact health status, particularly as the crucial November 3 election approaches. Dr. Sean Conley, the president's physician, released a letter Thursday clearing Trump to return to public engagements this weekend.
"Saturday will be day 10 since Thursday's diagnosis, and based on the trajectory of advanced diagnostics the team has been conducting, I fully anticipate the President's safe return to public engagements at that time," Conley said in his letter.
Trump's Fox interview with Siegel will air at 8 p.m. Friday. The president will appear on camera remotely from the White House and Siegel will tune in from New York, according to a press release.