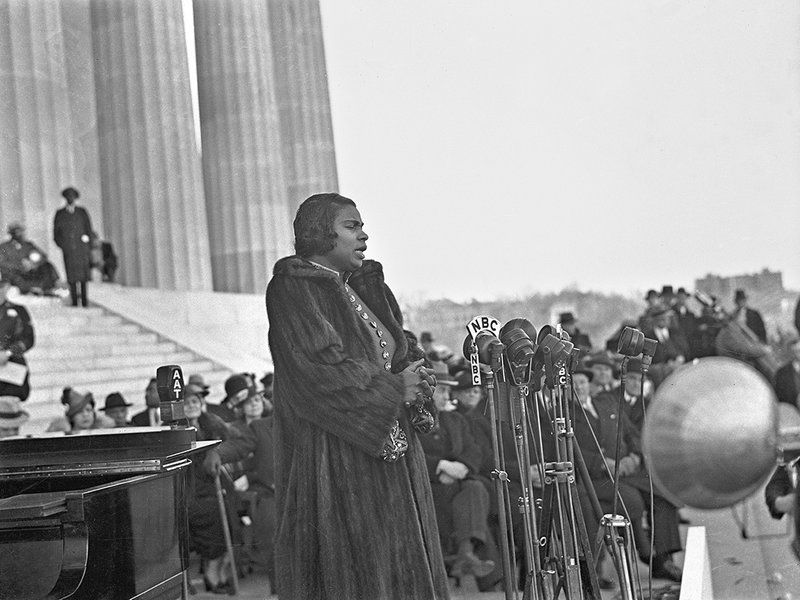 An opera singer credited with helping launch the civil rights movement and improving race relations in America will be one of the first historic women to appear on U.S. paper money in more than a century, and among the first black people ever to appear on U.S. federal currency.
Marian Anderson, who died in 1993 at age 96, is perhaps best known for her performance on the steps of the Lincoln Memorial in 1939, which on Wednesday the U.S. Department of the Treasury said it plans to depict on the reverse side of the redesigned $5 bill.
"I was more excited about Marian Anderson than almost anything else, because this is a woman whose story is so important," says Lonnie Bunch, director of the Smithsonian's National Museum of African American History and Culture. "I don't think people really understand both what happened, and the symbolic value of what she accomplished by singing on Easter morning in 1939."
Jillian Pirtle, chief operating officer of the Marian Anderson Historical Society, which includes the Marian Anderson Residence Museum, the Philadelphia home that the singer purchased in 1924, says that Anderson "was known as having the voice of the century."
"The great lady from Philadelphia was by far one of the most important and historical figures of the 20th century, and she made that remarkable distinction through her music and through her humanitarianism," she says.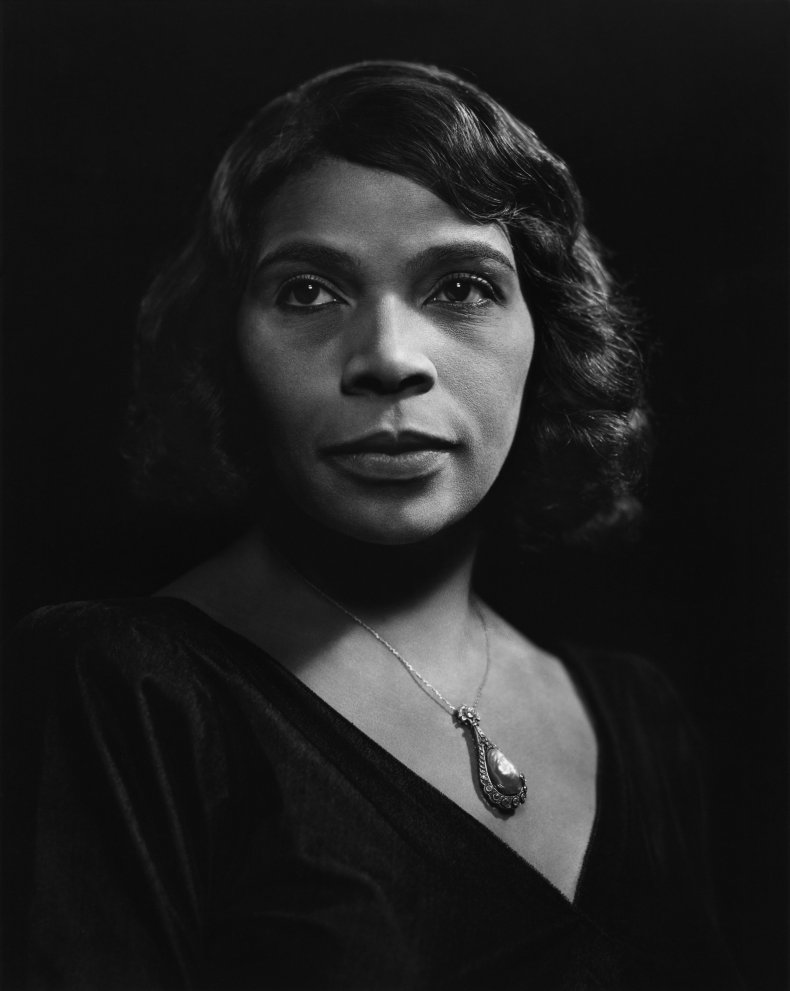 Anderson was born one of three siblings in Philadelphia in 1897—though she reportedly said the year was 1902. Her father, who died when she was young, sold ice and coal and ran a liquor business, and her mother was a schoolteacher and later cared for children. Her paternal grandfather was born a slave.
According to her biography, she began singing at age 3, and as a teenager she began to study music privately, after the Philadelphia Music Academy, now the University of the Arts, turned her away because it was a white-only institution at the time. Around the mid-1920, critics began to praise Anderson's talent, and she soon toured in Europe, where she found audiences were more open to a black singer than they had been in the U.S.
In 1939, the Daughters of the American Revolution (DAR) refused to let Anderson sing at Constitution Hall, a controversy that made national headlines. First lady Eleanor Roosevelt, who belonged to the organization and resigned over the issue, helped coordinate an Easter Sunday performance for Anderson at the Lincoln Memorial, where 75,000 people came to hear her. She sang seven songs, including "My Country 'Tis of Thee" and "Ave Maria."
"I am just so overwhelmed today that I cannot express myself properly," she said following the concert. "You don't know what you have done for me."
The performance, said a Newsweek cover story on Anderson a decade later, "turned the singer overnight into an international figure in the long struggle by the Negro and his white friends for racial equality—not only in America but elsewhere in the world."
The Chicago Defender, a black newspaper, wrote at the time that "intolerance received one of the heaviest blows of the ages" when Anderson performed, and that the gathering was likely "the largest single audience ever to attend an affair of this kind in the United States." The crowd "all seemed to mingle with one common interest—the determination to welcome the greatest singer of this generation and to show that tolerance lives," the newspaper said.
DAR later apologized for denying her, and Anderson eventually sang at its headquarters several times. The organization now devotes a section of its website to Anderson and its complicated history with the performer.
"We certainly regret that part of our history," Lynn Young, president general of DAR, tells Newsweek. "But that helped us make a major change, and I think helped all of America make the change, for the shift towards racial equality, which was long overdue. She's a remarkable woman, and we are thrilled that she is being honored in this way for her talent and what she has brought to our American art and to our history."
Pirtle says some consider that 1939 performance the start of the modern civil rights movement, and Anderson its "founding mother."
In 1955, Anderson went on to become the first black person to perform at New York's Metropolitan Opera. She also did humanitarian work and served as a U.S. goodwill ambassador and a delegate to the United Nations Human Rights Committee. She also sang at the presidential inaugurations of Dwight D. Eisenhower and John F. Kennedy. A U.S. savings bond features her portrait.
The just-announced redesign of the $5 will also depict Martin Luther King Jr.'s 1963 "I Have A Dream" speech at the Lincoln Memorial, the Treasury Department said. Anderson was present that day too—King had called her and invited her to march with him and perform, Pirtle says.
Anderson retired in 1965. She won a Grammy Lifetime Achievement Award in 1991. Her obituary says her only survivor was her nephew James DePreist, a renowned conductor. He died in 2013.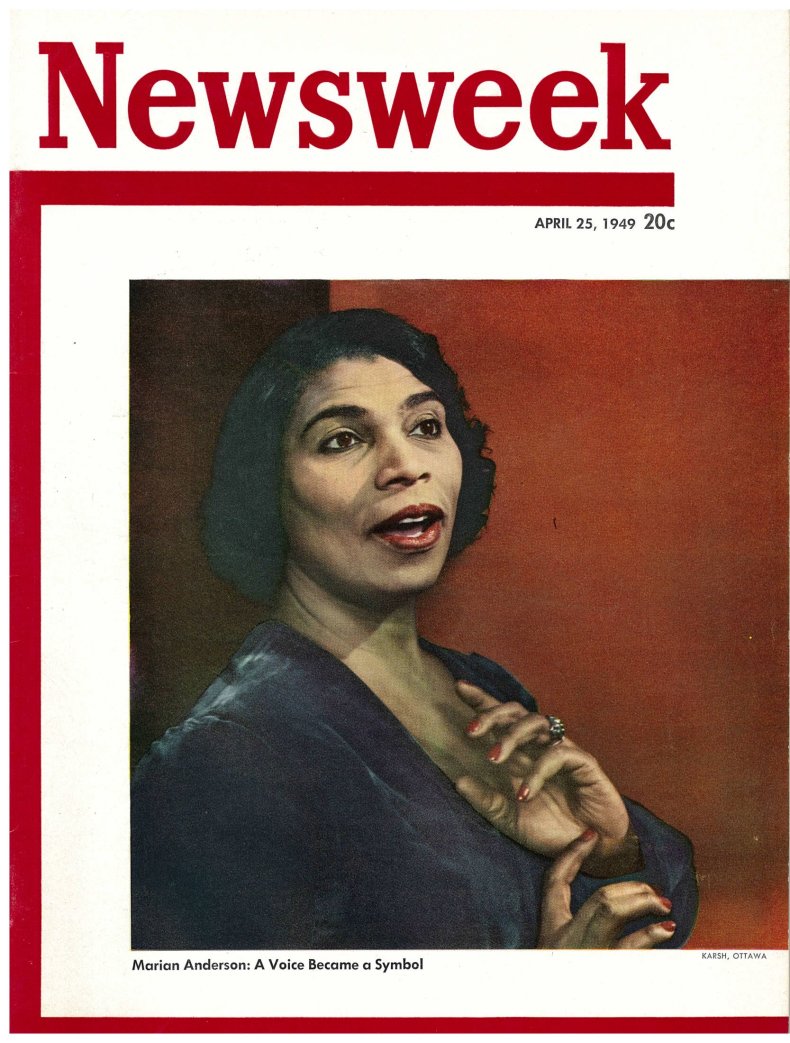 Her legacy is on view at the Smithsonian, including at the National Portrait Gallery, artifacts related to her at the National Museum of American History and a stamp featuring her at the National Postal Museum. The Smithsonian's Anacostia Community Museum has the mink coat she wore on the steps of the Lincoln Memorial, which DePreist's wife reportedly discovered in Anderson's basement before her death.
When the National Museum of African American History and Culture opens in September, artifacts related to Anderson will appear as part of a Musical Crossroads exhibition. The museum has the top and skirt that Anderson wore for the 1939 performance and her diary dating to 1952.
"One of the things important in a museum is to help people understand how change happens in America," says Bunch, adding that with Eleanor Roosevelt's help, her Lincoln Memorial performance "changed the perception that many people had of the federal government, that you could turn to the government to help make change."
"What's powerful about currency is that everybody touches it and that everybody has the chance to engage with whose on those figures," he says. "By having an African Americans like Anderson" on currency, he adds, "you're acknowledging that you don't understand American identify without understanding the role that African Americans have played in it."
Pirtle says she hopes the Treasury Department news might change the fact the Anderson museum, as many small ones are, is struggling. "I think she is a figure that is far too underappreciated in our United States history," says Pirtle.
"We want it to be known that there was a lady from Philadelphia who went on to change the course of American history and then influenced the world through her music, her art and humanitarianism," Pirtle says.
In addition to Anderson, the Treasury Department said it would depict Harriet Tubman on the redesigned $20 bill and suffragists on the redesigned $10.