Mark Burnett, the creator of The Apprentice, made headlines at a pre-Emmys party Sunday after allegedly getting into a scuffle with Tom Arnold, who is producing a new Viceland series, The Hunt for the Trump Tapes, debuting Tuesday.
In a tweet early Monday morning, Arnold said that Burnett "just went apeshit & choked me at this huge Emmy party then he ran away with his torn Pink shirt & missing gold chain. I'm waiting for LAPD."
Burnett's wife, Roma Downey, then tweeted a photo of her bruised hand and said that Arnold "tried to ambush my husband Mark and me at a charity event. Is your TV show worth it Tom? Please stop." Arnold replied, "Bullshit. You lie your crazy husband attacked me you psycho. I'm filing police report & suing you for defamation," added his claim that Burnett "choked me."
On Monday afternoon, Arnold tweeted at President Donald Trump, who also produced and starred in The Apprentice, stating that he was at a Los Angeles police station "filing charges against your best bud Apprentice Outtakes Mark Burnett who lost his mind, attacked & chocked me last nite at Katzenberg's Night Before The Emmy's Party." Arnold continued by saying "Mark Burnett was scared," completing the tweet with a smiley face and the hashtag "#TrumpTapes."
The first episode of Arnold's new series on his mission to find raw Apprentice footage of Trump, including the future president allegedly saying the N-word on set, focuses on Burnett. The high-powered producer has declined to release recordings from The Apprentice, despite Bill Pruitt, a fellow former producer on the show, tweeting in 2016 that "there are far worse" tapes than the 2005 Access Hollywood one, in which Trump was heard bragging about committing sexual assault.
Pruitt in 2017 claimed that Trump made "unfathomably despicable" racist comments on The Apprentice and that those videos "are somewhere, in some warehouse." Contents in the tapes were "very much a racist issue" and applied to African-Americans and Jews, according to Pruitt.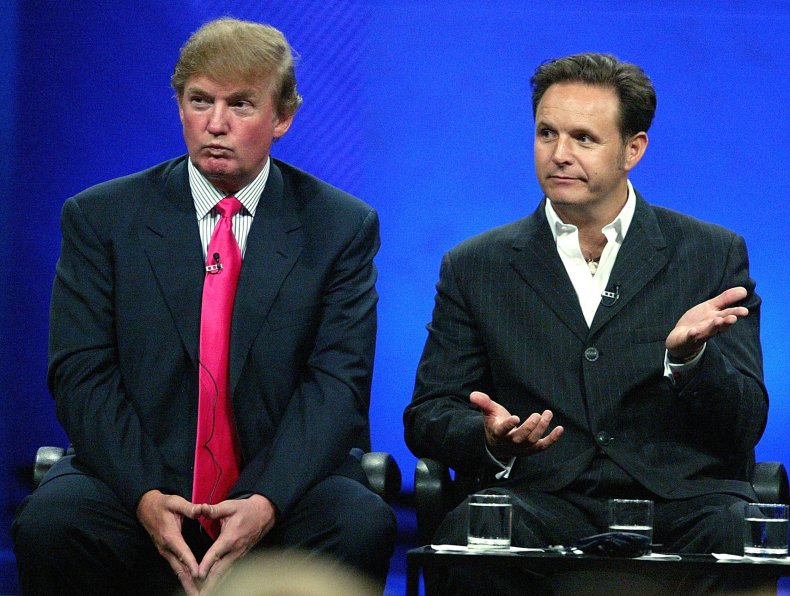 Burnett reportedly no longer owns the tapes because MGM Television and Digital bought the archives from his company in 2015. But he knows what they contain.
The 12-time Emmy winning producer was promoted to chairman of MGM's Worldwide Television Group in June, and created Survivor, The Voice and Shark Tank, among other titles.
After former White House aide Omarosa Manigault Newman published a scathing book in which she claimed Trump used the N-word on tape during a recording of The Apprentice,Trump tweeted that Burnett had come to his defense.
".@MarkBurnettTV called to say that there are NO TAPES of the Apprentice where I used such a terrible and disgusting word as attributed by Wacky and Deranged Omarosa," the president tweeted.
Arnold and MGM representatives for Burnett did not immediately respond to requests for comment from Newsweek on Monday.