Who Is Matthew Whitaker, the Acting Attorney General Replacing Jeff Sessions?
The day after the heated 2018 midterm elections, President Donald Trump announced the replacement of Attorney General Jeff Sessions with his chief of staff Matthew Whitaker, becoming the first shake-up in his administration,
"We are pleased to announce that Matthew G. Whitaker, Chief of Staff to Attorney General Jeff Sessions at the Department of Justice, will become our new Acting Attorney General of the United States. He will serve our Country well...," Trump wrote on Twitter Wednesday afternoon.
"We thank Attorney General Jeff Sessions for his service, and wish him well! A permanent replacement will be nominated at a later day," the president added, suggesting that Whitaker's ascension to the role with only be temporary.
Whitaker was serving as the chief of staff and senior counselor to Sessions since October 2017. Whitaker is a former U.S. attorney who served in the southern district of Iowa from 2004 to 2009 under the George W. Bush administration.
In 2014, the Des Moines native ran for Senate in Iowa but lost the Republican primary to current Senator Joni Ernst. Whitaker earned undergraduate, business and law school degrees from the University of Iowa, where he also played football on a team that went to the Rose Bowl.
Shortly before joining the Department of Justice under Sessions's leadership, Whitaker penned a 2017 CNN column, in which he stated that the Trump family finances were beyond the scope of investigation of Robert Mueller's special counsel.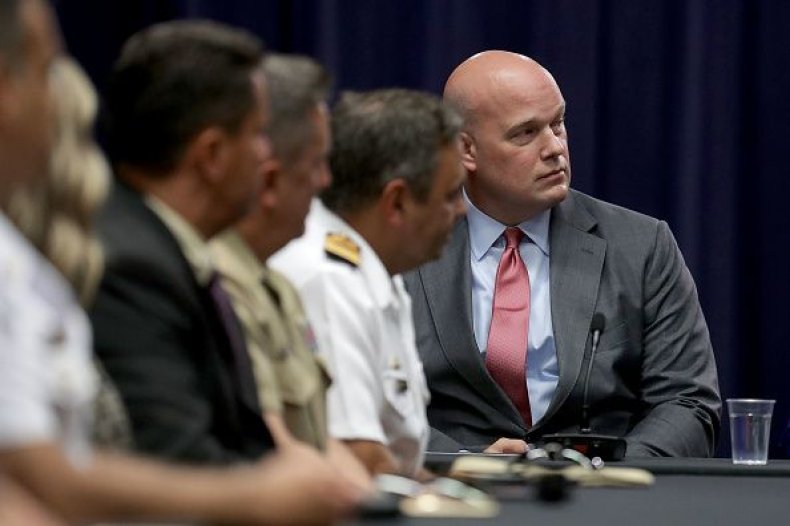 "It does not take a lawyer or even a former federal prosecutor like myself to conclude that investigating Donald Trump's finances or his family's finances falls completely outside of the realm of his 2016 campaign and allegations that the campaign coordinated with the Russian government or anyone else," Whitaker wrote at the time. "That goes beyond the scope of the appointment of the special counsel."
Sessions's removal from the top cabinet position is hardly a shock. For the past few months, Trump has hinted at firing his attorney general once the midterm elections were over. The two clashed over the FBI's Russia investigation, which Sessions recused himself from, much to the dismay of the president.
"What kind of man is this?" Trump said while blasting Sessions during an interview with Fox News this past summer.
Sessions fired back at the president's insults, writing in a statement this past August: "While I am Attorney General, the actions of the Department of Justice will not be improperly influenced by political considerations. I demand the highest standards, and where they are not met, I take action. However, no nation has a more talented, more dedicated group of law enforcement investigators and prosecutors than the United States."