Who is Mauricio Macri, Argentina's New President?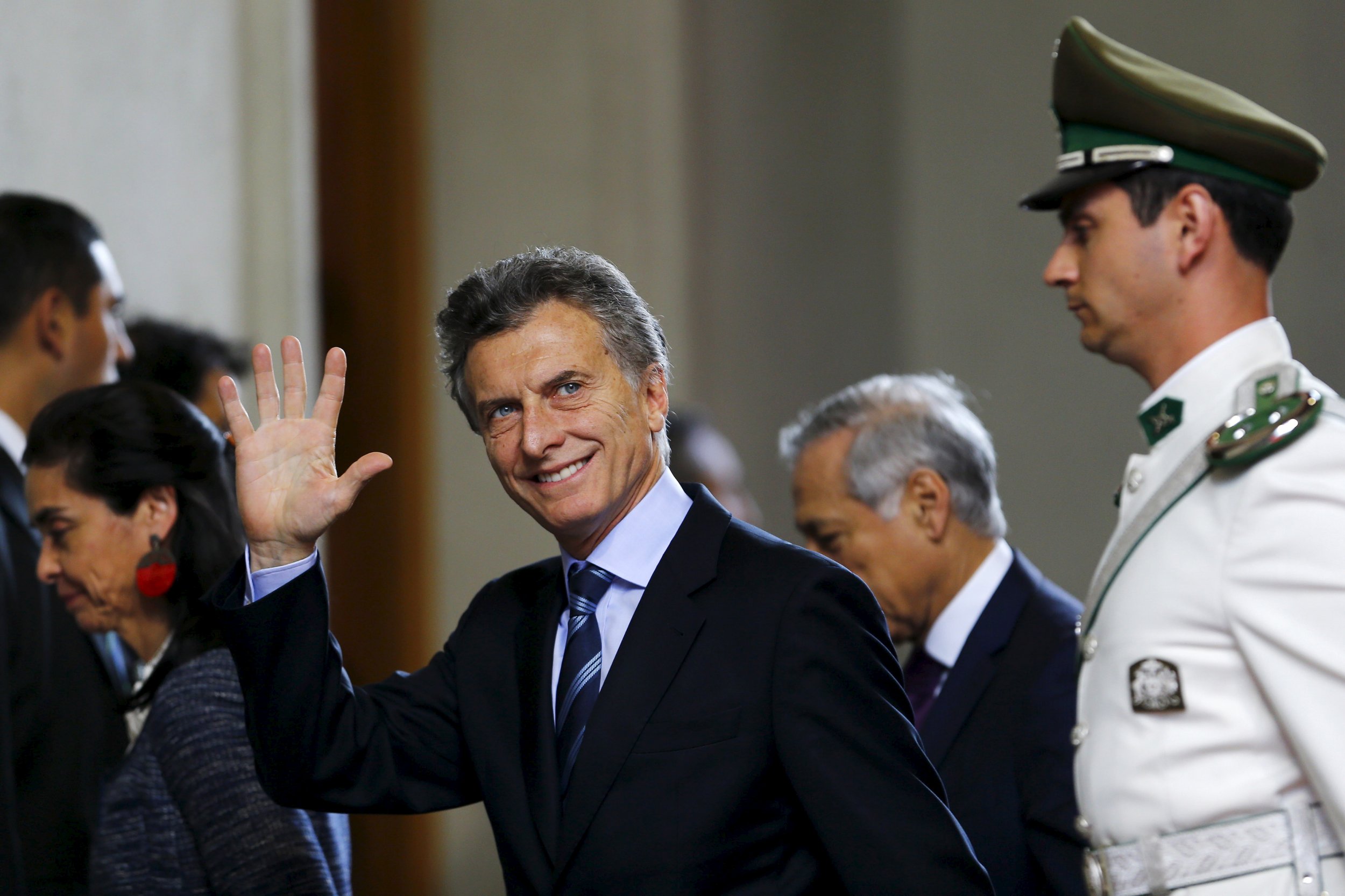 Mauricio Macri was sworn in as the new president of Argentina on Thursday, in a ceremony at the presidential palace in Buenos Aires. The conservative candidate secured a majority over his leftist rival Daniel Scioli in a victory on November 22 that put a center-right opposition party in power for the first time in 12 years.
Macri, 56, described his victory as a "historic day" for the country after more than a decade of Peronist rule under Nestor and Cristina Fernandez de Kirchner. He was far behind Front for Victory candidate Scioli in the polls just months ago and many believed he would lose in the first round of voting.
But the former mayor of Buenos Aires and chief executive of the famous Boca Juniors football club performed an electoral turnaround, forcing the first run-off vote in the country's history. He won by just three percentage points, a clear indicator of the political divisions within the country.
Born to Italian parents—his father is business tycoon Franco Macri—Macri grew up to become a wealthy businessman from ventures in construction and finance. He studied civil engineering at the Catholic University of Argentina and has four children from three marriages.
After years in business, Macri moved into the world of football as a successful executive at Boca from 1996 until 2008. Five years before he left the club, he founded the center-right party Commitment to Change, which morphed into the alliance party Republican Proposal.
Macri's victory in November was a political earthquake after almost a century of presidents from the Peronist party or its rival, the Radical Civic Union. Leading the coalition Cambiemos, or Let's Change, he has pledged to revive an economy that had stalled under the Kirchner rule, mainly by easing trade and currency controls and implementing pro-free market policies.
Macri has said that he will tackle poverty and drug smuggling, end long-running disputes with foreign creditors, and bolster the country's institutions that were perceived to have suffered under Kirchner. He opposes drug decriminalization and abortion. He also wants a realignment of Argentine foreign policy, moving away from Kirchner's alliances with Venezuela, Iran and Russia and closer to the U.S. and Europe.
In his lifetime, Macri has survived a number of near-death experiences, any of which could have snuffed out his aspirations to be leader of Argentina. He has said that he only decided to get into politics after Argentinian police kidnapped him for 12 days in 1991, releasing him only after his family paid a million-dollar ransom.
In another close call, at his wedding in 2010, he was impersonating the late Queen singer Freddie Mercury while wearing a fake mustache. He swallowed and choked on the prop, only to be saved by the Buenos Aires health minister's first aid skills.
At Macri's swearing in ceremony on Thursday, which the defeated Kirchner refused to attend, there was no impromptu singing. Only rapturous applause and shouts of "Yes, we can!" from the crowds gathered in the Argentine capital as Macri ushered in a new era of South American politics.