Who Is Maye Musk? Elon Musk Brings Mom to Met Gala 2022
Elon Musk arrived at the Met Gala this year with his mother, Maye Musk, as his guest.
The tech billionaire and new Twitter owner has graced the red carpet before, most famously when he stepped out with singer and mother to two of his children Grimes in 2018.
This year, the 50-year-old was joined by his mother alone in what is his first public appearance since his $44 billion Twitter buyout.
The entrepreneur arrived at New York's Metropolitan Museum of Art in a simple black tuxedo, while his mother opted for a long-sleeved burgundy velvet dress and multi-strand pearl necklace.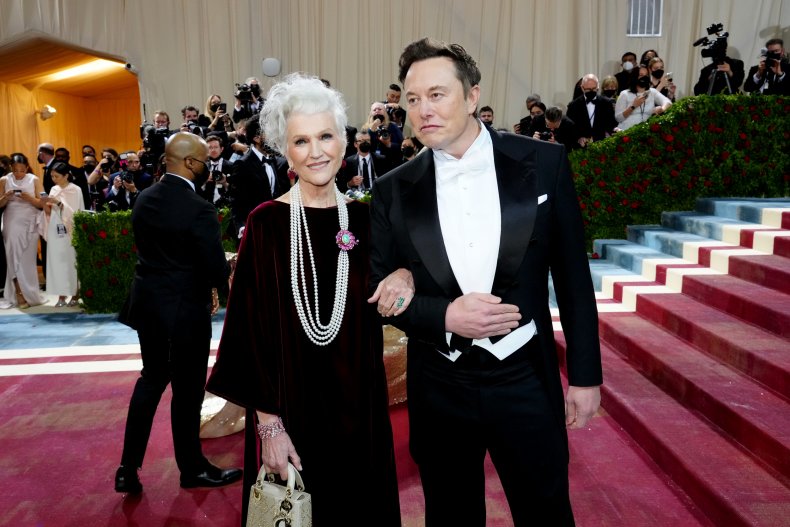 Who Is Maye Musk?
Elon Musk's mother Maye Musk is a Canadian-South African American model who has also worked as a dietitian.
Aged 74, Maye Musk is also the mother of Elon's siblings Kimbal Musk and Tosca Musk who she shares with her ex-husband Errol Musk.
Maye Musk has had a prolific modeling career spanning five decades and has appeared on a number of international Vogue covers.
Musk's career has also seen her appear in the music video for Beyonce's "Haunted" in 2014 and she was featured on Special K cereal boxes in the 1990s, according to The New York Times.
In a profile for the newspaper the same year, Maye Musk joked: "I was famous until Elon became famous."
At the age of 69 in 2018, she became the oldest Covergirl spokesperson.
"I definitely think the beauty industry is wising up," she told Elle at the time. "We are seeing a lot more representation and different people. I never thought I'd be a Covergirl at almost 70. Covergirl is doing a lot of great stuff here."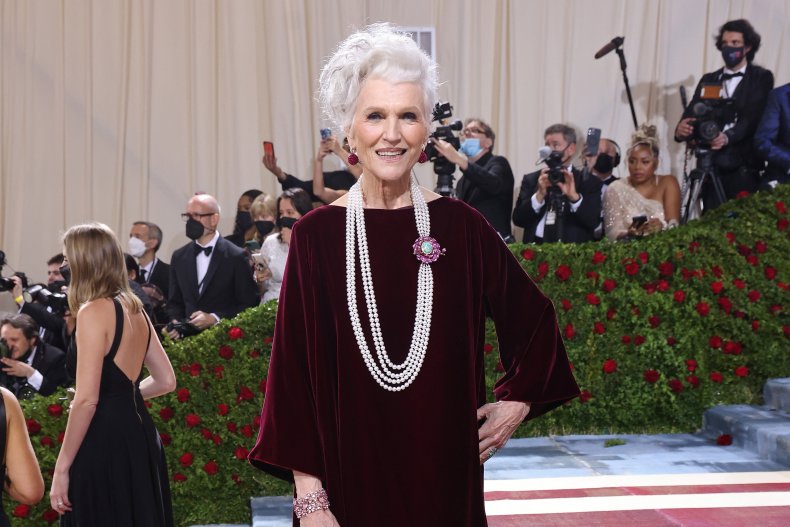 Elon brought his mother Maye as his Met Gala guest back in 2016.
More recently, in 2021, Maye Musk has a cameo appearance on Saturday Night Live alongside her son.
As the mother of the world's richest man, Maye Musk has opened up about her parenting style.
"I think I was strict, and they tell me I was a pushover. So there you go. I think being polite and considerate of others, and doing good for others. I think they saw that. As a dietitian, they saw me doing that. And they all do good things for others," she said in an interview with Insider last year.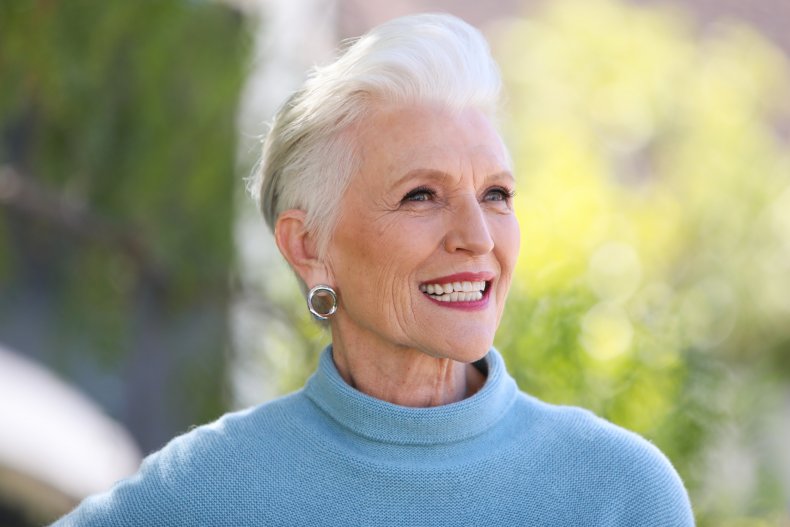 While on the red Met Gala carpet this year, Musk posed for a number of photos, making goofy faces and stances in many of them.
While there he also spoke of his plans for Twitter, now that he has acquired the social media platform.
"[It] would be to make Twitter as inclusive as possible, and to have as broad a swath of the country and the rest of the world on Twitter, and that they find it interesting and entertaining and funny, and that it makes their life better," Musk told Vogue's live stream host LaLa Anthony.
The dress code for this year's event was Gilded Glamour and speaking of his white tie style tuxedo, the Tesla CEO said he was "just following the dress code."