Elon Musk's mother made a cameo on Saturday Night Live during his monologue, revealing what her billionaire son was like as a child and joking that she hopes her Mother's Day gift isn't Dogecoin.
But what many viewers may not know is that 73-year-old Maye Musk is accomplished and well-known herself.
"I was famous until Elon became famous," she told The New York Times in 2016.
She was born Maye Haldeman in Canada, but she and her family moved to South Africa when she was just two. She has a twin sister, Kaye, and three other siblings.
She started modeling at the age of 15 "when models had to have their own shoes and jewelry," she told Vanity Fair in 2017. She is also a dietitian and nutritionist with two master's degrees.
She was a finalist in the Miss South Africa competition in 1969, and married engineer Errol Musk, who she met in high school, the following year. The couple had three children—Elon, his brother Kimbal and sister Tosca.
Elon's nickname was "genius boy," she told the magazine, but she added that all her children are "brilliant." Kimbal is an entrepreneur and restaurateur, while Tosca is a filmmaker.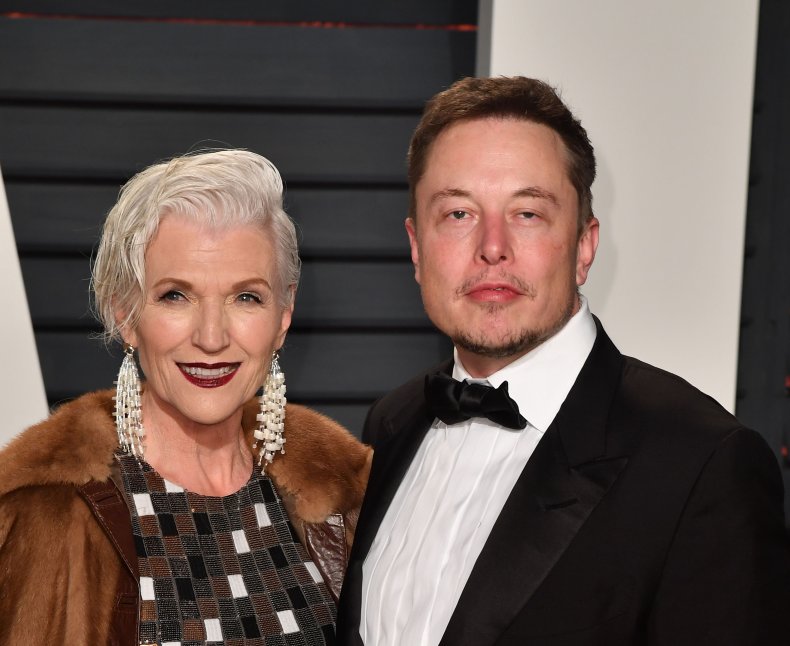 Maye Musk divorced her husband in 1979, after which she juggled motherhood with work as a dietician and model. She later relocated to Toronto after Elon told her she wanted to move to North America to pursue a career in technology.
"I had five jobs," she told Forbes. "I was a research officer at the University of Toronto. I was teaching two nights a week at a nutrition college and two night weeks at a modeling agency. I modeled and I gave talks, and I had a private practice."
Now signed with IMG Models, she is more in demand as a model than she ever was a teenager, something she has attributed to ditching the hair dye and embracing her striking head of silver hair.
"When I turned 60, I decided to see what color I am underneath. I started dyeing my hair a very light blond and then I let it grow out. I cut it very short," she told the Times. "And what happened? Suddenly I have all these editorials and bookings, and everybody is loving it."
She was signed as the oldest ambassador for CoverGirl in 2017, has appeared in a Beyoncé music video, walked in shows during New York Fashion Week and graced the covers of magazines including Vogue Korea and New York.
"I think it gives hope to women as they age they can continue to work and be relevant and confident and comfortable with themselves," she told Forbes.