President Donald Trump has made yet another typo in a tweet, misspelling his wife's name in a message welcoming her back from a stint in hospital.
In a tweet on Saturday, the president wrote: "Great to have our incredible First Lady back home in the White House. Melanie is feeling and doing really well. Thank you for all of your prayers and best wishes!"
While Trump is not known for his spelling prowess (covfefe being among the many strange things the president has tweeted over the years, along with misspelling the name of U.K. Prime Minister Theresa May), it's likely Trump's tweet autocorrected Melania to Melanie.
Spotting his mistake, or possibly being alerted to the error by numerous twitter users eager to point out the mistake (with some asking "who's Melanie?), the president updated the tweet with the correct spelling of his wife's name.
The White House also confirmed on Saturday that the first lady was back in Washington D.C. having undergone treatment for a "benign kidney infection" at Walter Reed Medical Center in Bethesda, Maryland last Monday.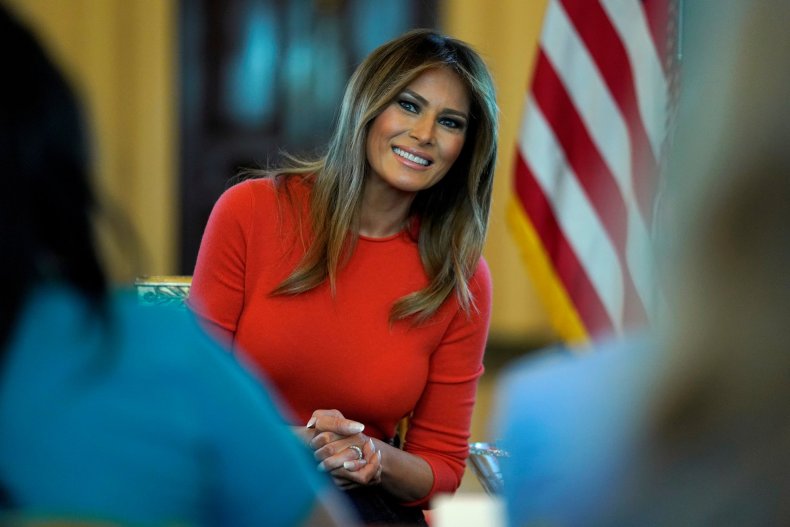 "The First Lady returned home to the White House this morning," a statement released on Saturday said.
"She is resting comfortably and remains in high spirits. Our office has received thousands of calls and emails wishing Mrs. Trump well, and we thank everyone who has taken the time to reach out," it added.
Earlier in the week, Trump had shared with his twitter followers that he was going to visit Melania in hospital, thanking everyone who had sent her best wishes for a speedy recovery and telling everyone that the first lady was "in good spirits."
Thankfully on this occasion he was talking about his wife Melania rather than the elusive Melanie who has made just the one brief appearance on Trump's twitter feed thus far.