Who is Mia Love? Donald Trump Mocks Republicans Who Gave Him 'No Love' and Lost Midterm Election
In his first press conference since the heated 2018 midterm elections, President Donald Trump mocked Republican candidates who lost their elections on Tuesday after refusing to "embrace" him and his administration.
"Mia Love gave me no love. And she lost. Too bad. Sorry about that, Mia," Trump said to reporters at the White House on Wednesday. The president touted Republican success in the Senate while blaming the loss of the House to retiring GOP lawmakers and the "hostile" media.
Love was running for re-election in Utah's 4th Congressional District but was defeated by Democrat Ben McAdams. Love was the first black female Republican elected to Congress and the first Haitian-American elected to Congress from Utah.
Although the race has not been officialy called, McAdams, the mayor of Salt Lake county, was leading Love by nearly 3 percentage points as of early Wednesday morning. The Democratic win is a surprising upset in a state that Trump dominated in 2016, beating Hillary Clinton by 18 points.
Love wasn't the only losing Republican to receive Trump's ridicule. The president also lamented the losses of Carlos Curbelo, Barbara Comstock, Peter Roskam and Mike Coffman.
"You had some that decided to say 'let's stay away,'" Trump said of GOP candidates who rejected his presidency and the support of his administration. "They did very poorly. I'm not sure if I should be happy or sad, but I feel just fine about it."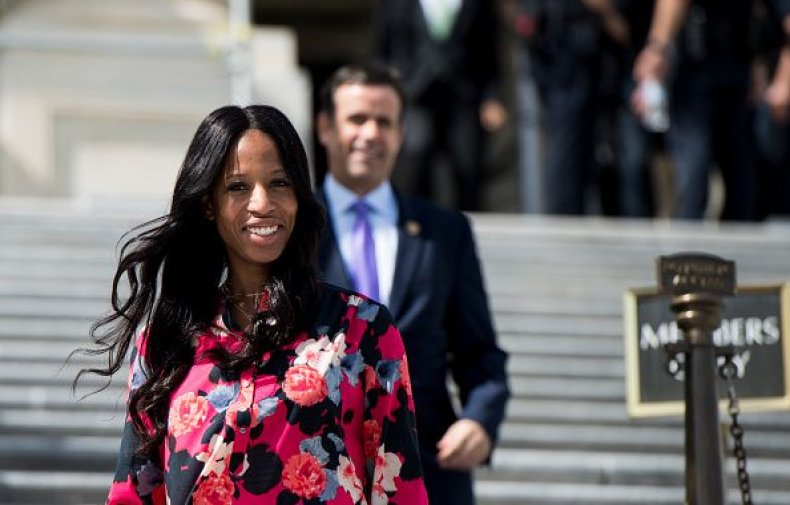 Curbelo, a veteran congressman from Florida, lost a tough re-election bid to Debbie Mucarsel-Powell by about 2 percentage points. Curbelo was a top Republican on climate change and pushed for better protections for undocumented immigrants, rejecting the Trump administration's hardline immigration stance that resulted in family separations and detention centers.
Roskam had served in the House since 2007 but lost his re-election bid to Democrat Sean Casten in Illinois's 6th Congressional District. Trump said that Roskam "didn't want the embrace" and that led to his defeat on Tuesday evening.
Comstock was blown out of the water on Tuesday night, losing to her Democratic challenger Jennifer Wexton by 13 percentage points in the House race in Virginia's 10th Congressional District.
"I think she could have won that race, but she didn't want to have any embrace, for that, I don't blame her," Trump said.
"Those are some of the people who decided for their own reason decided not to embrace, whether it's me or what we stand for," Trump said. "But what we stand for meant a lot to most people. We've had tremendous support."